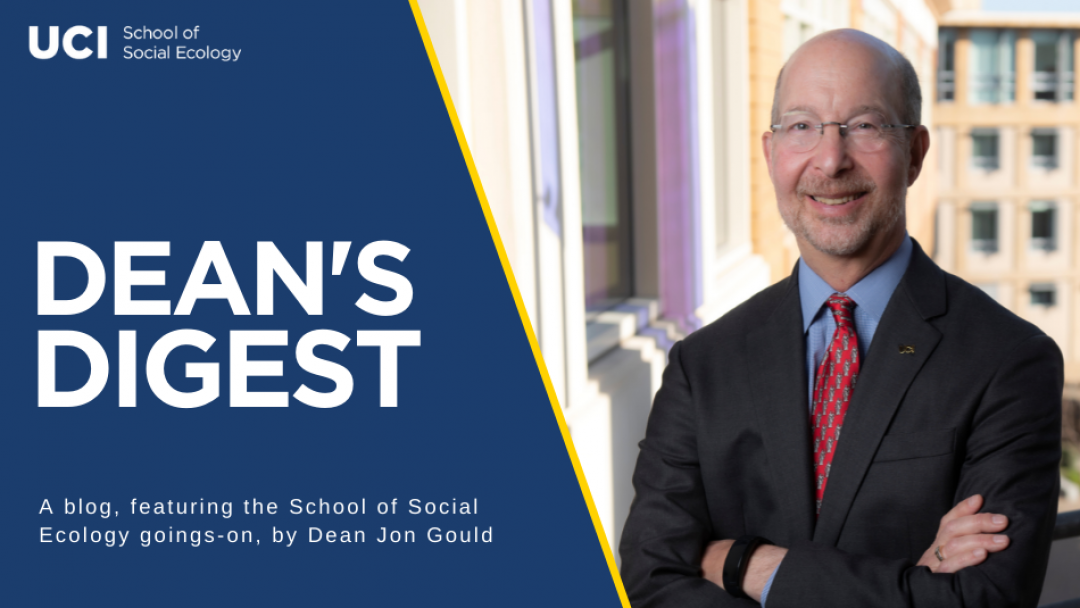 ---
Congratulations to all our award winners!
April 28, 2022
I am proud to announce that Michael Méndez, assistant professor of urban planning and public policy, has been named a 2022 Andrew Carnegie Fellow. This prestigious honor comes with a $200,000 prize to support his research on climate-induced disasters and their impact on underrepresented communities. Please join me in congratulating Dr. Méndez.
Let's also congratulate Douglas Houston, associate professor of urban planning and public policy, and Sora Han, associate professor of criminology, law and society, for leading the two winning proposals selected for the UCI Black Thriving Initiative Faculty Cluster Hiring Program. Their programs will recruit at least six new faculty members whose work elevates Black communities. In addition to addressing crucial issues and paving new paths for research, teaching and creative expression, these proposals bring special pride and tangible rewards for the School of Social Ecology. First, we will see new faculty lines in the School as a result of the winning initiatives. Second, our faculty have been recognized as campus leaders on these issues. There were eight proposals considered, spanning more than 20 departments and including more than 60 faculty across campus. For our faculty to win out over such talented competition is a real boon to Social Ecology's reputation and a tangible sign that we are serious about continuing to attack structural racism and further diversify our faculty.
More kudos are in order for the following faculty members and student on their recent honors:
Kate Ryan Kuhlman, assistant professor of psychological science, for her Academy of Behavioral Medicine Early Stage Investigator Award for being an exceptional early career scientist.
Oliver Sng, assistant professor of psychological science, for his Association for Psychological Science Rising Star designation.
Brandon Golob, assistant professor of teaching in criminology, law and society for receiving two campuswide honors — the Excellence in Digital Learning Award and the Learning Experience Design and Online Education Award — at the recent Celebration of Teaching event.
Hillary Berk, also was recognized at the Celebration of Teaching event as our 2022 School of Social Ecology Dean's Honoree.
Yasmin Barrientos Kofman, Ph.D. candidate in psychological science, for winning a UCI Most Promising Future Faculty Award as well as for landing a postdoctoral research fellowship on the NIMH T32 Program on Biobehavioral Issues in Mental and Physical Health at UCLA.
The entire school is applauding you!
In my last blog post, I promised you details for my welcome reception. I hope to see you all there May 3, 5-7 p.m. at the Irvine Barclay Theater. RSVP here.
Other upcoming events worth attending include:
---
Spring quarter has sprung, let's meet
March 28, 2022
Welcome to spring quarter! As classes commenced today, life on campus is returning to a closer resemblance of "normal." Most classes are being taught in person, and masks, while recommended, are no longer required.
It's an exciting time, as applications to our school are up 15% over last year. We had 4,500 applications this year.
In an effort to strengthen our sense of community, the School is initiating several activities, including:
On Thursday, March 31 at noon, the School is hosting a spring quarter welcome lunch for faculty and staff in SBSG-1517.
Earlier on the same day (March 31 at 10 a.m. in SBSG-1517), we are hosting an in-person visit by an editor of The Conversation. Faculty and graduate students interested in publishing articles and op-eds in The Conversation are urged to attend.
Throughout spring quarter, I am hosting a series of breakfasts and lunches for faculty and staff, and I am looking forward to chatting with you.
Professor Ilona Yim, the School's Equity Advisor, is organizing a "writers' retreat" for SE faculty, in which folks will gather for a couple of hours at a time to write together. The School will be supporting these activities with space and food afterward to spur conversation.
I'm hoping that we can strengthen the personal connections across the School and help people explore opportunities for collaboration. The pandemic has taken a lot from us. It's time that we recover more of what we have missed.
To that end, don't miss Water UCI's in-person Speaking of Water event March 30 at The Cove. Experts will discuss how water agencies and the industry, in general, can better promote a more diverse and inclusive workforce that reflects the needs and aspirations of the society it serves.
I also invite you all to my welcome reception May 3 at the Barclay. I look forward to seeing you in person there. Details to follow in my next Digest.
Now, I call your attention to the dozen faculty winners — Lee Cabatingan, Sora Han, Dewayne Williams, Kate Kuhlman, Angela Lukowski, Maria Rendón, Amanda Geller, Nicole Iturriaga, Nícola Ulibarrí, Ajay Garde, Avipsa Roy and Tony Cheng — of the University's Interim COVID-19 Research Recovery Program grants. Collectively, they were awarded a total of $181,661 in grants. Congratulations!
I also commend Hillary Berk, our 2022 School of Social Ecology Dean's Honoree for the Celebration of Teaching Award.
As Women's Month comes to a close, I would also like to commend Ilona Yim for helping organize the second annual cohort of Elevate Women, a campus-wide program funded through a grant from the UC Office of the President (Advancing Faculty Diversity). She and Nina Bandelj bring together underrepresented minority faculty women at the assistant and associate professor levels for community building and programming surrounding leadership development. Kudos!
In case you missed it, watch Roxane Cohen Silver deliver a powerful "What Matters to Me and Why" talk. Just wow!
Last, but no less important, the Office of Inclusive Excellence would like for us to share our thoughts about UCI's community safety through this short anonymous survey by April 29. Survey respondents will be entered into weekly drawings for $75 Amazon gift cards. More importantly, responses are essential in understanding the state of community safety efforts and directing attention to areas that require improvement.
---
A blog, featuring the School of Social Ecology goings-on by Dean Jon Gould
March 7, 2022
Welcome to Dean's Digest, my blog where I will inform and brag about faculty, students, staff and alumni doing good work in our school and out in the world.
When I started my deanship on Jan. 1, I pledged to meet at least 90 people of Social Ecology in 90 days. Each day, I feature a different person I've met on my Twitter account. It's been fun meeting folks and getting to know you better. Through this challenge, I have been learning more about the remarkable work being done in our school.
For example, did you know that:
Two of our students — Qi Song and Karma Rose Zavita — were UCI Grad Slam 2022 finalists. Watch them present their dissertation research in just three minutes.
Nícola Ulibarrí has been invited to present to the U.S. Department of Energy on a roundtable briefing on "Environmental Justice and Social Equity Considerations for Consent-Based Siting of Nuclear Waste." She also has been invited to serve on a statewide Advisory Board on the Economic Impacts of Drought, which over the next couple years will be developing research reports and advisory documents regarding drought impacts with a focus on agricultural communities.
Elizabeth Cauffman is the new president of the Society for Research on Adolescence.
Emily Owens will be presenting later this month at the Association of Public Policy Analysis and Management annual meeting.
Kristine Molina has been awarded the American Association of Hispanics in Higher Education's 2022 University Faculty Award for demonstrated excellence in research and teaching and for providing significant contributions to her academic discipline.
Alumnus Maurice Sanchez, who has a B.A. in social ecology, has made history as the first Latino and first person of color to become an associate justice on the Fourth District Court of Appeal, Division 3. We will be honoring him at the university's Lauds & Laurels event on May 26.
Alumna Shari McMahan, who served as Peter the Anteater when she was a student earning her B.A. and Ph.D. in social ecology, has been chosen to serve as president of Eastern Washington University. We honored her at Lauds & Laurels in 2021.
Undergrad Katie Wang Freiberg has won three awards: the Chancellor's Award for Excellence in Undergraduate Research, the School of Social Ecology Dean's Scholar Award, and School of Social Ecology Award for Exceptional Achievement in Undergraduate Research for her outstanding research on "How can cities promote accessible green spaces? A comparative case study between Melbourne and San Francisco."
Graduate student Renata Langis received the 2021 Orange County-American Planning Association Award of Merit, for her Professional Report on "Bicycle Facilities and Safety Hazards Associated with Active Transportation: A Corridor-Level Analysis of Collisions in Long Beach, CA."
Undergrad Isis Haynes, president of the Urban Studies Students Association, received a Black Thriving Scholar Award.
The UCI Academic Senate is recognizing Keramet Reiter with its 2021-2022 Distinguished Mid-Career Faculty Award for Service.
Brandon Golob has been selected by the UCI's Office of the Vice Provost of Teaching and Learning and the Office of Inclusive Excellence as one of the inaugural winners of the UCI Inclusive Excellence Teaching Award.
Nicole Iturriaga just published her first book, "Exhuming Violent Histories: Forensics, Memory, and Rewriting Spain's Past," which shines a light on how Spanish human rights activists have turned to science and technology to keep the memory of dictator Francisco Franco's terror alive.
Fudge Scholar Andrew Norman battled cancer and all its debilitating side effects twice and now is graduating with his B.A. in psychological science.
Our Master of Advanced Study in criminology, law & society has been named the nation's best online criminal justice master's program by U.S. News & World Report for the third year in a row.
Since the year commenced, our faculty have won nearly $1 million in grants to carry out important research. They include:

Nancy Rodriguez, $400,000 from the MacArthur Foundation for "Expanding the Evidence Base on Latinos/as in Local Criminal Justice System"
Susan Turner, $359,044 from the California Department of Corrections and Rehabilitation for "Parole Violation Decision making instrument Revalidation"
Valerie Jenness, $215,492 from Office of Justice Programs for "Research and Evaluation of Policing"
Avipsa Roy, $17,600 from the Haynes Foundation for "Assessing the role of housing affordability in characterizing COVID-19 spread among vulnerable populations in the LA region"

In January and February alone, our school has been represented in the media 30 times, much thanks to Charis Kubrin, Roxane Cohen Silver, Michael Méndez, Stephen Schueller and Jessica Borelli, who took the time to chat with journalists multiple times.
The Social Ecology Undergraduate Advising office has created a referral form that can be used by faculty and staff members to help students, who are struggling in class and could benefit from academic advising or assistance accessing appropriate campus resources.
To say this quarter has been unusual and challenging hardly scratches the surface. It has been all the more impressive, then, to join the School during this period and observe how dedicated our faculty and staff are to the educational mission and how much our students have been able to adapt and keep moving forward. I'm certain I speak for all of us in saying that I look forward to a spring term that more closely resembles "normality," and I am excited for more opportunities to interact in ways that will strengthen our academic community.