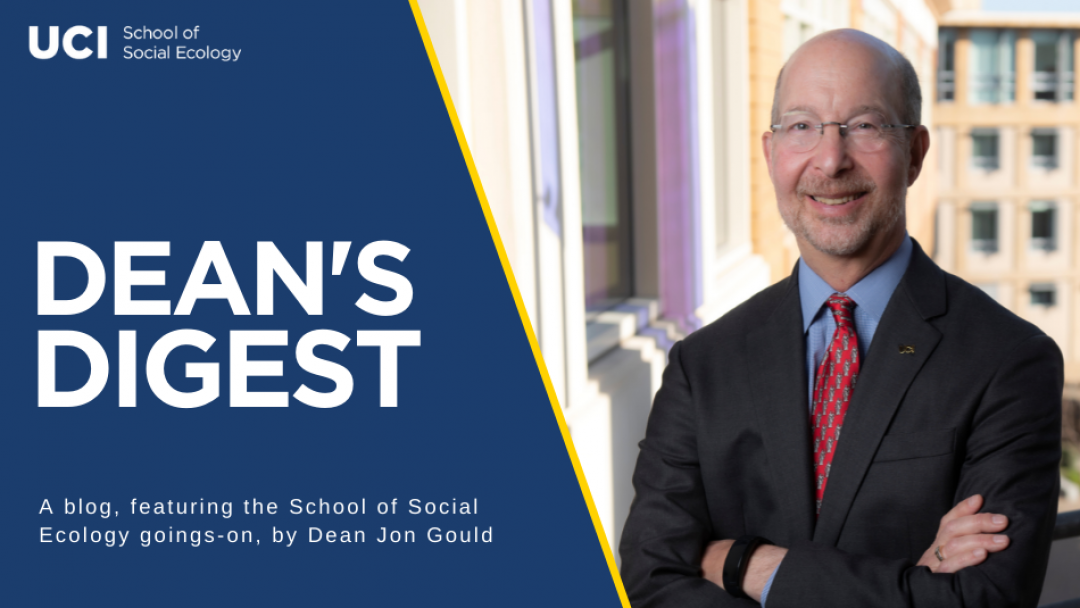 ---
Welcome Back!
September 28, 2023
Dear Colleagues,
Welcome back to a new academic year! The older I get, the faster the summer seems to go, but my sense is that our community made the most of their time this summer to decompress, recharge, and begin plans for the coming year.
This was true for me as well, since the last 21 months have felt like a sprint at times. But, as I took some time to survey the School's trajectory, I could not be prouder of what we have achieved together. Just consider some of our accomplishments:
As you may have seen in messages this summer, our faculty's external research support jumped 400% over the last six years, and in fact doubled from just last year.
Each of our departments is highly ranked nationally among its disciplines. Criminology, Law and Society (CLS) boasts the #1 ranked master's programs and is tied at #2 for doctoral programs, according to U.S. News & World Report. This summer, Urban Planning and Public Policy (UPPP) saw its Master of Urban Planning (MURP) program jump seven spots to #14 in a national ranking. And, in a first, Psychological Science's doctoral and undergraduate programs are among the top 20 nationally. In fact, the undergraduate psychology program is #9 among public universities. Even acknowledging the methodological challenges in national rankings, it is wonderful to see the dedication of our faculty and staff and the quality of our academic programs recognized so highly.
The accomplishments of our faculty, students, staff, and research centers are attracting considerable attention, as our media hits in 2023 top those of other schools at UCI.
Our undergraduates remain among the most diverse at UCI, with our share of Latina/o/x students the highest of UCI's schools.
Our development team is beginning to hit on all cylinders, attracting new supporters to Social Ecology and reengaging alumni and past sponsors.
The School launched the UCI-OC Poll this summer, offering twice-annual surveys on significant issues facing Orange County. We were fortunate to partner with the United Way of Orange County as the sponsor of the first poll, which addressed homelessness and affordable housing. That survey has attracted considerable attention in the local press and on social media, as we are working with community groups and government leaders to help translate the findings into action.
Looking ahead to the 2023-24 academic year, we have several exciting initiatives on the horizon. First, we have three new faculty to welcome, Professor OJ Mitchell and Associate Professor Mercy Romero in CLS and Assistant Professor Dominic Bednar in UPPP.
Our strategic planning process moves into the operationalization stage this fall, as we'll convene focus groups of faculty, staff, and students to consider the highlighted themes.
UPPP faculty landed a new Labor Center for the School, one of a few UC campuses to be awarded such a center. Proposals are currently pending from other faculty to launch up to three more centers on other topics, which we hope will see similarly positive results.
The School's new budget plan is being rolled out this year, accounting for reductions at the campus level and adjusting to changes in the new graduate student contract.
Finally, we hope to bring the year of "organizational shifts" to a close, as the School is now fully staffed and people are sliding into their new roles. Although there are always a few hiccups when procedures are changed, Jennifer dos Santos and I are confident that administrative processes will be smoother in the long-run.
As we mark the start of the new academic year, I would like to invite you to two events this fall.
On Wednesday, Oct. 11, from 3:30-5 p.m., we will be holding an all-school meeting to help explain the new budget plan, answer questions, and also share the agenda for the strategic planning process. Please join us in SBSG 1517.
Then, on Thursday, Nov. 2, Social Ecology will host a Día de Los Muertos event. Honoring our Latina/o/x students, their families, and our ties to the community, the event will see arts, crafts, food, altars honoring loved ones, and an afternoon and evening of musical performances. Sponsored by Northgate Gonzalez Market, the festivities will last from 4:30 to 8:30 p.m. at the ANTrepreneur Center and are likely to draw a crowd. Please mark your calendar now to come participate. To honor loved ones in our digital altar, send a photo and dedication to secomm@uci.edu.
If this opening message is so long, it is only because there is so much to brag about our School. Thank you for your role in keeping us moving forward and helping to chart a compelling future. As you can tell, I am excited about where we are and where we're going, and I'm delighted to be on this journey with all of you.
Sincerely,
Jon
---
Strategic Planning
June 29, 2023
Over the last four months, the members of the School's Strategic Planning Committee have been hard at work considering opportunities and challenges for the School's future.
Rather than a traditional strategic planning process in which the committee would arrive at a detailed list of directives, the group has engaged in scenario planning under the leadership of Lisa Perrine, a well-known design thinker (who, in a sign of her commitment to the School's mission, generously donated her time). That process has led to four prioritized goals that emphasize:
interdisciplinary collaboration
community engagement
an expanded field study experience; and
the creation of a physical or virtual hub to expand our social impact.
In all of this, the committee was guided by a larger mission to unleash the potential of our faculty, students, and staff to positively impact the world's most challenging problems.
With the help of Han Parker and Mimi Cruz, the Committee has crafted a video that explains the process and the next steps. I would ask you to take a few minutes to view the video, which will bring you immediately up to speed.
The next step in the planning process is to bring together groups connected to the School to talk about how to operationalize these goals. Over the summer, we'll start with staff and external stakeholders, including alumni and potential donors. In the fall, when everyone is back on campus, we'll convene groups of faculty and students, all with the goal of having a plan finalized by the end of the calendar year. Of course, if you have any questions before then, please don't hestiate to reach out to me or any of the members of the Strategic Planning Committee.
And, finally, speaking of those members, please join me in thanking the following individuals, who worked so hard these past several months to keep us moving forward:
Richard Matthew (co-chair)
Danielle Primavera (co-chair)
Tony Cheng
Carolyn Coles
Susan Bibler Coutin
Jennifer dos Santos
Sule Guney
Lacee Pappas
Stephen Schueller
Stacy Skwarlo
Nicola Ulibarri
---
It's awards season
May 31, 2023
As we approach the end of this academic year, I am proud to announce the awards our high-achieving students and faculty are receiving this season. Big kudos to the following:
Professor Nancy Rodriguez, who will be named a fellow of the American Society of Criminology in November.
Assistant Professor Brandon Golob, our School's Professor of the Year for the third year in a row.
Ph.D. candidate in criminology, law and society Justin Sola, whose paper evaluating how scholars use neoliberalism to explain social problems is the winner of a Society for the Study of Social Problems graduate student paper competition.
Professor Ilona Yim, recipient of UCI's Carol Connor Equity Advisor Impact Award.
Ph.D. student Jianmin Shao, a 2023 Dissertation Fellow in Women's Studies by the Institute for Citizens & Scholars' WW National Fellowship Foundation.
Professor Jodi Quas, winner of the Karen J. Saywitz Legacy Award from the California Professional Society on the Abuse of Children.
Graduate student Veronica Valencia Gonzalez, the winner of multiple awards including a Graduate Student Paper Award from the American Society of Criminology conference, a National Science Foundation Graduate Research Fellowship, the 2022-23 UCI Public Impact Fellowship and 2023-24 UC President's Pre-Professoriate Fellowship.
Graduate student Karma Rose Zavita, winner of UCI's Tom Angell Fellowship Award.
Eleven of our high-achieving seniors — Patricia Ávalos, Angela Boatwright, Zachary R. Griggy, Ashley Heltzel, Wei Huang, Megan Kosai, Ivy Li, Julia Isabelle Lin, Phoebe Pham, Daniel Rojas and Jira (Hugh) Trinetkamol — who are recipients of this year's Chancellor's Award of Distinction.
Ph.D. student Darcianne Watanabe, winner of a National Science Foundation Graduate Research Fellowship.
Social ecology major Giselle Guzman, the 2023 recipient of the Outstanding Community College Transfer Student Scholarship.
New Center
Our school now houses UCI's new Labor Center, which is helmed by Professor Virginia Parks, whose latest study on the closure of a refinery has been getting much media attention.
Notable Research
Speaking of notable research, Professor Charis Kubrin discussed her studies on rap lyrics in court trials on a podcast with artist LL Cool J.
And, Professor Nancy Rodriguez and her students Amalia Mejia, Rebecca Tublitz and Meghan Ballard recently released two national reports commissioned as part of its Safety and Justice Challenge, highlighting varying local immigration enforcement tactics and gaps in language access services for those who are justice-involved. The reports reveal that some local justice systems are using local resources to execute federal immigration policy, and lack proper resources to ensure language services for those who need it.
Presentations
Let me commend our faculty, students and staff, who have been busy presenting at conferences worldwide. A few I know about:
Distinguished Professor Elizabeth Loftus talked about memory at the Nobel Prize Summit in Washington D.C. last week.
Distinguished Professor Valerie Jenness will be presenting at the International Sociology Association World Congress of Sociology in Melbourne, Australia next month on "Policing the Rainbow: An Empirical Examination of LGBTQ+ People's Perceptions of Police as Friend or Foe in the Context of 'Trust in Government.' "
Professor Scott Bollens presented "Researching Urban Political Conflict: 7 Countries, 3 Decades" at Columbia University, Graduate School of Architecture, Planning and Preservation in New York.
From our Undergraduate Affairs office, Danielle Primavera and Alejandra Garibay presented their advising expertise at the UC Advising Conference on campus
A number of our Criminology, Law and Society faculty and students are making presentations at the Law and Society Conference in San Juan, Puerto Rico this week. And, Associate Dean Susan Bibler Coutin, Professor Charis Kubrin, Assistant Professor Christopher Seeds, Assistant Professor Lee Cabatingan, Assistant Professor Nicole Iturriaga, Assistant Professor Ana Muñiz and I are part of a book launch event, where we will be signing our latest books.
Save the Date
It's my pleasure to announce that our School will be hosting a community Día de Los Muertos event on campus Nov. 2, with presenting sponsor González Northgate Market. Details will be coming soon. Día de los Muertos is a celebration of life, an opportunity to remember loved ones who have passed and honor their memory. Observed in Mexico and other parts of Latin America, Día de los Muertos has gained popularity in California where Latinos number 55.4 million. Our School's student population is 46 percent Latino. And, our celebration will focus on amplifying the Latino culture on campus, and mobilize the local community by partnering with schools and community-based organizations to engage Latino college students of tomorrow to participate and be inspired because they are represented, embraced and celebrated at UCI.
---
Social What?
April 24, 2023
Depending on how you measure the School of Social Ecology's age, we're either in our 53rd year as a program or 31st year as a School.
And yet people still ask us, "What is Social Ecology?"
So, we're doing something about that in 2023. We're jumpstarting a new "School of Social What?" media campaign, and we're hosting a party on April 26 to celebrate the initiative.
Yes, a party. Why? Because it's clear that we need a chance to come together for fun.
The event will be held on Wednesday, April 26 from 4 to 6pm in SBSG 1517. Please come. Feel free to bring your friends and family members. We are looking for a large turnout, and in fact, the first 300 attendees will receive a free T-shirt.
If you need no other reason to attend, consider that the theme will be the 1970s and that Mimi Ko Cruz has already convinced me to come dressed for the era.
Don't forget to RSVP.
Check out our many other events, including:
---
Welcome new executive director of development
March 24, 2023
I am delighted to report that we have successfully recruited a new Executive Director of Development for the School of Social Ecology. After a national search assisted by the firm Isaacson Miller, we found the right person in our own background. Stacy Skwarlo will be joining us on April 17.
Stacy has been a leading fundraising professional for more than 15 years in community-based organizations and healthcare. For many years, she served as senior executive director at Hoag Hospital Foundation. She was key in the development and success of the Hoag Promise Campaign, a comprehensive, $627 million fundraising campaign that reached its goal 18 months ahead of its scheduled completion. In addition to healthcare fundraising, Stacy was an executive leader at Operation HOPE, where she served as the senior vice president of HOPE partnerships, working with Fortune 500 companies and stewarding their philanthropic investments to address economic inequality, financial illiteracy, social injustice, inequitable access to capital and lack of financial dignity for under-served individuals and small businesses. Most recently, she has been Chief Philanthropy Officer at Be Well OC, a comprehensive nonprofit that works to make compassionate mental health care available across Orange County.
You can see that Stacy has that rare combination of an exceptional track record in development and a deep commitment to many of the issues we address in the School of Social Ecology. She is also well connected with many of our target donor audience in Orange County. To say that I am excited by her decision to join us and help lead our outreach barely scratches the surface. She has the potential to be a game-changer for our development operation.
So, some great news as we head into Spring Break. We'll be ready to go when everyone is back. In the meantime, I hope you get some down time next week and a chance to recharge.
---
Welcome new associate dean
March 3, 2023
When I started this job more than a year ago, I was delighted and relieved that Susan Coutin agreed to remain as Associate Dean for the transition. I was even more pleased when she agreed to stay an extra year in that role. But, Susan has more than served her time, and so she will be returning to the faculty at the end of this academic year.
All of us owe Susan a debt of thanks. She is a tireless and dedicated leader, an advocate for faculty and students alike, a hard worker, and a talented writer. The fact that she is also an accomplished researcher and instructor makes her a hard act to follow.
Fortunately, we will have a new Associate Dean who more than meets the moment. I am delighted to announce that Professor Susan Charles will assume this role July 1st.
Susan Charles joined the UCI faculty in 2000. Many of us know her as the most recent Chair of the Department of Psychological Science and as former Associate Dean in the Graduate Division, but she has many other years of administrative experience at UCI. She has been Chair of the Graduate Council and the Writing Board, served as Social Ecology's Division Assembly Representative, was a member of the Council on Undergraduate Admissions and Relations with the Schools, and has served on many campus ad-hoc committees.
She is also an accomplished researcher, examining how emotional experience and regulation change across the adult lifespan and how these emotional processes are related to mental and physical health. Her work has been continuously funded since 2001 by the National Institutes of Health.
Susan Charles is on sabbatical this year, spending time in Japan, Switzerland, and at Stanford University. She is looking forward to returning to UCI in June, and I could not be more pleased to be working with her going forward. We have a number of challenges to address in the next two years, and Susan Charles will help lead us through those issues and more.
Please join me in thanking Susan Coutin for her exemplary service and in welcoming Susan Charles to the role. I plan to host a "Susan C. Party" in June in their collective honor.
---
Being Environmental Changemakers
Feb. 28, 2023
I am thrilled to announce that through a partnership between our school, the School of Physical Sciences and the Samueli School of Engineering, we are offering students the opportunity to be certified environmental changemekers.
The Environmental Changemakers Certificate, now available to all UCI undergrads, demonstrates the value of collaboration across disciplines in our quest to prepare students to become the best advocates for our planet.
Speaking of the environment, help me congratulate Maura Allaire, assistant professor of urban planning and public policy, for landing a $360,000 award from the National Center for Atmospheric Research Early Career Faculty Innovator Program. Her research project, "Advancing Equity in Wastewater Adaptation to Climate Change," aims to address a range of important topics, including adapting wastewater systems and optimizing the potential of green infrastructure to address climate risks.
From the planet to the field, how about that Super Bowl? Nevermind who won the game, did you see our alumna HyeJung Park was an honorary coin toss captain. I watched just to see her story being narrated by Kevin Costner. What a proud moment for our school. Hers is an inspiring story about navigating higher education as an undocumented student, enlisting in the Army and earning a Ph.D. Now she wants to give back. Because of the positive impact the California Dream Act had on her life, she is pursuing a career in public policy, hoping to champion legislation that will open doors of opportunity for others. An inspiration indeed.
Student Opportunity
Full-time paid summer internships are available through the UCI Labor Center. If you are selected, you'll get a week of orientation at UC Berkeley, a mentor and a graduation ceremony. Deadline to apply is March 17.
Upcoming Events
March 1: Office Hours with Scott Bollens. Don't miss this chance to catch up with Professor Bollens at this Zoom meeting.
March 2: Our first 5 for 10 event, where five professors, chosen by students, will speak for 10 minutes each.
April 26: School of Social What? Campaign launch party. This is your opportunity to don your finest 1970s threads and celebrate with us, 1970s style, as we give away T-shirts and talk about what makes our school unique. Don't miss this fun event!
---
We're the Best!
Jan. 25, 2023
U.S. News and World Report has again declared that we're No. 1! That's right, our online Master of Advanced Study in criminology, law and society has been ranked the best in the nation for the fourth consecutive year. We credit the quality of our M.A.S. program for this recognition as our faculty and students continue to lead the nation. Help me applaud everyone involved in making M.A.S. the success it is.
Also making us proud:
Upcoming Events
I look forward to seeing you at one or more of our events this year, so get ready to attend.
Feb. 22: We continue our Daybreak Dialogues series. Enjoy free breakfast and free parking while listening to a riveting presentation by Professor Jason Schiffman and alumnus Marshall Moncrief ('03, BA psychology and social behavior), CEO of Mind OC. They will tell us how we partner with the community to tackle Orange County's mental health crisis.
March 2: It's our first 5 for 10. Students voted to hear from these five professors:
Hillary Berk on "Constructing a Mother: How Surrogacy Contracts Create and Control Family Membership"
Jessica Borelli on "Emotional Vulnerability as a Driver of Social Connectedness"
Ana Muniz on "Gang Profiling as Legalized Racial Profiling"
Maria Rendon on "From the Hood to the Academy"
Jason Schiffman on "Following Passion and Preventing Psychosis"
Each will speak for 10 minutes. As a thank you to the profs, I'm donating five $300 student scholarships, each named for the professors.
We have a couple more big events coming up that I'll share here soon so stay tuned.
---
New year, new goals
Jan. 2, 2023
A year ago today, my wife and I were packing our cars full, loading the dog, and driving from Phoenix to Irvine to begin work the next day at UC Irvine. Today, I'm heading out on a different trip — to Washington, D.C. as part of UCI's delegation to tomorrow's swearing in of the new Congress. It's hard to believe that an entire year has gone by, but what an exciting time. Some of the excitement I could have anticipated — the chance to work with talented colleagues — and some was a little more unexpected, the strike, for example. But, I still feel as energized and grateful as I did a year ago to be working at my dream school and with a team of faculty and staff colleagues dedicated to expanding knowledge, serving students, and improving the world.
The new year typically brings resolutions, but today I'm thinking about the exciting opportunities and challenges we have ahead in 2023, So, with apologies to David Letterman (who you can Google here if I'm dating myself), I offer my own Top 10 List for the School of Social Ecology this year.
Our new Senior Assistant Dean, Jennifer dos Santos, begins on Jan. 9. Among her early undertakings will be a review of how we staff and handle administrative tasks to reduce burdens for our faculty and staff.
External support for faculty research continues to grow at an impressive rate. Under the leadership of Kat Diaz, Director of Finance, and Candice Odgers, Associate Dean for Research and Faculty Support, our contracts and grants team will be positioned to better serve the needs of faculty researchers.
We will begin a strategic planning process early this year. The initiative will be co-led by Professor Richard Matthew, Director of Strategic Initiatives, and Danielle Primavera, Director of Undergraduate Advising, and will involve a committee of eight others, including Professors Tony Cheng, Susan Coutin, Sule Guney, Stephen Schueller and Nicola Ulibarri; Jennifer dos Santos; CLS doctoral student Carolyn Coles; and recent SE PhD graduate Lacee Pappas. The process will be facilitated by Lisa Perrine, a member of the Dean's Leadership Council for Social Ecology. Following our successful external review, the process will help us prioritize our goals and think through how best to achieve them.
Building on our successful event this fall involving Andrew Yang, we anticipate hosting other notable leaders this year as part of our "Leading Change" speakers series.
With the coming transition in leadership of the School's development team, we will have an opportunity to further tailor our fundraising approaches and assess our priorities. We anticipate some exciting announcements in the months ahead.
Our communications team plans to promote 2023 as "The Year of Social Ecology" and will have some fun with a social media campaign that leans into the meaning of our name.
In conjunction with the Schools of Physical Science and Engineering, we will soon unveil an undergraduate certificate program in Environmental Changemakers.
The "5 for 10 Program," originally scheduled for the first day of the strike, is being rescheduled for Winter Quarter. Organized in part by our undergraduates, the event will feature five SE faculty (Professors Berk, Borelli, Muniz, Rendon, and Schiffman) speaking for 10 minutes each on subjects of the students' choosing. To honor the faculty and thank the students, $1,500 will be contributed to student scholarships in the faculty members' names. (Big thanks to Josh Miller in Undergraduate Advising and Angela Rubio for their help in the logistics.)
Speaking of students, our doctoral students and post-doctoral fellows will be back! I recognize there are multiple perspectives on the merits, resolution, and tactics of the strike, but it is imperative that we find ways to establish trust and maintain community. Our Associate Dean, Susan Coutin, the graduate advisors, led by Jennie Welti, and our department chairs — Professors Walter Nichols, Emily Owens, and Ilona Yim — are already working on measures and approaches to do just that. We also will be following closely how the University plans to implement the new graduate agreements.
Finally, we will need to plan for the budget realities to come from the University. The next few years will be a time of fewer central resources, but Social Ecology stands in a better position than do some similar schools at UCI. I am thankful that the members of the Ad Hoc Committee on the School's Budget — Professors Simon Cole, Elliot Currie, Jutta Heckhausen Nick Marantz, Stephen Schueller, Nicola Ulibarri — will join with Susan Coutin, Jennifer dos Santos, and the department chairs in advising on our options.
All in all, there are many exciting opportunities and initiatives ahead in the new year — plenty to do but not so much that they are overwhelming. As we begin a second year of working together, I want to thank you again for your collective welcome, collegiality, and partnership. I am bullish on our future and look forward to what we are, and will continue to do together.
I hope you and your family and friends have had wonderful holidays and a rejuvenating break. I wish you all a very happy new year.
---
Happy Holidays!
Dec. 19, 2022
I wish each of you a very happy holiday season! All of us are joined by hopes for peace and joy. In my family's tradition, we're asked to work at repairing the world. In many ways, that is what we do here in the School of Social Ecology, whether it's addressing the mental health crisis, working to advance sustainable solutions or trying to promote justice reform.
Please take care of yourselves and rest up this holiday season. I look forward to seeing you in the new year when our adventure continues.
Sincerely,
Jon
---
Happy Thanksgiving!
Nov. 23, 2022
For as long as I can remember, Thanksgiving has been my favorite holiday. In addition to its focus on friends, food and family, the holiday calls us to pause, consider our lives, and express gratitude for all that we have.
I want to start this year by thanking all of you. The Social Ecology community is a dedicated and caring group, looking to serve individuals and causes greater than ourselves, and committed to improving communities, the nation, and the world. I know that may sound like a platitude at times, but in my almost 11 months at UCI I have found it to be the ground truth. This is a special place with a remarkable group of faculty, staff, and students.
So, thank you – for your research and teaching; your support of the many functions that make the School run; your commitment to our students, especially those who are first-generation college attendees or who may face financial challenges; your desire to learn and expand your skills and world view; your adaptability and willingness to roll with unforeseen challenges; and, mostly, your grace and good humor. All of these have been on clear display this quarter, and it is this collection of talents, perspectives and energy that makes me optimistic about the future of our School.
On a more personal level, I want to thank you for your welcome, partnership and trust in my first year at UCI. It has been very much appreciated and gives me comfort this holiday. Several years ago, I lost my father two days before Thanksgiving. Ever since, the holiday has been even more poignant for me. I know several of you have lost loved ones this past year, and for others there may be additional reasons that make it difficult to feel thankful this season. Please know that, whatever else is going on in your lives, your role at UCI and the School of Social Ecology is meaningful, and I am grateful that you are a member of our community. For that – and for our collective commitment to expand knowledge, improve the world, and serve others – I believe we can all give thanks.
Sincerely,
Jon
---
Andrew Yang, CUSP, kudos and thanks
Nov. 10, 2022
In case you haven't RSVP'd to our first Distinguished Speaker Series event with Andrew Yang Nov. 15, it's time to claim your seat. He'll be speaking on "Technology, Democracy and the Future." All are welcome to this free event.
On the CUSP
In other big news, we have launched our Climate and Urban Sustainability Program (CUSP) to mobilize the extensive skills, knowledge, experience and insights available across the UCI campus to help solve the climate and environmental challenges facing urban areas in California and beyond. We want to create conditions for sustainable urban development and human flourishing by furthering understanding, hastening effective communication and helping to solve the complex environmental challenges of the 21st century — climate change, pollution, natural resource degradation and depletion, and natural habitat loss.
Applause
Kudos to Distinguished Professor Roxane Cohen Silver and Professor Alison Holman, who just this morning were awarded the Innovation Award from the International Society for Traumatic Stress Studies.
Congratulations also go to Professor Emeritus James Diego Vigil, who will be receiving the 2022 Solon T. Kimball Award for Public and Applied Anthropology from the American Anthropological Association (AAA).
For their diverse and inclusive research, Avipsa Roy, assistant professor of urban planning and public policy, and Kaitlin M.H. Winks, Ph.D. candidate in psychological science, have been awarded this year's Dean's Award for Inclusionary Excellence in Research.
Let's also congratulate Professor Richard Matthew, who besides being director of the Blum Center for Poverty Alleviation and for CUSP, has also been appointed the research director for climate change and international security for a new University of California initiative. The initiative is part of the UC's Institute on Global Conflict and Cooperation.
Veterans Salute
As we approach Veterans Day, I'd like to send a special shout out of appreciation to veterans among our faculty, staff, students, and alumni, who have served our country. Thank you for your service.
---
Welcome to the new school year!
Oct. 6, 2022
Welcome to the new academic year! We are working hard to provide our students with the excellent education we're known for, and I am excited for the year ahead.
Upcoming Events
With the waning of the pandemic, the School is poised to take a leading role on campus in advancing public engagement. As part of that effort, I am delighted to report that Andrew Yang, co-chair of the Forward Party, will be speaking on campus Nov. 15 as part of our new speaker series. Please mark your calendars for a 4 p.m. event that Tuesday at the Barclay.
In addition, our former colleague Mark Baldassare also will be appearing for a talk on Nov. 10 as he steps down as President and CEO of the Public Policy Institute of California later this year. We have invitations out to additional state, national and international leaders and hope to host other interesting speakers. If you have a lead on someone you would like to invite, please let me know.
Other events worth attending include:
Faculty Awards and Promotions
Big kudos to Stephen Schueller, associate professor of psychological science, who co-designed a research project that won a National Institutes of Health award of nearly $5 million over five years. Collaborators from UCI, UC Berkeley and UC San Francisco will combine peer support with the use of a digital platform to better serve the mental health needs of Latino patients with limited English proficiency.
Congratulations also go to the team led by Maura Allaire, assistant professor of urban planning and public policy and Water Equity Lab director, for obtaining a $350,000 National Science Foundation grant to study water inequities. One research focus will be the relationship between various Orange County water districts and their ratepayers.
Keep the applause coming for Tony Cheng, assistant professor of criminology, law & society for becoming the first faculty member from UCI to receive the American Society of Criminology award named after the late criminologist Joan Petersilia, a legendary UCI faculty member and alumna.
And, help me congratulate Chuansheng Chen and Jutta Heckhausen, our newest Distinguished Professors!
Staff News
I am delighted to report that Katherine Saldana Diaz will be joining Social Ecology in mid-October as our next Director of Finance. Kat (as she prefers) is currently Director of Contracts and Grants at the Engineering School. Kat's coming arrival bodes well for the budget modeling process we are currently completing.
Meanwhile, the search committee to recruit the next Assistant Dean is making good progress. As we move through this period of transition, we are quite fortunate that Becky Avila and her team from Social Sciences are assisting us so well.
Student Opportunities
WISE — If you're interested in mental health and wellness-related events, the Wellness Initiative in Social Ecology (WISE) Peer Advisory Collective (PAC) is offering WISE Wednesday, a space to meet peers, faculty and staff and connect around various topics like self-care, career exploration, and more. It will take place every other Wednesday at 5 p.m., starting Oct. 5. For more information, check out the WISE website.
ACE Lab — The School has remodeled our Achieving College Excellence (ACE) Lab, which supports our incoming first-generation students. It is located in SE 2, Room 1396. The program serves students with a team of 15 peer mentors, and tracks the progress of our student mentees throughout their first year at UCI. For more information, contact ACE coordinator Lisardy Velasco.
UCDC — Our students may be able to fulfill Field Study through internships in the UCDC program, a 10-week internship experience open to undergrads. Spring 2022 and summer 2023 applications are due Nov. 1. For details, students can attend an upcoming information session or visit the Office of Civic Engagement.
As students hit the books, I, too, am catching up on some enlightening reading by our own professors, postdocs and graduate students. Join me in checking out their latest publications.
Speaking of publications, our school's experts are highly sought after to provide their expertise on everything from awe to heat, grief, happiness, fascism, rap lyrics, mass killings, water quality, incarceration inequities, the death penalty and myriad social justice issues in newspapers, on radio and television and other news sources. Check out all our media mentions so far this year.
---
Meet me at the picnic
August 22, 2022
As we prepare for the start of the new academic year, I'm excited to attend UCI's Staff Appreciation Picnic this Thursday, Aug. 25. The annual event celebrates our hard-working staff and I look forward to personally thanking you. Here is the information and I look forward to seeing you there:
Date: August 25
Time: 11:30 a.m. – 1:30 p.m.
Location: ARC Main Field
More Details
Speaking of events, our school will be inviting some compelling speakers, who are sure to draw a crowd, in the year ahead. Stay tuned for more information in the months ahead.
Faculty News
Our faculty are doing great things to improve and enlighten our society. Here are a few examples:
Elizabeth Cauffman, professor of psychological science, has been awarded a $10.1 million grant to expand the Orange County Young Adult Court. This is a pioneering program created in part by Professor Cauffman. This grant is on top of another $300,000 awarded to Dr. Cauffman by the Orange County Community Corrections Partnership to support the Young Adult Court. Dr. Cauffman and her team have the opportunity here to help break the cycle of recidivism among young adult offenders. Dr. Cauffman's success exemplifies our approach to solving social problems and highlights the mark that we make.
Charis Kubrin, professor of criminology, law and society, discussed the importance of conducting racial justice research as a panelist at the recent Racial Democracy, Crime and Justice Network Meeting at Rutgers. In addition, Dr. Kubrin got a nice shout out from Sen. Dave Min, when the California Senate passed AB 2799, the Decriminalizing Artistic Expression Act, which will put a dent in the discriminatory use of rap lyrics in criminal trials.
Elizabeth Loftus, distinguished professor of psychological science and criminology, law and society, has been awarded her eighth honorary doctorate, this one from Australian National University.
Valerie Jenness, distinguished professor of criminology, law and society, is the new president of the American Society of Criminology. In her role, she encourages the research, teaching and practice that fosters criminological scholarship and shares criminological knowledge worldwide.
Sarah Pressman, professor of psychological science, has been appointed Division of Undergraduate Education associate dean of student success. Dr. Pressman's expertise in stress, health and happiness will aid in engaging our undergraduate population across the campus.
Staff Transitions
Three key staff leaders — Greg Reinhard, Romaine Fravien and Christopher Park — have departed or will depart Social Ecology soon, and Rebecca Ávila, assistant dean of the School of Social Science, is serving as our interim assistant dean. She was the inaugural assistant dean of the Law School and an administrator at USC at other times in her career. For those who have previously worked with her, you know that Becky is knowledgeable, unflappable, effective and broad-spirited.
The next few months are certain to be more challenging for our operations, but we are also using this moment to evaluate our administrative structures and operations to improve our effectiveness and efficiency – and to attend to our staff's needs. I am confident that the short-term pain of transition will bring medium- and long-term gains for the School. During this time of transition, I hope we will all be understanding and supportive of the School's dedicated staff.
As part of that transition, we are beginning the search process to recruit a new assistant dean. This search will be led by another talented administrator at UCI – Benedicte Shipley, assistant dean of Biological Sciences. The advertisement is being posted and a search committee named, so please use this time to reach out among your networks to encourage the most talented candidates to apply.
Bittersweet Appreciation
It is with sadness that I announce the passing of Distinguished Professor Emeritus Michael Berns, a longtime faculty member and founding director of the UCI Beckman Laser Institute and Medical Clinic. His late wife Roberta Berns once worked in our School as a lecturer, and he and his family established an endowment to create the Roberta M. Berns Memorial Student Scholarship Fund. Because of his generosity, our school annually awards $5,000 scholarships to deserving students. This year's recipient is psychological science major Jenny Zanger. Last year's recipients were Jazmin Cabrera and Katherine Chang. We sincerely appreciate the generosity of the Berns family and extend to them our condolences.
---
Commencement and congratulations
June 27, 2022
Commencement is my favorite time of the year. I'm proud of our students, now graduates, who have shown the world what it means to persevere and be resilient in the face of changes wrought by the pandemic. Many of our students are the first in their families to attend, let alone graduate from, college, and they have overcome a number of challenges.
Like I told them in my first UCI commencement speech, they are in this not just for themselves but also for others. In the face of the pandemic, growing schisms in our country, the threat of war around the world, and risks to the climate, they are determined to be changemakers, and we need changemakers who will refuse to accept the inexplicable or the intolerable as inevitable. If you missed the festivities, check out this recap.
In this awards season, I call your attention to some pretty big accomplishments by our students and faculty:
Kudos for this well-deserved recognition! And, big shout-outs to the following faculty members for securing grants for their important research:
With this academic year coming to a close, I want to thank the members of the School's senior academic leadership team. They include Susan Bibler Coutin, associate dean for academic affairs; Richard Matthew, associate dean for research and international programs; Ilona Yim, equity advisor; Susan Charles, chair of the Psychological Science Department; Mona Lynch, chair of the Criminology, Law and Society Department; and Virginia Parks, chair of the Urban Planning and Public Policy Department.
Next year's leadership team includes Susan Coutin; Candice Odgers, who is stepping into a new role as director for research and faculty development. Richard Matthew will be moving into a different role — director of strategic engagement — in which he will assist with strategic planning, engagement with high-level donors, and organizing and expanding the School's capabilities in environmental policy and sustainability. Emily Owens will serve as chair of criminology, law and society; Walter Nicholls will be chair of urban planning and public policy; and Nicholas Scurich will be chair of psychological science in 2023. Ilona Yim will be acting chair until then. Jodi Quas will serve as equity advisor for the year until Ilona returns in 2023.
As summer is upon us, you might be looking for a reading list. I suggest you read the latest books and articles by our own Social Ecology faculty, students and alumni:
Enjoy your summer!
---
Most hopeful thing to do is help one another
May 25, 2022
I am simultaneously heartbroken and furious with what happened in Texas yesterday and in Buffalo last week. No one should send their child to school in the morning and then have to collect them at a morgue in the afternoon. No one should have to worry about a white supremacist gunning them down in a supermarket. It doesn't have to be this way. As the editor of an upcoming book on empirical criminal justice reform, I know of many common sense firearm measures that are also consistent with the Second Amendment.
But, that's not my greater concern. I'm more worried about all of us – especially this next generation we're educating – throwing up our hands in hopelessness about normalized violence, pandemic fatigue, a possible world war, and many other problems that social media regularly pushes past us. First we were exhausted from the pandemic, and now there is the fear that nothing can change.
As I wrote to students today (see inset), the most dangerous decision is to give up hope, and the most hopeful thing to do is to help another. That act alone is the first step on the path to change. We in academe are in the hope business, and the School of Social Ecology seeks to translate that hope into building changemakers.
So, please join me today in deciding to act, to do something to help someone else. It doesn't need to be big, just something that connects us with others and makes a difference in the corner of the world we control. It will give hope and provide comfort. And, who knows, perhaps it will be the seed for further action and change.
---
Congratulations to all our award winners!
April 28, 2022
I am proud to announce that Michael Méndez, assistant professor of urban planning and public policy, has been named a 2022 Andrew Carnegie Fellow. This prestigious honor comes with a $200,000 prize to support his research on climate-induced disasters and their impact on underrepresented communities. Please join me in congratulating Dr. Méndez.
Let's also congratulate Douglas Houston, associate professor of urban planning and public policy, and Sora Han, associate professor of criminology, law and society, for leading the two winning proposals selected for the UCI Black Thriving Initiative Faculty Cluster Hiring Program. Their programs will recruit at least six new faculty members whose work elevates Black communities. In addition to addressing crucial issues and paving new paths for research, teaching and creative expression, these proposals bring special pride and tangible rewards for the School of Social Ecology. First, we will see new faculty lines in the School as a result of the winning initiatives. Second, our faculty have been recognized as campus leaders on these issues. There were eight proposals considered, spanning more than 20 departments and including more than 60 faculty across campus. For our faculty to win out over such talented competition is a real boon to Social Ecology's reputation and a tangible sign that we are serious about continuing to attack structural racism and further diversify our faculty.
More kudos are in order for the following faculty members and student on their recent honors:
Kate Ryan Kuhlman, assistant professor of psychological science, for her Academy of Behavioral Medicine Early Stage Investigator Award for being an exceptional early career scientist.
Oliver Sng, assistant professor of psychological science, for his Association for Psychological Science Rising Star designation.
Brandon Golob, assistant professor of teaching in criminology, law and society for receiving two campuswide honors — the Excellence in Digital Learning Award and the Learning Experience Design and Online Education Award — at the recent Celebration of Teaching event.
Hillary Berk, also was recognized at the Celebration of Teaching event as our 2022 School of Social Ecology Dean's Honoree.
Yasmin Barrientos Kofman, Ph.D. candidate in psychological science, for winning a UCI Most Promising Future Faculty Award as well as for landing a postdoctoral research fellowship on the NIMH T32 Program on Biobehavioral Issues in Mental and Physical Health at UCLA.
The entire school is applauding you!
In my last blog post, I promised you details for my welcome reception. I hope to see you all there May 3, 5-7 p.m. at the Irvine Barclay Theater. RSVP here.
Other upcoming events worth attending include:
---
Spring quarter has sprung, let's meet
March 28, 2022
Welcome to spring quarter! As classes commenced today, life on campus is returning to a closer resemblance of "normal." Most classes are being taught in person, and masks, while recommended, are no longer required.
It's an exciting time, as applications to our school are up 15% over last year. We had 4,500 applications this year.
In an effort to strengthen our sense of community, the School is initiating several activities, including:
On Thursday, March 31 at noon, the School is hosting a spring quarter welcome lunch for faculty and staff in SBSG-1517.
Earlier on the same day (March 31 at 10 a.m. in SBSG-1517), we are hosting an in-person visit by an editor of The Conversation. Faculty and graduate students interested in publishing articles and op-eds in The Conversation are urged to attend.
Throughout spring quarter, I am hosting a series of breakfasts and lunches for faculty and staff, and I am looking forward to chatting with you.
Professor Ilona Yim, the School's Equity Advisor, is organizing a "writers' retreat" for SE faculty, in which folks will gather for a couple of hours at a time to write together. The School will be supporting these activities with space and food afterward to spur conversation.
I'm hoping that we can strengthen the personal connections across the School and help people explore opportunities for collaboration. The pandemic has taken a lot from us. It's time that we recover more of what we have missed.
To that end, don't miss Water UCI's in-person Speaking of Water event March 30 at The Cove. Experts will discuss how water agencies and the industry, in general, can better promote a more diverse and inclusive workforce that reflects the needs and aspirations of the society it serves.
I also invite you all to my welcome reception May 3 at the Barclay. I look forward to seeing you in person there. Details to follow in my next Digest.
Now, I call your attention to the dozen faculty winners — Lee Cabatingan, Sora Han, Dewayne Williams, Kate Kuhlman, Angela Lukowski, Maria Rendón, Amanda Geller, Nicole Iturriaga, Nícola Ulibarrí, Ajay Garde, Avipsa Roy and Tony Cheng — of the University's Interim COVID-19 Research Recovery Program grants. Collectively, they were awarded a total of $181,661 in grants. Congratulations!
I also commend Hillary Berk, our 2022 School of Social Ecology Dean's Honoree for the Celebration of Teaching Award.
As Women's Month comes to a close, I would also like to commend Ilona Yim for helping organize the second annual cohort of Elevate Women, a campus-wide program funded through a grant from the UC Office of the President (Advancing Faculty Diversity). She and Nina Bandelj bring together underrepresented minority faculty women at the assistant and associate professor levels for community building and programming surrounding leadership development. Kudos!
In case you missed it, watch Roxane Cohen Silver deliver a powerful "What Matters to Me and Why" talk. Just wow!
Last, but no less important, the Office of Inclusive Excellence would like for us to share our thoughts about UCI's community safety through this short anonymous survey by April 29. Survey respondents will be entered into weekly drawings for $75 Amazon gift cards. More importantly, responses are essential in understanding the state of community safety efforts and directing attention to areas that require improvement.
---
A blog, featuring the School of Social Ecology goings-on by Dean Jon Gould
March 7, 2022
Welcome to Dean's Digest, my blog where I will inform and brag about faculty, students, staff and alumni doing good work in our school and out in the world.
When I started my deanship on Jan. 1, I pledged to meet at least 90 people of Social Ecology in 90 days. Each day, I feature a different person I've met on my Twitter account. It's been fun meeting folks and getting to know you better. Through this challenge, I have been learning more about the remarkable work being done in our school.
For example, did you know that:
Two of our students — Qi Song and Karma Rose Zavita — were UCI Grad Slam 2022 finalists. Watch them present their dissertation research in just three minutes.
Nícola Ulibarrí has been invited to present to the U.S. Department of Energy on a roundtable briefing on "Environmental Justice and Social Equity Considerations for Consent-Based Siting of Nuclear Waste." She also has been invited to serve on a statewide Advisory Board on the Economic Impacts of Drought, which over the next couple years will be developing research reports and advisory documents regarding drought impacts with a focus on agricultural communities.
Elizabeth Cauffman is the new president of the Society for Research on Adolescence.
Emily Owens will be presenting later this month at the Association of Public Policy Analysis and Management annual meeting.
Kristine Molina has been awarded the American Association of Hispanics in Higher Education's 2022 University Faculty Award for demonstrated excellence in research and teaching and for providing significant contributions to her academic discipline.
Alumnus Maurice Sanchez, who has a B.A. in social ecology, has made history as the first Latino and first person of color to become an associate justice on the Fourth District Court of Appeal, Division 3. We will be honoring him at the university's Lauds & Laurels event on May 26.
Alumna Shari McMahan, who served as Peter the Anteater when she was a student earning her B.A. and Ph.D. in social ecology, has been chosen to serve as president of Eastern Washington University. We honored her at Lauds & Laurels in 2021.
Undergrad Katie Wang Freiberg has won three awards: the Chancellor's Award for Excellence in Undergraduate Research, the School of Social Ecology Dean's Scholar Award, and School of Social Ecology Award for Exceptional Achievement in Undergraduate Research for her outstanding research on "How can cities promote accessible green spaces? A comparative case study between Melbourne and San Francisco."
Graduate student Renata Langis received the 2021 Orange County-American Planning Association Award of Merit, for her Professional Report on "Bicycle Facilities and Safety Hazards Associated with Active Transportation: A Corridor-Level Analysis of Collisions in Long Beach, CA."
Undergrad Isis Haynes, president of the Urban Studies Students Association, received a Black Thriving Scholar Award.
The UCI Academic Senate is recognizing Keramet Reiter with its 2021-2022 Distinguished Mid-Career Faculty Award for Service.
Brandon Golob has been selected by the UCI's Office of the Vice Provost of Teaching and Learning and the Office of Inclusive Excellence as one of the inaugural winners of the UCI Inclusive Excellence Teaching Award.
Nicole Iturriaga just published her first book, "Exhuming Violent Histories: Forensics, Memory, and Rewriting Spain's Past," which shines a light on how Spanish human rights activists have turned to science and technology to keep the memory of dictator Francisco Franco's terror alive.
Fudge Scholar Andrew Norman battled cancer and all its debilitating side effects twice and now is graduating with his B.A. in psychological science.
Our Master of Advanced Study in criminology, law & society has been named the nation's best online criminal justice master's program by U.S. News & World Report for the third year in a row.
Since the year commenced, our faculty have won nearly $1 million in grants to carry out important research. They include:

Nancy Rodriguez, $400,000 from the MacArthur Foundation for "Expanding the Evidence Base on Latinos/as in Local Criminal Justice System"
Susan Turner, $359,044 from the California Department of Corrections and Rehabilitation for "Parole Violation Decision making instrument Revalidation"
Valerie Jenness, $215,492 from Office of Justice Programs for "Research and Evaluation of Policing"
Avipsa Roy, $17,600 from the Haynes Foundation for "Assessing the role of housing affordability in characterizing COVID-19 spread among vulnerable populations in the LA region"

In January and February alone, our school has been represented in the media 30 times, much thanks to Charis Kubrin, Roxane Cohen Silver, Michael Méndez, Stephen Schueller and Jessica Borelli, who took the time to chat with journalists multiple times.
The Social Ecology Undergraduate Advising office has created a referral form that can be used by faculty and staff members to help students, who are struggling in class and could benefit from academic advising or assistance accessing appropriate campus resources.
To say this quarter has been unusual and challenging hardly scratches the surface. It has been all the more impressive, then, to join the School during this period and observe how dedicated our faculty and staff are to the educational mission and how much our students have been able to adapt and keep moving forward. I'm certain I speak for all of us in saying that I look forward to a spring term that more closely resembles "normality," and I am excited for more opportunities to interact in ways that will strengthen our academic community.