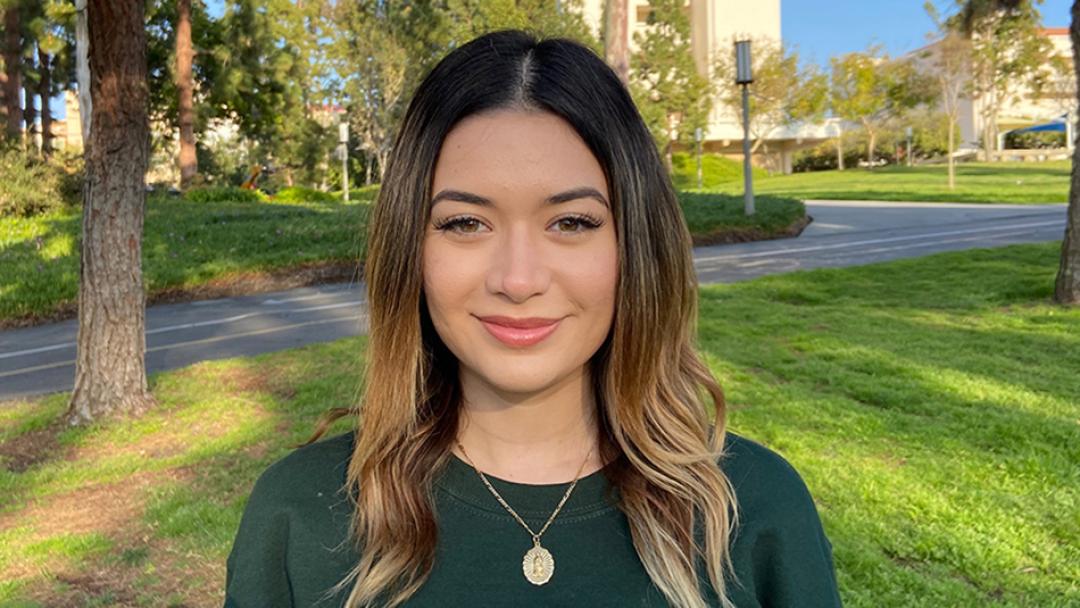 ---
Honor recognizes double major transfer student for academic excellence
Giselle Guzman, fourth-year psychology and social ecology major, is the 2023 recipient of the Outstanding Community College Transfer Student Scholarship. The honor, which includes a $1,000 prize, recognizes academic excellence. Below, Guzman shares how she discovered her love for psychology and how, as a first-gen student, her brother helped her navigate university life.
What would you consider your biggest accomplishment at UCI?
My biggest accomplishment at UCI would have to be maintaining my position on the Dean's Honor List since I arrived. I have maintained an A average throughout my time here and it took me a lot of effort and time to do so. I've also received the Chancellor's Excellence grant each academic year since my arrival.
What activities have you been involved with on campus?
I am an active member of Phi Lambda Rho Sorority Inc. at UC Irvine, as well as a member of the psychology honors society at UC Irvine, Psi Chi. I have also served as a behavioral therapist, proudly working with individuals with autism spectrum disorder.
Who has played an important mentorship role in your life thus far and why?
My older brother has played an important mentorship role in my life throughout my academic career. We are both first-generation, and he went through the UC university process before me. He was able to guide me through with what he learned, and has always been an inspiration to me. I wouldn't have been able to get to where I am today at UCI if it hadn't been for his guidance along the way.
What challenges or hurdles have you faced in getting to where you are today?
I would say having to work full-time while being a full-time student was definitely a challenge in getting to where I am today. I didn't have the privilege of focusing solely on school or going after unpaid internships because I needed to have a paying job to get me by. However, having to work harder to excel definitely helped me develop resilience and determination which has helped me in achieving my goals and so much more.
When do you plan to finish your degree and what are your plans thereafter?
I am set to graduate in Spring of 2023, so I have one quarter left! I don't have any set plans as of yet, I'm currently looking for a full-time job post-grad. I eventually want to go to graduate school, but I am hoping to gain some work experience first.
Where can you most often be found on campus?
I can most often be found at the RISE suite at the student center. It feels like such a home away from home to study, plus they have free snacks! If I want a fun environment to hang on campus, I also enjoy going to the Anthill Pub. Their fries are the best!
What's your best memory thus far from your undergraduate experience at UCI?
My best memory has been the friends I've made along the way. I was able to experience undergrad with different people from different backgrounds, and it opened me up to things I never would have thought to do. It's impossible to pick just one memory, but I'd have to say the spring break trip I took with my friends last year is at the top of my list.
— Heather Ashback