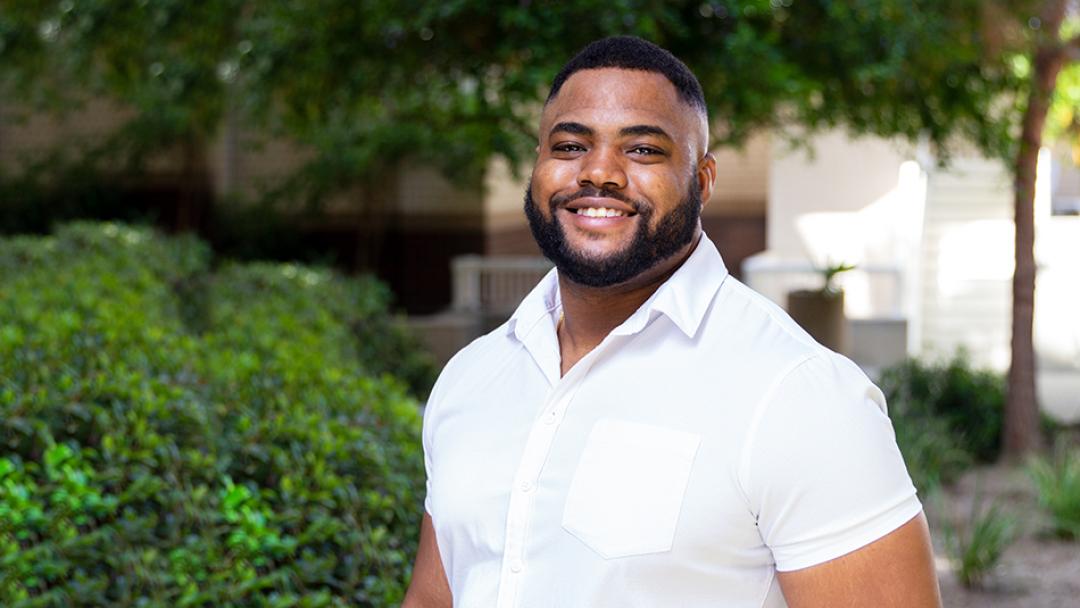 ---
Cameron Wiley bestowed an $81,000 predoctoral award among other honors
Cameron Ross Wiley, a Ph.D. student in psychological science, has been awarded a Ford Foundation Predoctoral Fellowship. The honor comes with a total of $81,000 in stipends over the next three years.
Since joining UCI, Wiley has been diligently conducting research, teaching, and mentoring fellow students. His research is in the area of psychophysiology, or the study of the connection between psychological phenomena and physiological responses. More specifically, he focuses on the association between self-regulation (emotion and stress) and cardiovascular health, how these associations differ by race, and what physiological factors and mechanisms influence racial health disparities. He has given multiple guest lectures on topics including cognitive development, moderators of the stress experience, racial differences in how positive psychological factors predict upper respiratory infections, and unfair treatment as it relates to health disparities in Black Americans.
Additionally, the 27-year-old scholar is a graduate research assistant in Distinguished Professor Julian Thayer's Integrated Emotions and Quantitative Psychophysiology Lab, Professor Sarah Pressman's Stress, Emotion, and Physical Health Lab, and Distinguished Professor Roxane Cohen Silver's Stress and Coping Lab.
He serves UCI through a number of roles, including chair of UCI's Student Health Insurance Advisory Committee, vice president of administrative affairs for the Associated Graduate Students at UCI, Psychological Science co-representative for the Social Ecology Graduate Student Association, and graduate ambassador for the School of Social Ecology. He also is a member of professional organizations such as the Society for Psychophysiological Research, the Association for Psychological Science, and the American Psychosomatic Society.
Outside of his Ford Foundation Predoctoral Fellowship, Wiley also received the following recognitions over the past year:
Roxane Cohen Silver Student Diversity Award of $1,000 from the Department of Psychological Science
2021-2022 Graduate Student Mentoring Award from the School of Social Ecology
2022 Emerging Scholar Award of $300 from the Association for Psychological Science
Interim COVID-19 Research Recovery Program Award of $5,000 from UCI
Competitive Edge Peer Mentor for Summer 2022
In addition, Wiley, Professor Pressman and DeWayne Williams, assistant professor of psychological science, have been awarded a $23,000 grant for "Advancing Psychosocial & Biobehavioral Approaches to Improve Emotional Well-Being" from the National Institutes of Health. They will be working on a project funded by this grant this summer.
"Cameron's incredible success this year truly shows what hard work and persistence can do! He is unbelievably bright and a true rising star in psychological science," Pressman says.
Wiley received his B.S. in psychology (with a neuroscience minor) from The Ohio State University in 2017, his M.A. in general psychology from North Carolina Central University in 2019, and his M.A. in social ecology from UCI in 2021. He expects to complete his Ph.D. in 2024.
Wiley, who plans to pursue a university professorship after he completes his doctorate, says he would have appreciated a mentor during his early academic journey, so he dedicates time to be a mentor to undergraduate students.
"While I have been fortunate enough to network with the right people as I have matriculated, I seldom had a consistent presence to turn to for professional or personal advice. Having this kind of resource is essential for optimizing success in any aspect of life, and not having access to proper mentorship shouldn't be a reason that someone is held back from reaching their full potential," he says. "So, I want to make sure students, especially minority students, have that resource."
Wiley, who has helped build houses for impoverished families in Guatemala and tutored underprivileged students in Chicago, believes in community service and giving back.
"Serving those in need in Guatemala and Chicago left a deep impression on my young adult mind and heart, and these experiences ultimately inspired my current commitment to learning how to effectively respond to the educational needs of diverse student populations in pedagogically productive and inclusive ways," he says.
Wiley was chosen for the Ford Foundation Predoctoral Fellowship for his superior academic achievement, commitment to a career in teaching and research at the university level and promise of future achievement as a scholars and teacher who is prepared to use diversity as a resource for enriching the education of all students.
He is grateful for the recognition and says he plans to continue working hard to reach his future goal of making a strong impact on the field of psychology.
— Story by Mimi Ko Cruz / photo by Han Parker
---
Contact:
Mimi Ko Cruz
Director of Communications
949-824-1278