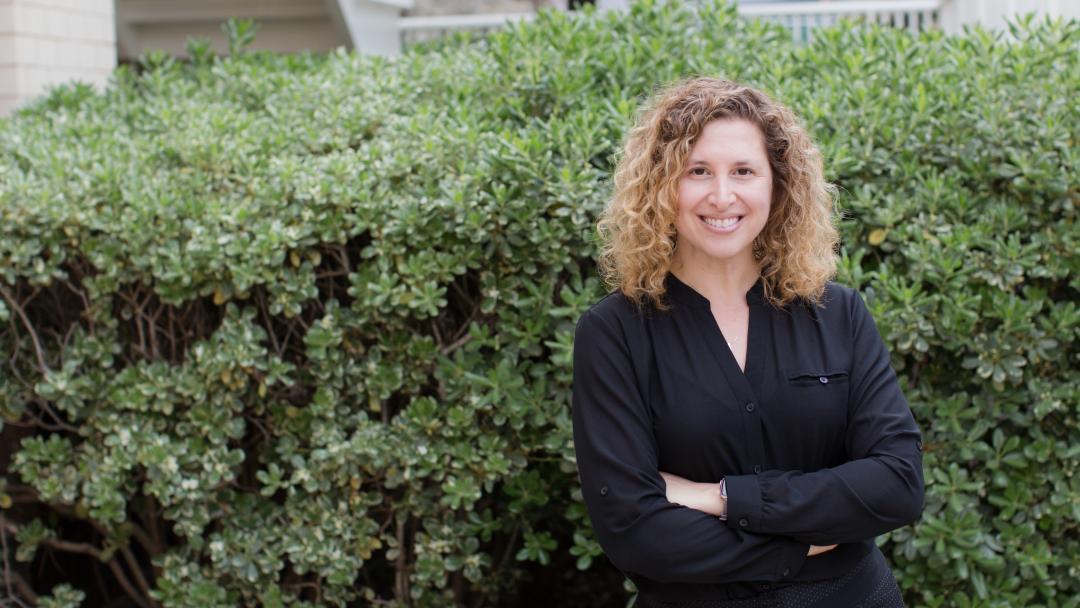 ---
Professor of psychological science promoted
Sarah Pressman, professor of psychological science, has been appointed Division of Undergraduate Education (DUE) associate dean of student success. Her tenure commenced July 1.
"Dr. Pressman's expertise in stress, health and happiness will aid in engaging our undergraduate population and helping each of them find their own personal student success," Michael Dennin, dean of DUE and vice provost of teaching and learning noted in announcing her appointment.
Pressman joined the School of Social Ecology in 2013 and has been actively involved in many student serving roles including working on the faculty advisory board for the Undergraduate Research Opportunities Program for seven years, acting as the graduate advisor for psychological science, serving as a field study advisory board member, and helping with various UCI task forces and workgroups dedicated to student well-being, career readiness, resilience, and equity and diversity. She regularly teaches and gives talks on happiness, stress, and well-being to the UCI and Orange County communities. She also has organized many relevant conferences, most recently on the importance of psychological factors to the COVID-19 pandemic for the Association for Psychological Science.
A fellow of the Academy of Behavioral Medicine Research and the Society for Personality and Social Psychology, Pressman blends research from psychology and medicine to better understand how to keep humans happy and healthy, especially in the face of psychological stress. For this work, she has received early career awards from the American Psychosomatic Society and the American Psychological Association. Professor Pressman's teaching and mentoring achievements have also been well documented at UCI, as evidenced by her being awarded the Chancellor's Award for Excellence in Fostering Undergraduate Education and the Faculty Mentor of the Month Award.
The Pressman Stress Emotion & Physical Health Laboratory (the STEP lab) is dedicated to improving human health by better understanding the changeable psychological, social, and behavioral factors that can alter well-being trajectories. Examples of important recent findings include the importance of happiness for longevity, the benefits of different positive emotions for reducing the physical harms of stress, and pandemic-relevant, the effects of sleep on antibody response to vaccination, as well as the pain reducing benefits of a simple smile while getting an immunization.
"I've been passionate about improving the student experience since I was an undergraduate student myself. I am thrilled that I can use my expertise as a well-being researcher and partner it with my campus service experience to help UCI undergraduates be more successful across every domain," Pressman said. "World events over the past years have led to so much uncertainty, stress and exhaustion across the campus. I look forward to supporting our students through this tough time and helping however I can."
---
Related:
Psychology Meets Biology in COVID-19: What We Know and Why It Matters for Public Health
Studying psychological effects of augmented reality
Lack of sleep reduces flu shot effectiveness
Videos offer insights on stress and how to cope
Smiling sincerely or grimacing can significantly reduce the pain of needle injection
---
Contact:
Mimi Ko Cruz
Director of Communications
949-824-1278