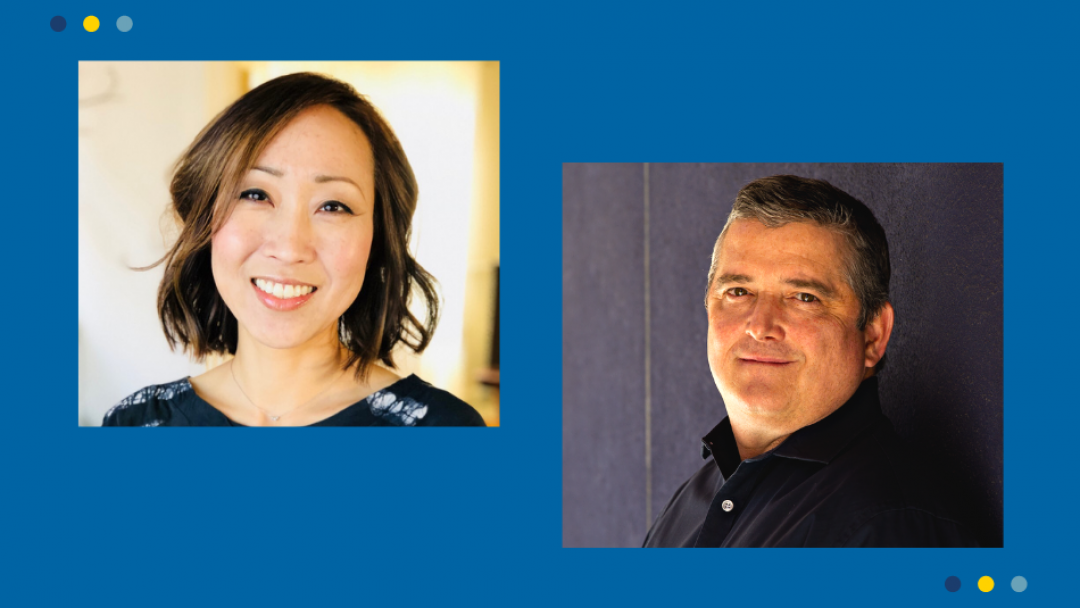 Sora Han, left, and Douglas Houston
---
Efforts helmed by Han and Houston will recruit professors whose work elevates Black communities
Leading the two winning proposals selected for the UCI Black Thriving Initiative Faculty Cluster Hiring Program are Douglas Houston, associate professor of urban planning and public policy, and Sora Han, associate professor of criminology, law and society. Their programs will recruit at least six new faculty members whose work elevates Black communities.
"The initiative is a competitive two-year effort to recruit faculty who interrogate structural racism in its myriad forms. It aims to build on the hiring priorities of academic units; pave new paths for research and creative expression, teaching and learning, and community engagement; and manifest our commitment to diversity, equity and inclusion in research, teaching and service," Provost and Executive Vice Chancellor Hal Stern announced in an email to campus today.
The winning proposals are: "Infrastructure Equity," led by Houston, and "Poetic Justice: Advancing Arts and Culture in Higher Education to Support Black Community Thriving," co-led by Han and Liz Glynn, associate professor of art. Academic units participating in these programs will recruit scholars whose synergistic expertise will build interdisciplinary collaboration around each program's focus area. Each will also receive $150,000 in funding over three years for campus programming that expands educational excellence, supports the Black Thriving Initiative and fosters strong partnerships with Black communities in Southern California and beyond.
"In addition to addressing crucial issues and paving new paths for research, teaching and creative expression, these proposals bring special pride and tangible rewards for the School of Social Ecology," Dean Jon Gould says. "First, we will see new faculty lines in the School as a result of the winning initiatives. Second, our faculty have been recognized as campus leaders on these issues. There were eight proposals considered, spanning more than 20 departments and including more than 60 faculty across campus. For our faculty to win out over such talented competition is a real boon to Social Ecology's reputation and a tangible sign that we are serious about continuing to attack structural racism and further diversify our faculty."
Infrastructure Equity
"As states begin the allocation of historic levels of federal infrastructure spending, it is critically important to ensure that the benefits of new infrastructure and climate investments are realized for marginalized communities," Houston says. "Historically, the negative impacts of infrastructure investments have been disproportionately borne by Black communities and other marginalized groups. This initiative builds on existing strengths to position UCI as a national leader in addressing social, environmental, and racial disparities in infrastructure planning, design, and implementation for decades to come."
Houston's team includes:
Their program has three goals:
It will recruit scholars whose work elevates Black communities and who are well positioned to build on current campus strengths to forge new paths for research innovation, interdisciplinary collaboration, and extramural funding that advances greater infrastructure equity for Black communities.
The Infrastructure Equity (IE) Cluster will leverage existing courses and community engagement efforts and the expertise of new hires with Black communities to mentor the next generation of IE scholars, professionals, and policy makers.
The IE Cluster will solidify UCI's national leadership in infrastructure and climate research and policy through translational research, engagement with policy makers, and support for community-driven solutions. Through foundational research, campus collaborations, and engagement with impacted communities and policy makers, the IE Cluster will amplify the contributions of new hires and the Black Thriving Initiative by building a community of scholars and advocates trained in best practices for community and policy engagement and by forging equitable and collaborative partnerships with community organizations and governmental agencies in Black communities in Southern California and beyond."
Poetic Justice
"Our initiative is important at this particular moment when so many are demanding and building alternatives to policing, punishment and incarceration as solutions to social problems," Han says. "Artists, scholars, students and everyday people have always been at the forefront of social change. Our initiative plans to integrate this ethos at every level of activity here at UCI, inline with one of the most compelling mandates of the Black Thriving Initiative, which is to take a "whole university" approach to eradicating anti-black racism. By harnessing the power of culture, we not only tell new stories, we challenge old ideas, reach neglected audiences, inspire new ventures, and innovate research methods and practices of knowledge production, first, with and for Black communities in California, and as a consequence, for the greater public good."
Han and Glynn's team includes:
"At every crucial juncture in our nation's history, Black authors, artists and other creative workers, especially from Los Angeles and the greater Southern California region, have produced new narratives, images and social practices that challenge systemic anti-black racism and affirm Black life and humanity," the professors note. "Their works, broadly conceptualized by the term poetic justice, elevate the level of public conversation on how the history of slavery, segregation, and mass incarceration directly affect virtually every civic and social institution, including higher education. Hiring under the theme of poetic justice, our Cluster will build stronger connections between UCI and community-based institutions that focus on the production and preservation of Black history, culture and art. Focusing on this nexus between UCI and California's cultural economy, poetic justice will support the creative talents of Black Southern Californians, students, faculty, staff and other system-impacted people on our campus and beyond, build sustainable arts and culture industry careers, and promote campus- and societal-level visions of reparative justice."
---
Contact:
Mimi Ko Cruz
Director of Communications
949-824-1278