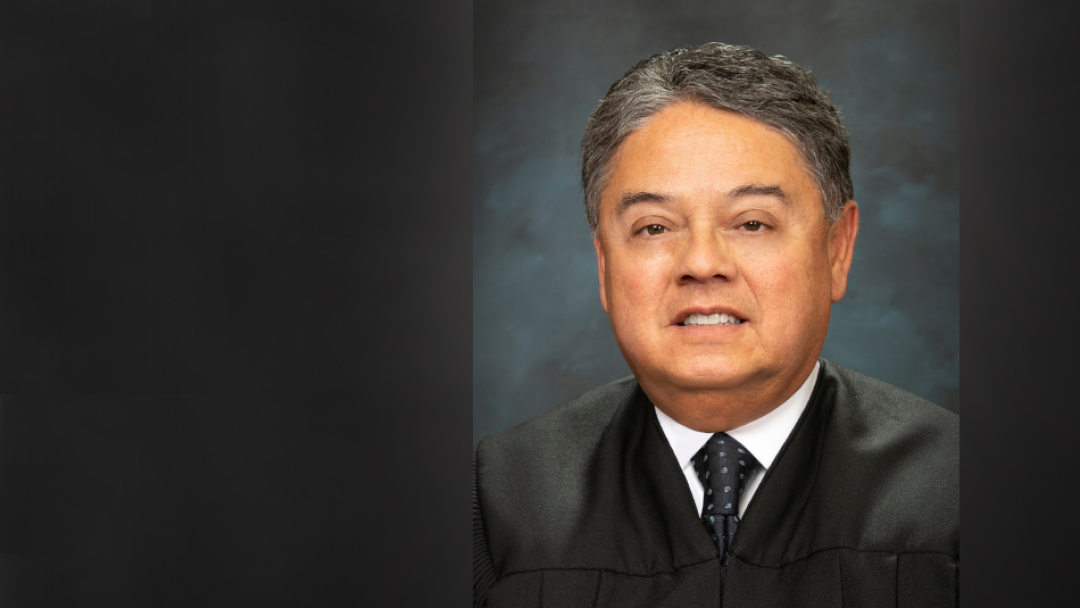 ---
Maurice Sanchez is first Latino and first person of color on Court of Appeal
By Mimi Ko Cruz
Maurice Sanchez made history last month when he was confirmed as associate justice on the Fourth District Court of Appeal, Division 3. He is the first Latino and first person of color to serve on the bench.
The UC alumnus, who earned his bachelor's degree in social ecology from UC Irvine in 1978 and law degree from UC Berkeley in 1981, grew up in Santa Ana, where the Court of Appeal is based.
Sanchez, 65, called his latest appointment, made by Gov. Gavin Newsom, the "high point of my career."
"To be appointed to be one of the eight Justices on our local Court of Appeal is a tremendous honor and responsibility," he said. "I will do my best to live up to the trust that the Governor has placed in me. Historically, it's humbling to be the first person of color on this Court, which is about 40 years old. I never would have dreamed when I was a kid riding my bicycle around the streets of Santa Ana that I would be in this position."
Sanchez is the son of hard-working Mexican immigrants who settled in Santa Ana with the dream of giving their four children opportunities they never had.
Tragedy struck when Justice Sanchez, the youngest child, was 8. His father died of emphysema and it was up to his mother to provide for her family. She worked long hours while her daughters looked after their younger brother. Despite their troubles, the Sanchez children took their schoolwork seriously.
Justice Sanchez attended Mater Dei High School on a scholarship and he and all his siblings earned college degrees. He met his wife Teri at Mater Dei and they've been married for 41 years. They have three children and a one-month-old grandchild.
After receiving his J.D., Sanchez began his legal career with Rutan & Tucker in Costa Mesa. He later worked as in-house counsel for Hyundai Motor America and Mazda Motor of America, Inc. He returned to private practice with Alvarado, Smith & Sanchez and later became an equity partner with two AmLaw 100 firms — Baker & Hostetler, where he was named national leader of the distribution and franchise team, and Nelson, Mullins Riley & Scarborough, where he helped launch their Los Angeles office.
Sanchez has represented more than a dozen motor vehicle manufacturers, trying numerous cases in several states, before both administrative agencies and in court, including bench and jury trials and appeals. He was responsible for drafting and implementing national dealer agreements and policies for six major motor vehicle companies.
In 2018, Gov. Jerry Brown appointed Sanchez to the Orange County Superior Court bench, where he was assigned to the Family Law Panel.
On. Jan. 6, at his confirmation hearing for the Court of Appeal, the presiding justice of Division 3, Kathleen E. O'Leary, touted Sanchez's qualifications, calling him intelligent, earnest, humble, compassionate and generous.
"I think you need a brain, a heart and courage, all those qualities we learned about in the 'Wizard of Oz' that makes a complete person," she testified. "Judge Sanchez's education and his many accomplishments establishes he has a brain. Judge Sanchez's community service, especially his service to those most in need in our community, demonstrates the heart. And, his personal story is a very compelling story because he overcame some very difficult circumstances. … He dealt with the challenges that came his way, he persevered and he overcame the obstacles and now he serves as a role model for those who come from similar circumstances. He is the embodiment of the phrase, si se puede."
On being the first Latino and first person of color on the Court of Appeal, O'Leary said, "this means that when the people we serve come into our court, when they see the pictures and the names of our justices, they'll see justices who are beginning to look like them. That's significant because a diverse judiciary plays a significant and very important role in maintaining public trust and confidence in our judicial system."
Orange County Superior Court Judge Julie A. Palafox agreed.
"Unlike many who leave behind disadvantaged communities after they achieve their own success, Judge Sanchez not only returned to his after he landed a very plum job out of UC Berkeley Law School, but, even today, he remains connected to his deep roots in Santa Ana and he's done this over the years without a lot of fanfare," she testified. "For example, he has diligently worked and supported the Hispanic Education Endowment Fund, one of the largest organizations providing college scholarships for Latino youths. He has served as the president and regularly supported the Orange County Hispanic Bar Association to further promote education and excellence in the local Hispanic community so that others would have the same opportunities that he had. He's also spent years sitting on the Board of Directors for Olive Crest, offering pro bono legal services to abused and at-risk local children and families in Santa Ana. And, if that was not enough community service, Judge Sanchez, in his spare time, also served many years on the Parishes and Schools in Need Committee of the Diocese of Orange, which was directly responsible for getting essential materials and supplies to the most disadvantaged communities in Santa Ana. Most recently, Judge Sanchez has been a stalwart advisor to his alma mater, Mater Dei High School and its very successful mock trial team. The point is this is a man who has not forgotten his roots and he's very generous with his time and talent with those who are less fortunate."
Sanchez recently answered the following questions.
Who is your role model?
"I have had many role models, but if I had to choose one, it would be Justice Cruz Reynoso, who was the first Hispanic person to sit on the California Supreme Court. A man of great intellect and great humility, Justice Reynoso was born in Orange County (Brea) and was a true champion of those less fortunate."
Why did you decide to pursue a career in law?
"I decided to pursue a career in law after taking some law classes at UCI: Constitutional Law, Criminal Law and Procedure and one or two others. I also took a paralegal class at a community college, just to get a feel for what law would be like as a career. I didn't know any lawyers at the time. The instructor, a practicing attorney, encouraged me to go to law school, and so I applied."
What is one of your career highlights?
"In private practice, I was involved in a case that helped to clarify an area of the law that had been confusing and problematic for many years. After the court decided my case, the law was much more clear and understandable. I'm proud of that."
What is your philosophy?
"My philosophy is to live the best life you can, by your own definition. Don't worry about what others say you should do with your life — only you can determine that."
Do you have any UCI memories that made an impact on your career or life?
"I remember there was an adjunct professor, Dian Ogilvy, who taught Criminal Law and Procedure. I never practiced criminal law, but she made it sound so interesting that it really made me want to go to law school."
What is your favorite book and why?
"I revere Abraham Lincoln. A country lawyer, he rose to the Presidency and saved the nation from coming apart in the Civil War. My favorite book on him is 'Team of Rivals' by Doris Kearns Goodwin. It describes how Lincoln built his cabinet to contain all those people who disagreed with him, and how he loved to hear differing viewpoints in coming to his own conclusions. At first, his cabinet members thought they could overwhelm this country bumpkin who was elected president, but they all came to respect his intellect and his ability to build consensus. I strive to be more like him in this regard."
What are your hobbies?
"I enjoy watching sports, both live and on TV, especially the Lakers. I've been a fan since the early 60s. I enjoy history and reading about historical figures, especially the founders. I very much enjoyed the musical "Hamilton" and the book it was based upon by Ron Chernow. One of the more interesting parts of the book was the role of women, especially Eliza Hamilton, in the Revolution. John Adams' biography by David McCullough also contains interesting passages about his wife, Abigail. Lastly, I enjoy trivia. Here's a question that combines my love of history and sports: Five universities have produced both a U.S. President and a Super Bowl winning quarterback. Name them.
"Answer: 1. University of Michigan: Gerald Ford and Tom Brady; 2. University of Delaware: Joe Biden and Joe Flacco; 3. Stanford: Herbert Hoover and John Elway as well as Jim Plunkett; 4. The Naval Academy: Jimmy Carter and Roger Staubach; and the toughest one 5. Miami of Ohio: Benjamin Harrison and Ben Roethlisberger."
Do you have any advice for students today, hoping for career success like yours?
"My advice is to find something that inspires you, that you must do with your life. If you can find that, you will enjoy it and will work to be good at it. The way you find it is to try different things. Sometimes, something that you thought you would not like turns out to be something you love. You will never know unless you try. If something sounds interesting, try it, even if you don't think you will like all parts of it, or even if you don't have everything the experts say you need to do it. If you never try, you'll never find it."
Is there anything you'd like to add?
"Fortune favors the bold. Don't stop yourself. If there is something you want to do, go for it, or at least find out how you can eventually get there. Take that first step. You never know where it can lead you — maybe to something you didn't know existed, but that you really love doing. If you can't get paid for it at first — volunteer. Eventually, if you're good enough, you can be paid for your work."