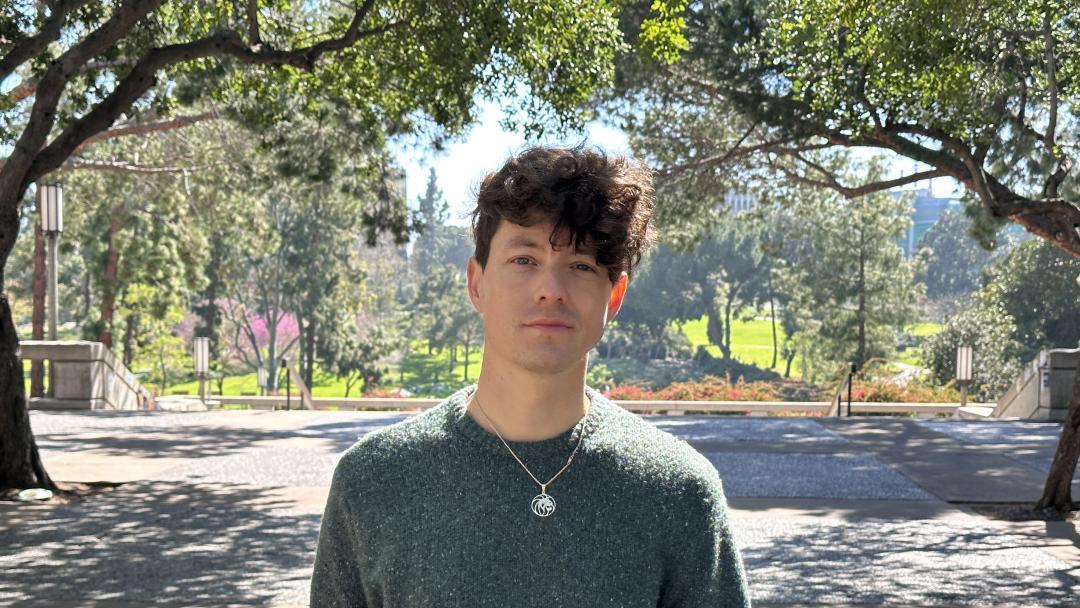 ---
Students' choice third year in a row
Brandon Golob, assistant professor of teaching in criminology, law and society, is the School of Social Ecology's Professor of the Year for the third year in a row.
The honor is bestowed by students. The Social Ecology Undergraduate Affairs office asked the 2023 graduating class to submit nominations for this year's Professor of the Year honor. Golob received the highest number and most enthusiastic nominations.
"It was inspiring to read about the impact you made, how you made learning fun, and the sense of community that you've fostered. We are lucky to have you!" Danielle Primavera, director of Undergraduate Affairs noted in her congratulatory email to Golob.
Excerpts from the student nominations:
"He always puts students first and truly cares about each and every student in his courses. He makes himself available to his students and makes each class engaging and interesting. You can tell he is very passionate about each course he teaches."
"I am thrilled to nominate the one and only Professor Golob for the Professor of the Year award. This gent is a true game-changer when it comes to education. His passion, dedication, and innovative teaching methods have had an enormous impact on his students' success. Professor Golob's teaching style is like nothing I've ever seen before at UCI. He's all about experiential learning, which means getting hands-on and diving into real-world examples. His approach helps students apply their newfound knowledge to everyday situations, and it deepens their understanding of the subject matter. He also cares deeply about his students' well-being. He knows that academic success is only one part of the puzzle, and that a student's mental health and overall happiness are just as important. He provides resources and support to help students navigate any challenges they might face, and he creates a safe and inclusive environment where everyone feels valued and respected. Professor Golob is always willing to listen to his students' opinions and ideas. He fosters a sense of community in his classes, where everyone feels welcome to speak up and contribute. Professor Golob is a total rockstar. He's dedicated, passionate, innovative, and caring, and he truly deserves the title of Professor of the Year."
"Professor Golob is incredibly passionate about the topics he discusses. He makes the material fun by relating topics back to current pop culture and media references. His material is very integrative and educational, while also being fun and intriguing to learn about. He does an amazing job at fostering a very inclusive and open environment by making students feel comfortable and safe asking for help which I really appreciate."
"He is an amazing professor. He is very knowledge and makes sure students are engaged throughout the course. He also incorporates relevant and current media to help us better relate and understand the course."
"I nominated this professor because he is so great in all the classes that he teaches. I took him three quarters because he makes his lectures fun and interesting. Moreover, he cares deeply about his students and makes our mental health a top priority instead of our grades."
"Professor Golob is an incredible and understanding professor who truly cares about his students and is very passionate about his work. He is an amazing staff to have in the department and as a resource for the students."
"He is an outstanding professor and really shows that he cares for his students by being encouraging and understanding. I've always loved his classes and how he teaches and he has been my favorite professor since I transferred to UCI"
"Professor Golob is truly a one of a kind professor. He is dedicated to teaching and supporting his students. He takes time out of his busy day when students need additional support. His teaching style is unmatched and does an excellent job engaging students with interesting group work activities. Essay prompts really reflect what the purpose of the class is and really help students demonstrate and showcase their understanding of course material. I cannot think of a better candidate for this award."
"Golob challenges you to think outside of the box. He is a professor who truly cares about his students and their growth in and outside of the class room. The way he structures his classes allows students to build upon their learning and APPLY that learning to the real world."
"Out of all my years, never had a more understanding and caring Professor at UCI."
"I have had the pleasure of being Professor Golob's student, research assistant, and learning assistant (twice). So, it is very easy for me to say that he is an EXTREMELY fun, dedicated, and inspiring professor who is constantly encouraging his students to excel. He pushes you academically, makes course material fun to learn, and offers so much assistance to students interested in networking out or applying to grad school. Dr. Golob is one of the few professors that acknowledge the heavy workloads students are faced with, and works very hard to be accommodating with his course, while ensuring you reap the most benefits from his class. He is one of those professors that is always looking out and rooting for you, and you can tell that as both his student and member of his teaching/research team."
"Professor Golob is one of the most understanding, empathetic and genuinely amazing professors I've had since I started college. He is very helpful and accommodating to students, I really like his classes, I've learned so much in all of them and he is probably the one professor that I will miss when I graduate. I always tell people to take his class because of how much I've enjoyed his classes, especially when Bruce comes to class :))"
"I've taken every course by Professor Golob & he is consistent, with the times & makes learning accessible in every way!"
"Professor Golob, allowed me to gain a spark of interest in social media and parasocial relationships. So much I decided to create an entire research on those two topics he's taught throughout the years. He even became my faculty member who supported my research and has dedicated so much time on my project and my academic career for the last 2 years. He's made such an impact in my academic and professional career and I appreciate it very much. BEST PROFESSOR I HAVE EVER HAD."
"Professor Golob has had such an immense impact on my understandings of crim/law, but beyond that he has shaped my experience at UCI by providing me the opportunity to be an LA for multiple courses, one of the first readers for social ecology, and has guided me on the confusing/complex law school route. His support and guidance have helped me and started preparing me for my next steps in life/career as I will be a law student."
"The only person who inspired me to continue with criminology path. Not only is he kind and respectful but he makes learning so much fun. I was always engaged in all his lectures. When you mention his name to any CLS major or anyone who's taken his class, it is always a positive reaction. I have not met a single person who does not love professor Golob."
Golob, who joined UCI's faculty five years ago, will be feted at the School's Honors and Awards Celebration on June 16.
"This graduating class earns their degrees in the face of constantly shifting instructional modalities due to COVID-19 and the largest ever U.S. higher education strike," Golob says. "I am inspired daily by my students' resiliency, flexibility, and compassion. Receiving this recognition from such thoughtful humans is a true honor."
Golob's research and teaching focus on the ways legal concepts are communicated to non-lawyers. Both inside and outside the classroom, he examines how legal knowledge is translated to laypeople through mediated and face-to-face communication. He received his dual B.A. in rhetoric and interdisciplinary studies from UC Berkeley, his J.D. from the UCLA School of Law, and his M.A. and Ph.D. in communication from USC's Annenberg School for Communication and Journalism. Building from his diverse educational background, he seeks to create interdisciplinary classrooms that integrate the most effective pedagogical practices from a multitude of fields.
Past Professor of the Year recipients:
— Mimi Ko Cruz