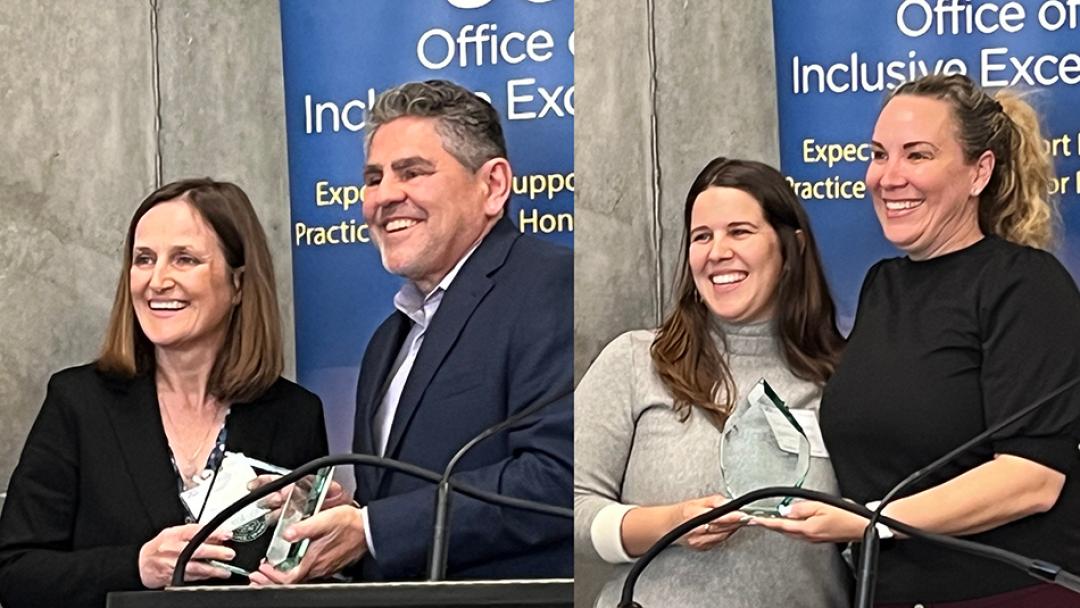 From left: Ilona Yim receives Carol Connor Equity Advisor Impact Award from Interim Vice Chancellor Rodrigo Lazo and Karma Rose Zavita receives Tom Angell Fellowship Award from Gillian Hayes, vice provost and Graduate Division dean. Photos by Susan Bibler Coutin. Video by Emilie Yim
---
Yim and Zavita honored by UCI Office of Inclusive Excellence and Graduate Division
Ilona Yim, professor and interim chair of psychological science, has been feted for her mentoring prowess and Karma Rose Zavita, criminology, law and society graduate student, for her achievement by UCI's Office of Inclusive Excellence and the Graduate Division.
Yim received the Carol Connor Equity Advisor Impact Award and Zavita received the Tom Angell Fellowship Award.
Ilona Yim
The equity advisor award pays tribute to former equity advisor and Chancellor's Professor of Education Carol McDonald Connor. It recognizes former and current equity advisors in pioneering, innovative and evidence-based peer mentoring and consultations to advance diversity, equity and inclusion at UCI.
In her award speech at the ceremony April 18, Yim explained that people need multiple mentors. "You simply cannot afford to have just one mentor," she said. "The person who can mentor me on my research cannot mentor me on my teaching or my service or my work-life balance and vice-versa. And, my mentor doesn't have to be my senior. It doesn't really matter whether that person is my senior, my junior, older or younger. As a matter of fact, this person doesn't even need to know of their mentorship status toward me."
Yim, who has served for four years as equity advisor in the School of Social Ecology, said she aims to build spaces where people come together in friendship and community. "These are spaces where mentorship can grow organically," she explained.
Yim co-established and oversees the U See I Write program to promote faculty scholarship and community. The program has served more than 200 faculty members campuswide and she is working to expand it as a UC systemwide initiative.
Yim's research aims to better understand biopsychological mechanisms linking stress and health, in particular women's and minority health. She holds a Ph.D. from the University of Trier, Germany. She co-leads a project to support faculty retention and mentoring. The project has led to establishing a campuswide Inclusive Excellence Professors Council and mentoring program, creating visible and impactful leadership development and mentoring resources at UCI.
Karma Rose Zavita
The Tom Angell Fellowship Award honors Angell's contributions as the UCI graduate counselor to graduate student wellness and retention. Awards are open to graduate students, faculty, and postdoctoral scholars. Recipients demonstrate outstanding mentorship by going above and beyond their normal duties to create new opportunities to mentor UCI students.
Zavita is a fourth-year doctoral student in criminology, law and society. She is studying campus-based sexual violence. Her passion for serving her community and mentoring students has grown at UCI through her involvement in the Graduate Interconnect Peer Mentoring program and the Graduate Student Career Advisory Board.
She has served as a co-chair on several committees in her home department, including peer-mentoring, comprehensive exams, social, and strategic communications committees.
With a colleague, Zavita started and co-manages an undergraduate research lab and supports students in getting into graduate school.
Outside of UCI, Zavita serves as the graduate representative for the Pacific Sociological Association and is involved in the Inside-Out Prison Exchange Program. She plans to continue her career in higher education and looks forward to supporting as many students as she can.
— Mimi Ko Cruz