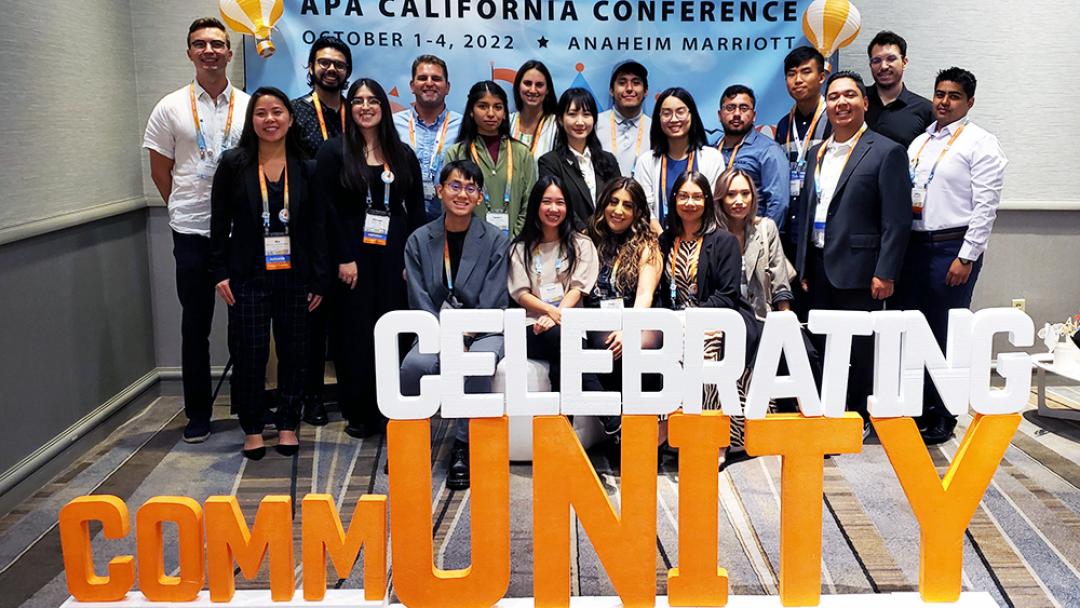 MURP students at a conference in 2022.
---
Master of urban planning program ranked 14th
Planetizen, a publication that ranks graduate programs in urban planning, has named UCI's Master of Urban and Regional Planning (MURP) program among the top 20 in the country.
Now ranked 14th best in the nation, the MURP degree program is up from 21st the last time the ranking was published in 2019. In addition, the MURP is ranked 8th for programs at public universities. And, it is ranked No. 1 for diversity.
"UCI's MURP program distinctively combines cutting-edge research, a diverse and talented student body, and relatively small cohort sizes," says Nicholas J. Marantz, associate professor of urban planning and public policy and MURP director. "The intimate nature of our cohorts has allowed us to foster a collaborative atmosphere that helps students to develop innovative solutions to some of society's most pressing problems.
Indeed, adds Jorge Padilla, MURP assistant director.
"What makes our MURP program stand out is the care and mentorship our students receive from faculty, staff, alumni, and each other to ensure they are well-rounded in their pursuit of a career in planning," he says. "This program offers meaningful experiences that prepare MURP students with both technical and soft skills, as well as a strong network of alumni and local practitioners they need to succeed in the planning field. I cannot think of a better place for an aspiring planner to begin or further their career journey than the Master's of Urban and Regional Planning program at UC Irvine."
MURP was established in 1992, and its first class graduated in 1994. To date, more than 650 students have graduated from the program.
MURP graduates are highly employable. Of the 80 percent of graduates with known employment status who did not pursue further education within a year of graduation from 2015-2019, 99 percent secured employment in planning or planning-related jobs within one year of graduation.
— Mimi Ko Cruz