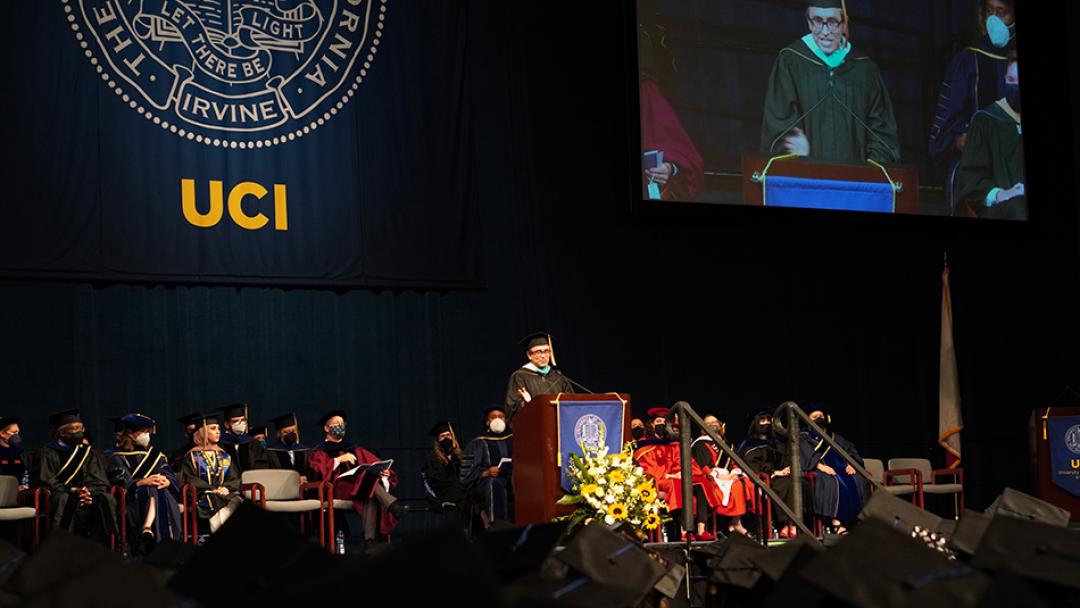 Gustavo Arellano delivered the keynote address at the School of Social Ecology's first commencement ceremony June 11. Below photos, in order: Platform party (photo by Allen Schaben/Los Angeles Times), Bayan Sbeini, Sophie Wood and the family of Christopher Jovannhy Chairez-Quezada (photos by Christine Parales Porciuncula and Han Parker).
---
More than 1,300 Social Ecology students graduate this year

By Mimi Ko Cruz
Thousands of friends and family members of Social Ecology's graduates enthusiastically cheered at four commencement ceremonies celebrating the school's 1,354 undergraduate and graduate students completing their degrees this year.
In his speech, Dean Jon Gould told the robed students: "You have shown the world what it means to persevere and be resilient in the face of changes wrought by the pandemic. You have shown tremendous grit and determination to reach your goals. Many of you are the first in your families to attend, let alone graduate from, college, and we know the additional challenges you have overcome. You are in this not just for yourself but also for others, and that dedication shows. You are determined to be changemakers — and goodness knows the world needs your talents now. I realize there many be reasons to doubt whether you can make a difference. Between the pandemic, growing schisms in our country, the threat of war around the world, and risks to the climate, no one would blame you if you took a look around and wondered what difference you can make. The answer is that you can make a huge difference, and you can do it every day. You are equipped to engage with your corner of the world — to join with a community group to help it do more, to recognize an opportunity for social entrepreneurship and work to fill the void, to step up to be the one who will lead others with your passion and vision. Society needs you, your community needs you, the world needs you. If we have done our jobs well, you have the training to ask the right questions. No one is expecting you to have all the answers. Your super power right now is the passion and insight to ask questions and not to sit still until others join you in trying to answer them. If you can do that, you will truly be changemakers, because you will refuse to accept the inexplicable or the intolerable as inevitable."
In that vein, journalist Gustavo Arellano also urged students to be changemakers.
"As graduates of UCI's School of Social Ecology, all of you have committed yourselves to bettering society and humanity in one form or another. What a tremendous, intimidating task that is!" he said. "Humans are imperfect; society suffers from perpetual problems ranging from the structural to the self, the petty to the profound. It's a task for only the bravest — and here you all are. … If there's one constant that ties together all the drama we've endured in one way or another, not just over the past couple of years, but really since forever, it's something you have studied, practiced and are now ready to spark. Change. … Change is your vocation. You have dedicated yourselves to dive into the depths of uncertainty and emerge with answers to take on our ever-shifting existence. And it's about time the rest of us listen to ustedes — because you all know change and its contradictions. … Change us. Teach us how to change. The world needs it, the world needs all of you."
As part of the ceremony, Dean Gould awarded a posthumous bachelor's degree to the family of Christopher Jovannhy Chairez-Quezada, who was killed in a car accident a year ago when he was on his way to pick up his graduation suit. He was 22 and had just completed his bachelor's degree in criminology, law and society.
The school's two student speakers — psychological science majors Bayan Sbeini and Sophie Wood — talked about their experiences these past few years and thanked their families.
A transfer student from Santiago Canyon College in 2020 during the height of the pandemic, Sbeini was a UC Washington DC program participant, and a research assistant in the Biological Science Department. The 22-year-old plans to work in clinical research, before applying for graduate school to pursue studies in neuroscience. She hopes to contribute to making the world a better place through her service and scholarship.
She said that even though she was born and raised in Orange County, she doesn't take for granted her opportunities, especially her education. Her parents immigrated from Syria 33 years ago, but she has family there who are unable to get an education.
"My mom and dad sacrificed so much for me to be here today," she said. "They made a choice to give me a better life with more opportunities far from what they once called home. If my parents hadn't immigrated to this country, I would have likely been a mere statistic, among the 13 million Syrian refugees in the world today. I would have likely had to drop out of school in fifth grade to help my family make ends meet, until eventually fleeing war to any country that would accept us. Instead, I'm here, knowing that my home will be there when I get back, and not turned to rubble. I am proud that I am the daughter of two Syrian immigrants, and that I am fortunate enough to have had the opportunities I've had."
When Wood became an Anteater four years ago, she joined UCI as a scholar-athlete. Her NCAA volleyball prowess was star quality from her freshman year, when she played in 58 sets, averaging 2.28 set assists, adding 35 digs and 25 kills. By senior year, she was team captain of women's volleyball.
She hit the books hard, too. Even with a grueling practice schedule, Wood, the recipient of the Big West Commissioner's Honor Roll with Highest Honors Award, never dropped off the Dean's Honor List. And, she served as president of Athletes in Action and was a member of the Student-Athlete Advisory Committee.
Though she suffered many injuries, from concussions to dislocating her jaw, she always came back stronger until her senior year when she tore her ACL and meniscus and cut short her volleyball career. Devastated, Wood would soon learn her most important lesson.
"Don't take life for granted," she said. "I used to complain day in and day out when practices were so hard. Now, there's nothing I wouldn't do to have another practice. But, I learned that your life and your identity isn't defined by just one thing. You are a collection of experiences and what's important to you. Those things don't change."
Wood plans to backpack through Europe with friends and then look for a job in strategic development or real estate.
Other graduates shared where they are heading in this TikTok:
Class of 2022 Social Ecology graduate data
Doctoral degrees: 25
Master's degrees: 149
Bachelor's degrees: 1,180
Total UCI graduate data
Students receiving bachelor's degrees: 8,383, with social sciences accounting for more than 26 percent
Master's degrees: 871
Doctoral degrees: 413
Law degrees: 143
Medical degrees: 92
Community college transfer students earning bachelor's degrees: 2,601
Federal Pell Grant recipients earning bachelor's degrees: 3,454
43 percent of undergraduates receiving bachelor's degrees are first-generation college students
UCI will grant bachelor's degrees to 1,921 Latinos
A digital commencement program can be found on the commencement website, which also has links to all 11 UCI commencement ceremonies. The following are the June 11 Social Ecology commencement and hooding ceremonies at the Bren Events Center and the June 15 all-university ceremony at Anaheim Stadium.
View more commencement photos on Flickr.
Related: