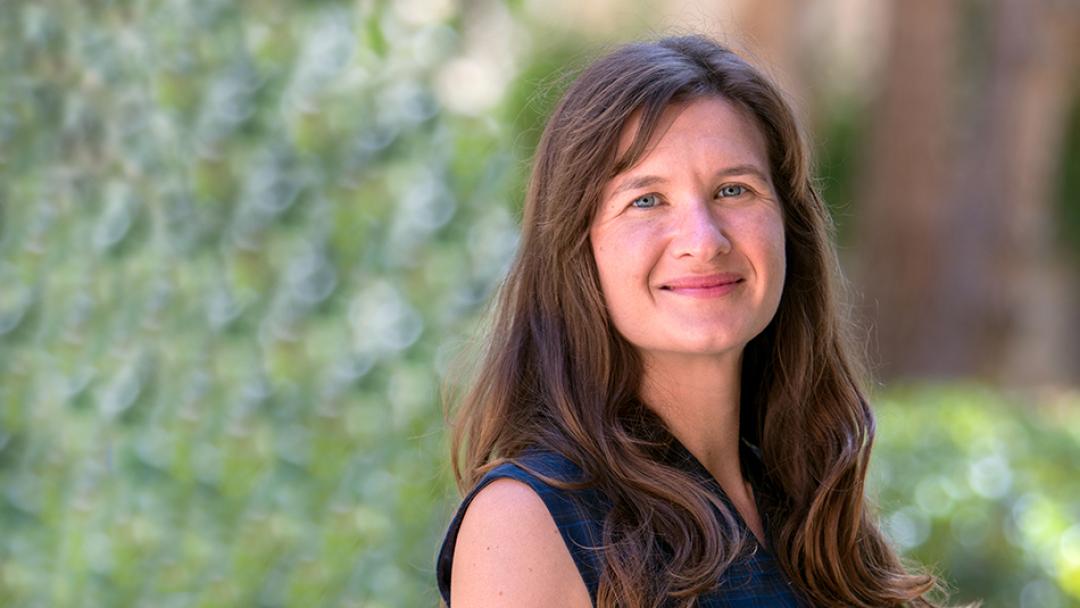 ---
Q&A with urban and environmental planning and policy Ph.D. student
Sara O'Connor, a 4th year urban and environmental planning and policy grad student, has won the Etel Solingen Award for Outstanding Paper in International Relations, which recognizes her for her work on transitioning states.
Hometown: Brooklyn, New York
Undergrad institution: Bryn Mawr College
Award-winning paper: "Neoliberal Development in Transitioning States: Faking the Market You Want to See"
How did you become interested in urban and environmental planning and policy, and what implications does your research have for the general community?
I became interested in languages, culture and peace and conflict studies at an early age, and these interests led to experiences in Ireland and Northern Ireland, the Middle East, the Balkans, Central Asia, and Africa. These experiences shaped my focus on urban development and democratic rights domestically and abroad. The Ph.D. program is a culmination of all of these experiences, and at UCI I've had the opportunity to explore this further while being guided by faculty in social ecology and social sciences.

My pursuit of this field of study is the direct culmination of experiences living abroad, and continuously being surprised by people and their capacity to impact the world around them even when it is risky. What interests me the most about the work I do is communities' creativity, and their ability to create alternative forums and pathways to representation when they're left out of traditional forums and processes.

The most significant implication of this work is that we need to re-think what political participation and civic engagement look like. Instead of having the rules and modes of communication and feedback between citizens and the government being dictated by the government to people, people should be able to play an active role in deciding what that engagement looks like, and what true representation means. Urban space and processes of urban governance provide opportunities for democratic experimentation as there can be many more, and many different kinds of interactions at this scale. Continuous interactions allow stakeholders to get to know each other and better understand each other's' needs and constraints. Traditional modes of political participation, such as voting and campaign contributions, are exclusionary and lead to some voices being elevated above others yielding unrepresentative outcomes.
Tell us about your award-winning paper.
International Financial Institutions (IFIs) require states to implement neoliberal policies such as Public-Private Partnerships (PPPs) as a prerequisite for vital investment. In Kazakhstan, an oil and uranium rich post-Soviet state, attracting FDI and creating PPPs were incorporated into the national development plan. Drawing upon interviews, participant observation and archival review between 2019 and 2022, this paper demonstrates how these neoliberal technologies and the market lexicon are used to attract investment, and provide cover for a politically driven planning scheme divorced from market realities. Case studies of urban development planning in Kazakhstan demonstrate how these mechanisms are articulated into governance arrangements and how they maintain centralized power and wealth in transitioning space.
Who have been your faculty mentors while here, and what impact have they had on your graduate career?
Throughout my time at UCI I have met numerous faculty who have mentored me. The main faculty mentors are my advisor, Scott Bollens in social ecology, Eve Darian-Smith, the chair of global studies and on my committee, and Maritza Salazar-Campo in the Paul Merage Business school.

Each of them has helped me grow as a scholar and a person. They have provided countless recommendation letters, opportunities for me to share my work, and have advocated for me in more ways than I can recall. They remind me to not limit myself in terms of my scholarly pursuits or my personal life. My mentors have beautifully balanced encouragement with pushing me to produce higher quality work.
What do you plan to do after finishing your graduate degree? How has UCI prepared you well for this role?
My post-degree plans are not set in stone. I am pursuing academic positions, postdoctoral fellowships and research positions with institutes and think-tanks. UCI has provided scholarly training, as well as opportunities for professional development through the Graduate Division programs, and through on-campus opportunities to present and network with other scholars. Whichever path I pursue, UCI has played an important role in getting me there.

I want to thank UCI for its support and the myriad opportunities it has provided me. While I am looking forward to what comes next, I look forward to being a life-long member of this community.
---
Related: