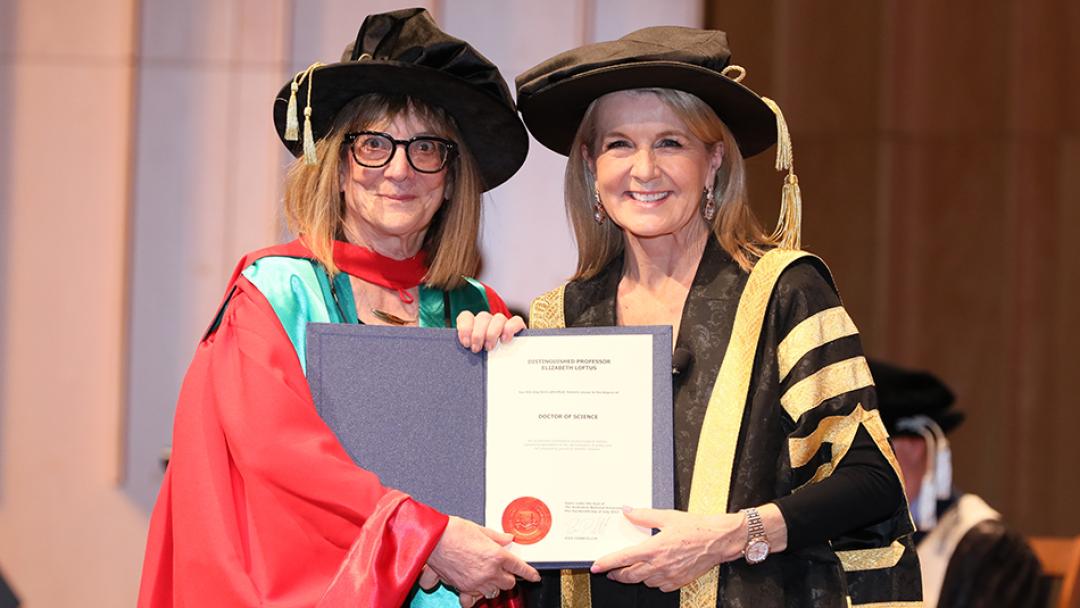 Elizabeth Loftus, left, was awarded her eighth honorary doctorate by the chancellor of Australian National University, Hon Julie Bishop.
---
Distinguished Professor recognized by Australian National University
Elizabeth F. Loftus, distinguished professor of psychological science and criminology, law and society, has been awarded her eighth honorary doctorate. On the grounds of her exceptional contribution to psychological science, pioneering applications to the administration of justice and her unwavering pursuit of scientific freedom, Australian National University bestowed the Doctor of Science Honoris Causa during its commencement ceremony last month.
"It was a tremendous honor to realize that the memory research to which I've devoted my life was recognized so far away," Loftus said. "Particularly special for me is that I was able to visit a former student, Eryn Newman, who is now a new professor at Australian National University."
As part of the honor, Loftus delivered the keynote address at the university's recent commencement ceremony. She spoke about bravery. An excerpt:
Some people seem brave by nature; they set out to change the world or pursue justice in the face of relentless opposition; or they run into burning buildings and freezing rivers to rescue a victim. But that's not the way bravery usually works. What happens for most people, at some unexpected time in their lives, is that they are tested. ... You might not be thinking about bravery or courage, but for many of you there will come a day when you will be faced with a choice you will have to make: integrity vs. convenience, doing the right thing or justifying the wrong thing. Will you take the brave path and step up, or will you play it safe? Will you blow the whistle on some unethical practice in your company, risking your job, or will you remain silent? Some choices must be made instantly, and sometimes you'll have a bit longer to think about what you want to do. What choice will you make?

I do know that once faced with the choice between yielding to the wave of hostility and criticism that my research provoked or standing as strong as I could for science and justice, the answer was a no-brainer for me. As I look back, I feel pride about the work that I've done as a psychological scientist. I'm proud of the fact that I was able to help so many people along the way, particularly when my work has helped prevent innocent people from being found guilty in a court of law. It's pretty powerful when you know that you have helped to save even one life.
Read Loftus' full speech at Skeptical Inquirer.
Loftus has been an expert witness or consultant in hundreds of court cases, including the noted McMartin preschool molestation case, the Hillside strangler and Abscam cases, the trial of Oliver North, the trial of the officers accused in the Rodney King beating, the Menendez brothers, the Bosnian War trials in the Hague, the Oklahoma bombing case, and litigation involving Michael Jackson, Martha Stewart, Scooter Libby and the Duke University lacrosse players.
Her seven other honorary doctorates:
Doctor of Social Sciences Honoris Causa from Goldsmiths College, University of London in 2015
Doctor Honoris Causa, University of Oslo, Norway, 2008
Doctor of Philosophy, Honoris Causa, University of Haifa, Israel, 2005
Doctor of Science, University of Portsmouth, England, 1998
Doctor of Laws, John Jay College of Criminal Justice, City University of New York, 1994
Doctorate Honoris Causa, Leiden University, The Netherlands, 1990
Doctor of Science, Miami University (Ohio), 1982
Loftus, who also has faculty appointments with UCI's School of Law and in the Department of Cognitive Sciences, and is a fellow of the Center for the Neurobiology of Learning and Memory, was the founding director of the Center for Psychology and Law.
She earned her undergraduate degree in mathematics and psychology from UCLA, and her Ph.D. in psychology from Stanford University. Her book, "Eyewitness Testimony," won a National Media Award (Distinguished Contribution) from the American Psychological Foundation. Her other honors and awards are numerous. The following is a partial list:
In 2019, she was given the Lifetime Achievement Award for Psychology from Australian National University.
In 2015, Cornell University gave her its Lifetime Achievement in Human Development, Law & Psychology Award "in recognition of a distinguished career of pioneering contributions in legal applications of psychological research."
In 2013, she received the Gold Medal Award for Lifetime Achievement in Science from the American Psychological Foundation for "extraordinary contributions to our understanding of memory during the past 40 years that are remarkable for their creativity and impact."
In 2012, she received the University of California, Irvine Medal for "exceptional contributions to the vision, mission, and spirit of UC Irvine."
In 2010, she received the Warren Medal from the Society of Experimental Psychologists for "significant contributions to the understanding of the phenomenology of human memory, especially its fragility and vulnerability to distortion." She also received the 2010 Scientific Freedom and Responsibility Award from the American Association for the Advancement of Science for "the profound impact that her pioneering research on human memory has had on the administration of justice in the United States and abroad."
In 2006, she was elected to the American Philosophical Society, the oldest learned society in the United States, established in 1745 by Benjamin Franklin.
In 2005, she won the $200,000 Grawemeyer Prize in Psychology to honor ideas of "great significance and impact."
In 2002, a study published by the Review of General Psychology identified the 100 most eminent psychologists of the 20th century, and Loftus was No. 58, the highest ranking woman on the list. Topping the list were famed psychologists Sigmund Freud, B.F. Skinner, and Jean Piaget.
In 2001, she won the William James Fellow Award from the Association for Psychological Science in 2001 for "ingeniously and rigorously designed research studies…that yielded clear objective evidence on difficult and controversial questions."
---
Contact:
Mimi Ko Cruz
Director of Communications
949-824-1278