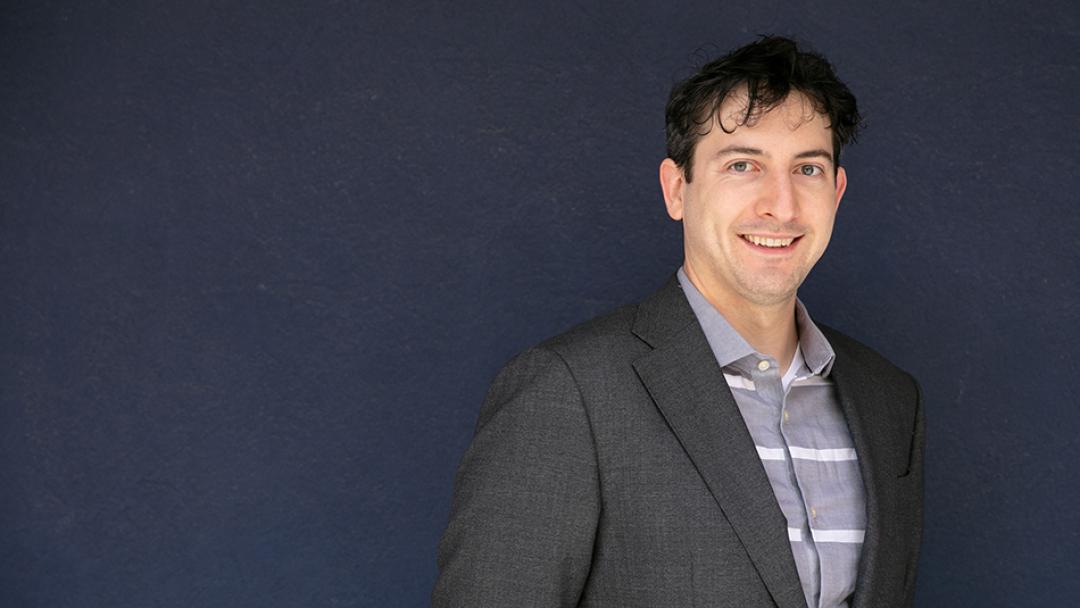 ---
Justin Lucas Sola wins SSSP graduate student paper competition
When it comes to graduate school papers giving you fits, Justin Lucas Sola is here to say never give up.
Two years ago, the UCI Ph.D. candidate in criminology, law and society (CLS) started writing "Theory with Consequents: Theories of Neoliberalism in the Study of Social Problems," but he'd been nagged by the questions at the center of the paper a decade ago when he began studying American gun ownership.
The paper critically evaluates how scholars use neoliberalism to explain social problems. He's been refining his paper, presenting it at conferences and, sadly, got rejected by a journal. Which makes it ever so much sweeter that the work was recently named a graduate student paper competition winner from the Society for the Study of Social Problems' Theory Division.
"I've been trying to figure out what's the right venue for this, so to get this award is huge for me as a scholar," Sola says. "It means that there's promise in the work that I'm doing, and that this is a solvable problem."
In the paper, Sola argues that scholars use neoliberalism as a "cause" of social problems, but that theories of neoliberalism are not always well-suited for this task. He maintains that theories of neoliberalism are good at explaining historical narratives and suggesting ideas for research, but poor at explaining precisely what is happening now and in the future.
There must be a better way, according to Sola, who believes social scientists need a good set of boundaries when it comes to what can and cannot be explained.
"The argument I make in the paper is that there's a research circle which starts off with a theory about how the world works," he explains. "We see how the data does and does not conform to the hypothesis, and then we refine our theories in light of those results, and then we repeat that process over and over again with lots of errors, with lots of contestation, with lots of disagreement. That's how the sausage is made in social problems research."
Sola wants social scientists to refine theories of neoliberalism through this style of "contestation."
To improve the application of neoliberalism in social sciences, Sola encourages researchers to clarify the boundaries of its explanatory power. "My argument is that we need a debate, and we need to engage with the limits of neoliberalism so that we can use it more effectively," he says.
The fifth-year doctoral candidate plans to complete his studies in the spring of 2024, so the graduate student paper award should come in handy when he hits the job market.
"Hopefully, this is a cool thing that confirms I'm not just a scholar of X, Y, Z empirical topics: the solution I want is people arguing explicitly as opposed to arguing implicitly."
Sola expressed appreciation at the guidance he has received on his Ph.D. journey.
"Everyone on my dissertation committee is fantastic," he says as he rattles off the names of CLS Associate Professor Sora Han, Professor Charis Kubrin and his advisor, Associate Professor Bryan Sykes as well as Chancellor's Professor of sociology Francesca Polletta and Justin Pickett, associate professor of criminal justice at State University of New York in Albany.
"As I develop my ideas, my committee, and my cohort (the Ph.D. students I came in with) have given great, honest feedback. The Criminology, Law and Society Department is extremely supportive. They deserve a call-out just for having supported me in so many ways throughout this process."
Also deserving a call-out is the snoozing cat that was perched over Sola's right shoulder in something akin to a hammock as he was being interviewed.
"That's Ghost," he informed. "How could I talk about all these important scholars without talking about the most important one? Ghost is normally right here every single day, overseeing all my research like an angel on my shoulder. He's motivation. How can I support Ghost if I'm not being productive and, you know, bringing home the bacon? Or, in his case, the fish."
— Matt Coker