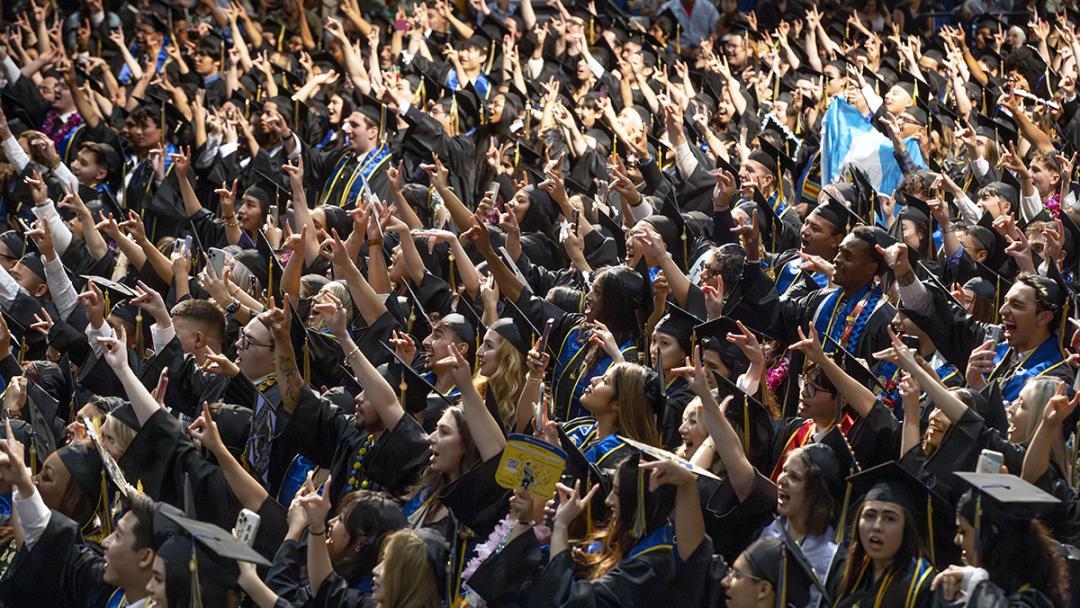 ---
Undergraduate program is ninth among public universities
In its first time being ranked by US News & World Report, UC Irvine's undergraduate psychology program came in ninth among public universities and 20th among all public and private universities nationwide.
"While our esteemed faculty are widely recognized for their impactful research addressing societal challenges, this ranking underscores our unwavering dedication to delivering a first-rate undergraduate education," says Nicholas Scurich, professor and chair of psychological science. "This achievement is a testament to the hard work and passion of everyone in our department. We remain committed to providing the best possible education to our undergraduate students, empowering them to excel in their future careers."
The US News & World Report's 2023-24 list of "Best Colleges," released today, also ranked UCI 10th among the nation's public universities – and 33rd overall.
The rankings of undergraduate psychology programs are based on the results of surveys sent to department chairs and senior faculty at psychology departments at a regionally accredited institution that awarded a medium to large number of bachelor's degrees in psychology.
At UCI, psychology is administered by the Department of Psychological Science in the School of Social Ecology and the Department of Cognitive Sciences in the School of Social Sciences.
"I am delighted, but not at all surprised, to see our undergraduate psychology program receive such high national recognition," says Jon Gould, dean of the School of Social Ecology. "Our faculty are not only world-class researchers, but they are also dedicated to providing a top-flight education to undergraduate students, many of whom are the first in their family to attend college. That our program has achieved these heights coming on the heels of the pandemic is further proof of the creativity and adaptability of our faculty and staff."
The undergraduate psychological science program has about 1,200 students. Courses include study in developmental, social, health and abnormal psychology, as well as environmental, clinical, and community psychology. A number of advanced courses delve into the psychological aspects of important societal issues and problems, such as child abuse, violence, divorce, work and family, and community health.
Psychological science undergraduates also gain rigorous training in research methods and statistics. All are required to gain experience in internships through the School of Social Ecology's Field Study Program. Opportunities for field study for psychological science majors are offered in myriad settings, including schools, child care facilities, counseling centers, senior citizen centers, hospitals and other health care settings, and social service agencies. Undergrads also can participate in faculty research projects.
Last year, US News ranked UCI's psychology graduate program 14th among public universities.
In its latest rankings, UCI ranked No. 12 overall in the subcategory of social mobility, which rates the institutions that enroll and graduate large proportions of students awarded federal Pell Grants — given to undergraduates who display exceptional financial need. Today, 38 percent of UCI's undergraduates receive Pell Grants, and the campus is among the best in the nation for the graduation rate of its Pell Grant recipients. In 2023, 3,636 earned bachelor's degrees.
Available online, the results come on the heels of UCI being ranked ninth in the nation among public universities for best value in the Princeton Review college survey. The ratings service cited UCI's stellar academics, affordability through comparatively lower tuition costs and generous financial aid, and strong career prospects for graduates. On Sept. 7, The New York Times ranked UCI No. 16 on its College-Access Index, a list of the country's 286 most selective universities placed in order of economic diversity. UCI was rated first among public universities in California and tied for No. 1 among members of the prestigious Association of American Universities.

For its 2023-24 Best Colleges in America list, Money again ranked UCI at the top. It was one of 34 U.S. universities to receive a five-star rating (the highest possible), and Money lauded the campus for offering a high-quality education, for its affordability and for its student outcomes.
---
Contact:
Mimi Ko Cruz
Director of Communications
949-824-1278