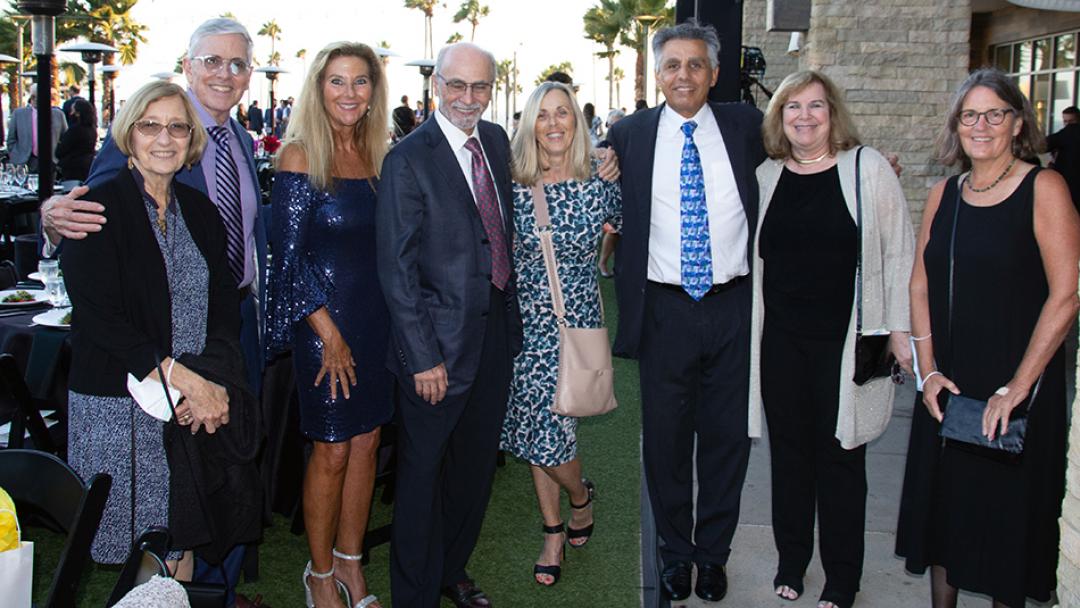 From left: Jeanne and Daniel Stokols, Shari McMahan, Raymond and Sally Novaco, Moe Farsheed, Roxane Cohen Silver and Mona Lynch. Photos by Doug Colby
---
CSUSB provost, two-time social ecology grad, feted at Lauds & Laurels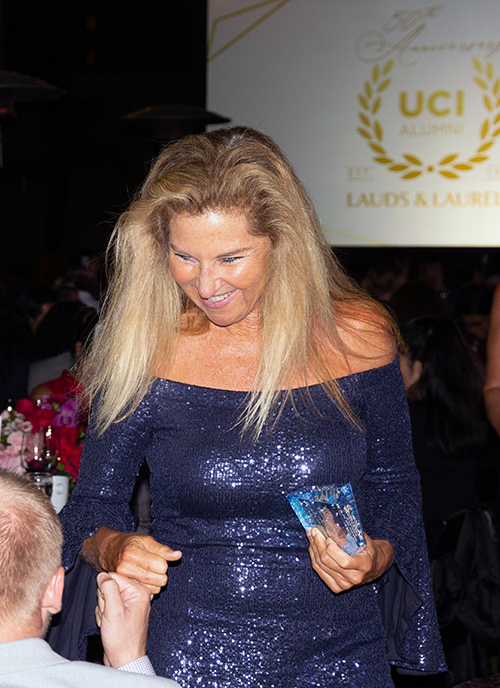 Shari G. McMahan, provost and vice president for academic affairs at Cal State San Bernardino, was feted at this year's Lauds & Laurels gala with a Distinguished Alumni Award. The 50th annual event, held Sept. 2 in Huntington Beach, is UCI's oldest awards ceremony that recognizes outstanding Anteaters for their service to the community, professional excellence and campus involvement.
McMahan earned her B.A. in social ecology in 1984, then returned to UCI to earn her Ph.D. in social ecology in 1992. She also holds a master's degree in health science from Cal State Northridge.
During her tenure as an undergrad, McMahan served as Peter the Anteater, donning the costume and entertaining fans at track meets and festivals, including Wayzgoose when Daniel Aldrich was chancellor.
"UCI was an amazing experience," McMahan said. "I always knew it would be a top tier institution and my alma mater didn't let me down! My experiences in Social Ecology, sorority (Tri-Delta) and even serving as Peter the Anteater taught me so many important skills such as leadership, time management, and of course the importance of truly embracing others. I will always cherish my memories as an Anteater. Zot, Zot, Zot!"
On being honored at Lauds & Laurels, she said: "the event was wonderful and brought back so many memories. I was so appreciative of the faculty being there. It made me so proud to be an Anteater, being surrounded by so many gifted and talented alumni. I am truly humbled."
In 2016, McMahan became the first woman to serve as provost at Cal State San Bernardino. Before joining that campus, she worked at Cal State Fullerton, serving in various leadership roles including deputy provost, dean of the College of Health and Human Development and professor and chair of health science.
McMahan has been awarded more than $4 million in external funding for community service projects including the North Orange County Allied Health and other Health Careers Opportunity Program; the CSUF ADVANCE (Increasing the Participation and Advancement of Women in Academic Science and Engineering Careers) -IT-Catalyst Project; the California-Nevada Public Health Training Consortium; and the Interdisciplinary Approach to Prevent Childhood Obesity, from Infancy to Adults project.
She has authored more than 45 peer-reviewed journal articles, given dozens of scientific and community presentations, and served on numerous professional task force committees. She has been a member of the Association of American Colleges and Universities since 2012.
---
Contact:
Mimi Ko Cruz
Director of Communications
949-824-1278
mkcruz@uci.edu