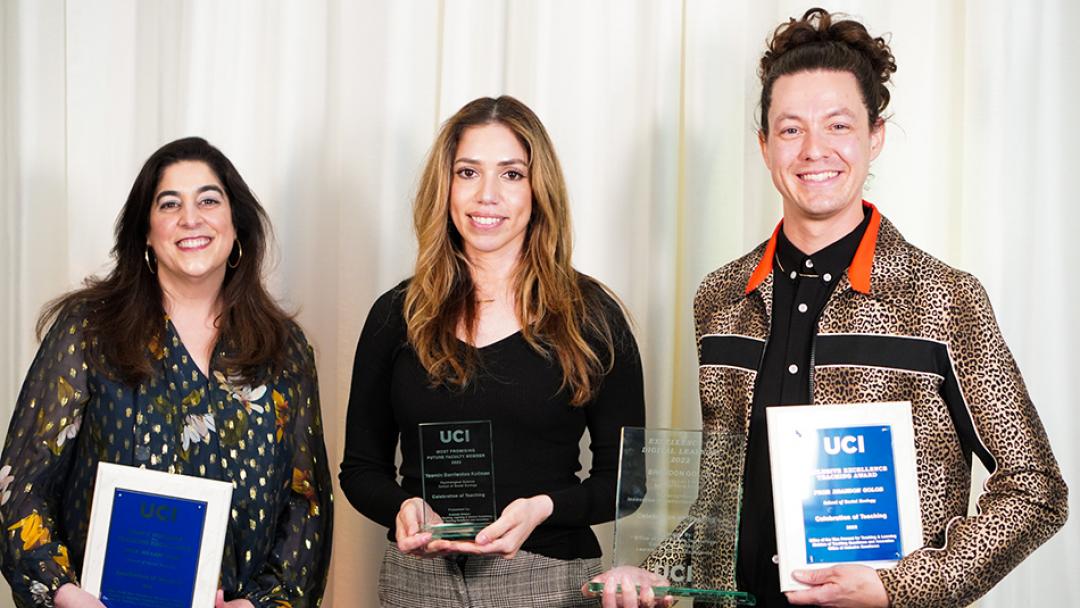 From left: Hillary Berk, Yasmin Barrientos Kofman and Brandon Golob. Photo by Christine Parales Porciuncula
---
Berk, Golob and Kofman recognized
Two Social Ecology faculty members and a graduate student were honored with awards at the 2022 Celebration of Teaching event, sponsored by the university's Division of Teaching Excellence and Innovation. The awards recognize faculty, instructors and teaching assistants who have demonstrated excellence in undergraduate teaching at UCI.
Brandon Golob
Brandon Golob, assistant professor of teaching in criminology, law and society won three honors — the Excellence in Digital Learning Award, the Learning Experience Design and Online Teaching Award and the inaugural UCI Inclusive Excellence Teaching Award.
"Teaching, learning, and being in the classroom together is ultimately about community building," Golob said. "Our students come from such a rich diversity of backgrounds – demographically, experientially, and cognitively. All my courses are spaces that empower students to share those unique identities and be drivers of their own education as we collectively construct our community."
Golob, who has a Ph.D. in communication from USC and a J.D. from UCLA, focuses his research and teaching on how legal knowledge is translated to laypeople through mediated and face-to-face communication. His other awards include: the 2021-22 Tom Angell Fellowship, which honors one UCI faculty member who creates new opportunities for graduate student mentorship; the 2020-21 Professor of the Year Award; and the 2020-21 Chancellor's Award for Excellence in Undergraduate Research Mentorship in the School of Social Ecology.
Hillary Berk
Hillary Berk, assistant professor of teaching in criminology, law and society was named this year's Dean's Honoree.
"It is especially rewarding to be acknowledged by the Dean for my teaching efforts this year, given the unique challenges presented by the pandemic and high levels of cumulative distress and uncertainty faced by our students, and society," she said. "I worked to create and deliver engaged, interactive courses while cultivating a positive, supportive, and safe environment. I hoped to serve as an anchor to their education in spite of it all, whether that was in a remote or terrestrial classroom. I share with my Social Ecology colleagues a saying I developed and posted to my Canvas websites during the shift to remote instruction: 'physical distancing does not have to mean intellectual, emotional, or relational distancing.' I am truly honored by this recognition!"
Berk, who was named the School of Social Ecology's 2019 Professor of the Year, joined the UCI faculty in 2016. She has a Ph.D. in jurisprudence and social policy from UC Berkeley, a J.D. from Northwestern School of Law, Lewis and Clark College, and a B.A. in English and environmental studies from UC Santa Barbara. She is licensed to practice law in California and Oregon. Her research expertise includes assisted reproduction and surrogacy, social inequality, civil rights, dispute resolution, law and emotions, feminist legal theory, law and the changing family, and the intersection of cybercrime and privacy.
Yasmin Barrientos Kofman
Yasmin Barrientos Kofman, Ph.D. candidate in psychological science, won the Most Promising Future Faculty Award.
She will be graduating this summer and her specializations are in health psychology and quantitative methods. Then, she's off to UCLA in the to be a postdoctoral research fellow in the NIMH T32 Program on Biobehavioral Issues in Mental and Physical Health, where she will be conducting research on the biobehavioral mechanisms linking trauma and disease.
"Coming from a community with limited health promoting and social resources, one quickly learns that health is the pinnacle of wellness and that all moving parts — making a living, getting an education, practicing self and community care — are means to that end. What is less conspicuous are \the seemingly fixed parts that keep health just out of reach," Kofman said, explaining her research focus. "Violence against women is one of these elements that can perpetuate health disparities and is entrenched in various levels of our society. It became increasingly clear to me that violence in an intimate partnership is just one strand in a web of violence, often woven among multiple types of victimizations and adversities throughout the life course, and indeed, across generations. This is a complex problem warranting a nuanced approach; therefore, in my research, I examine this issue at every level of the social ecology, utilizing clinical, community, and national level data. As such, I aim to advance the field of health psychology in ways that are relevant, meaningful, and empowering for those most affected, yet historically underserved or excluded. It is also important for me to leverage my position in academia — an enormous privilege — to produce work that can provide immediate and tangible forms of advocacy."
In 2019, Kofman was named the inaugural School of Social Ecology Dean's Translational Science Fellow.
---
Contact:
Mimi Ko Cruz
Director of Communications
949-824-1278