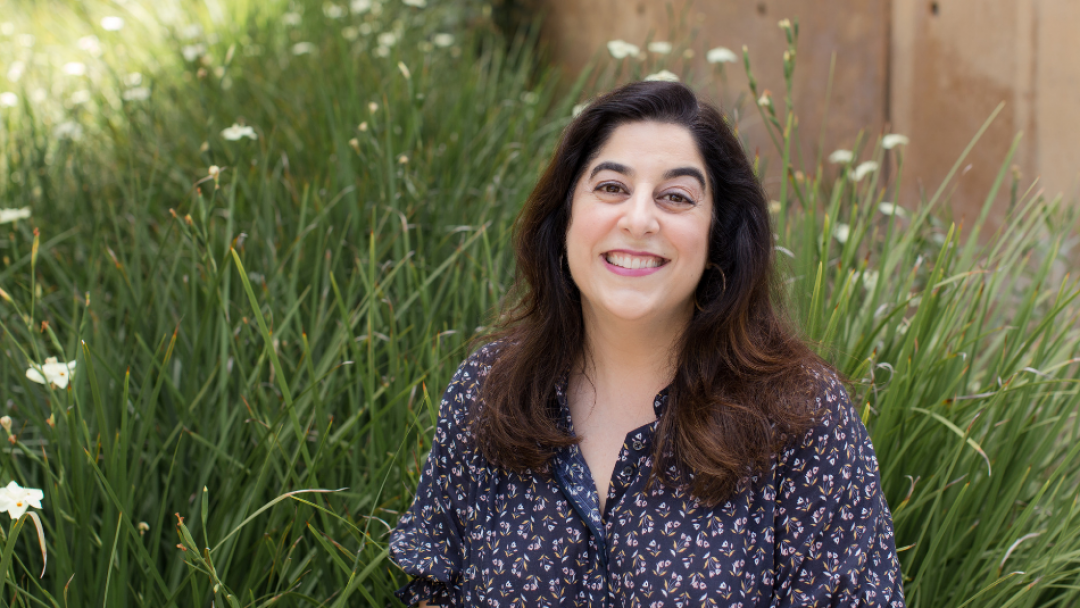 Hillary L. Berk. Photo by Patricia DeVoe
---
Assistant professor of teaching in criminology, law and society inspires students
Hillary L. Berk, assistant professor of teaching in criminology, law and society, has been named the School of Social Ecology's 2019 Professor of the Year.
A number of students nominated Berk for the honor. Their nominations include these excerpts:
"I have had Professor Berk for a total of 3 classes. She was THE best professor that I interacted with at UC Irvine."
"I have taken multiple courses with Dr. Berk including American Law, Family Law, and Dispute Resolution. In each of her classes, I felt challenged yet supported, valued, and excited to learn about the content and material in each class taught by her. Her enthusiasm and expertise truly shine in the classroom as she incorporates her own experiences as a family lawyer and socio-legal scholar into course materials."
"She is hands down the best lecturer I have ever had and still knows how to make time to make us laugh!"
"It is clear by the long lines at her office hours that students feel welcome to come and discuss questions and interests about the content of the course as well as any personal wellbeing, career, or general education questions."
"As an advisor, Dr. Berk has shattered my expectations by consistently going above and beyond to assist my research journey. This includes helping me with last-minute feedback and editing over the weekends, setting up emergency phone calls in the evenings to assist me when I am stuck, and by leading me as I have created and refined my project focus. I say this often, but, if it wasn't for Dr. Berk, my project would not be where it is now, and I would have a substantially lower-quality project overall. The support I receive from Dr. Berk seems to be far and above what I have seen my peers receiving, and I feel immensely grateful that I have her as an advisor."
"Dr. Berk has been one of the main reasons for inspiring me to pursue a career in socio-legal research. Her 'Family Law' course has been my favorite class I have taken here at UCI and has inspired my undergraduate honors research project. In doing this project, and with Dr. Berk's oversight, my career goals shifted from wanting to be a trial attorney to wanting to use socio-legal research in policy changes and analysis. Without Dr. Berk, I would not have known of this area of great need."
"I had the pleasure of taking Professor Berk last year and I learned so much from her than I thought I could in one quarter. Her lecture style is so powerful and inspiring, it was challenging yet a challenge I was so glad I decided to take."
"I am glad I chose UCI because Professor Berk made every penny of my college tuition worth it."
Berk, hired by the School of Social Ecology in 2016, has a Ph.D. in jurisprudence and social policy from UC Berkeley, a J.D. from Northwestern School of Law, Lewis and Clark College, and a B.A. in English and environmental studies from UC Santa Barbara. She is licensed to practice law in California and Oregon. Her research expertise includes assisted reproduction and surrogacy, social inequality, civil rights, dispute resolution, law and emotions, feminist legal theory, law and the changing family, and the intersection of cybercrime and privacy.
She teaches multiple undergraduate courses, including: "American Law"; "Dispute Resolution"; "Family Law"; "Foundations of Criminology, Law and Society" (nicknamed "Justice"); "Gender and Social Control"; "Naturalistic Field Research"; as well as a new graduate course, "Cybercrime, Cybersecurity, and Society."
Among her favorites is "Gender and Social Control."
"I take a sociological, critical, and historical approach to everyday issues and experiences in my classes," Berk says.
Why gender?
"It is extremely gratifying to transform words like 'feminist' and 'masculinity' into something empowering and tangible for students in a mere 10-week quarter," she explains. "I also enjoy the challenge and some resistance, which makes for sparkier classroom discussions."
On her teaching style, she says: "I work hard to bring my energy and enthusiasm for law and society into the classroom every day I teach, take time to learn students' names and their background when they share it, and offer my presence and compassion during office hours. I try to execute what I call the variety arc during a typical class period — a mix of lecture, learning tools, media, and discussion — to encourage engagement, participation, and thoughtful reflection."
Berk is sensitive to the different learning styles of her students and their levels of comfort speaking in her large classes.
"However," she says, "I have never compromised on my belief that if you expect more, you get more: I find our social ecology majors will rise to the occasion when they are challenged, and when their effort pays off, they derive a bigger sense of pride and satisfaction."
It's not a matter of simply teaching content for memorization, Berk emphasizes. "I hope to teach students the process of how to tackle, analyze, and evaluate whatever issues and ideas come at them in the future. I don't expect them to think what I think, but to use reliable, verifiable data and evidence to back up all assertions in order to help diffuse assumptions and stereotypes."
On why Berk loves teaching: "It is, quite simply, an inner knowing and an expression of who I am. I have long lived to engage with others on stimulating topics, listen and process other points of view, and not only debate vital issues but actualize social change. I have authentic passion for teaching students who come to class open and willing to challenge past beliefs, confirm or contest deeply held values, and use data and facts responsibly when drawing conclusions. UCI students are the future of this country, and I feel humbled and honored to participate in their educational experience. I thrive on getting to know students who come in along a spectrum of goals from most instrumental ('I need a degree. Period.') to most eager intellectual ('I learn to expand my personal growth.'), to support whatever path they find themselves on. Students have far more going on in their lives besides schoolwork, and face many challenges. Thus, I derive immense satisfaction from hearing from students who I have somehow, in some small or big way, made a positive impact on their lives. Our diverse student body makes that all the more exciting and incredible. I enjoy helping students become more thoughtful communicators and reflective thinkers well beyond the classroom doors."
To that end, she often tells her students that "democracy is a verb; it is an action, something that you do as a member of society in an effort to make your life and others' lives more secure and happy, in community."
— Mimi Ko Cruz