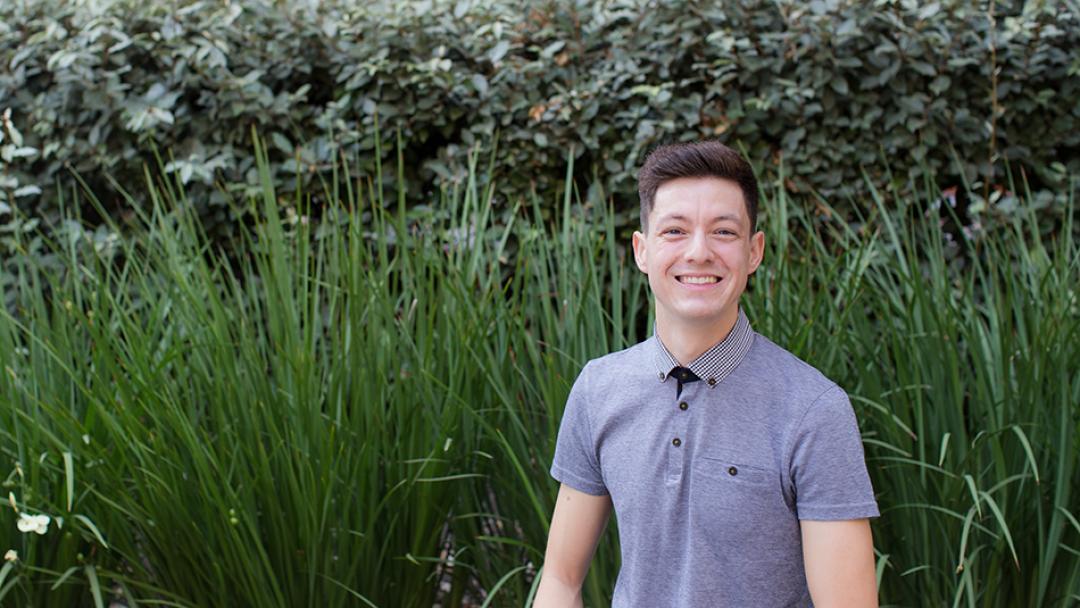 ---
Golob honored for teaching and mentorship
Brandon Golob, assistant professor of teaching in criminology, law and society, has been named the School of Social Ecology's Professor of the Year and the recipient of a 2020-21 Chancellor's Award for Excellence in Undergraduate Research Mentorship.
The Professor of the Year award is selected by students. The Social Ecology Undergraduate Advising office asked the 2021 graduating class to submit nominations for this year's Professor of the Year honors. Golob received the highest number of nominations. Among the comments submitted by the students:
"Professor Golob is an amazing professor and an amazing person. He always made sure that we students had everything we needed to survive the anxiety and stress surrounding remote learning. There is no other Professor who shows that much interest or concern over their students."
"The professor challenges his students to think critically and when developing themes and topics for our coursework. Additionally, he provides examples and materials that are current and progressive in regards to the course topic."
"Cares about his students and makes an effort to teach while being enthusiastic about the topics he discusses."
"I nominate Professor Golob because he has had the greatest positive influence on my education at UCI. Over the pandemic, he did an outstanding job transitioning to teaching in a remote environment, has been incredibly kind and authentic in his communications with students, and has supported my academic and personal growth every step of the way. Thank you, Prof G!"
"He is the best professor I have had at UCI. I learn so much plus he makes the effort to help students that are struggling."
"He has been a source of knowledge and support that was invaluable to me and others throughout the year. His thoughtful and empathetic teaching style allows him to handle the most serious of subjects with grace and without him I would be completely lost in terms of where I am going from here."
"Not only were his classes very engaging, he also cared about his students. Any time I needed assistance or didn't quite understand something, he was easy to reach and more than willing to help me out. Being in his classes were positive experiences all around and I would highly recommend this professor to fellow classmates."
"I nominate Professor Golob for the Social Ecology Professor of the Year Award because his teaching really sparked my passion and interest for CLS. He truly cares about his students and every class I have taken with him has been incredibly eye-opening and educational."
"Professor Golob is so knowledgeable, and I am so grateful that I have gotten to have him as a professor during my time here at UCI."
"He makes learning fun but also really cares about his student's mental health and needs. He ensures that we are okay and allows us to take a break and step back from class work at times given that the world around us is crazy with everything going on in the moment."
"Professor Golob is one of the best professors at UCI. He teaches students in easy to understand yet very informative matter. He also brings current issues into light. Very understanding of circumstances and making sure students are taking care of themselves."
"Professor Golob has been a kind and thoughtful professor throughout the remote learning experience. I took three quarters with him this year and I always knew I could talk to him about any struggles I was facing. He always showed grace to his students and considered their mental health."
"Professor Golob is an outstanding professor! From his lectures and teaching I was able to learn so much from his courses. Professor Golob has definitely made an impact on me during my time at UCI!"
"Amazing. Was so understanding and considerate during the whole online learning this past year. He was so great that after I took him in Fall, I took his classes both Winter and Spring as well. He deserves all the recognition for trying to accommodate us and our needs. He was willing to negotiate and extend deadlines when we had something going on."
"Professor Golob is honestly just amazing. His compassion throughout the courses was much needed. Not only that but Professor Golob's way of teaching makes it super easy to understand and learn. He always gives pop culture references when giving examples. He's funny and likes to bring in jokes while teaching. He explains materials very well. Very concise and makes us think in a way that I haven't experienced with other professors."
"Professor Golob always looks out for his students and actively searches for ways to support them, especially during a pandemic."
"During a year of incalculable challenges, my students were a constant reminder of our capacity for perseverance," Golob said. "I was truly impressed by all they achieved academically while simultaneously offering support to one another, their loved ones, and their communities. Thank you to them for continually showing me that we can do meaningful things during dark times. Our UCI community may be dispersed, but it is undoubtedly intact."
The Chancellor's Award for Excellence in Undergraduate Research Mentorship was awarded through the university's Undergraduate Research Opportunities Program. It recognizes faculty members who exhibit excellence in research training, professional development, ongoing support, evaluations and feedback, and impact on learning and development.
Golob is a favorite professor among students, and "we are proud to have him teaching in our school," Dean Nancy Guerra said. "He brings his training in communication and law to the classroom in a manner that is engaging, challenging and inclusive."
Golob joined UCI's faculty in 2018. His research and teaching focus on the ways legal concepts are communicated to non-lawyers. Both inside and outside the classroom, he examines how legal knowledge is translated to laypeople through mediated and face-to-face communication.
He received his dual B.A. in rhetoric and interdisciplinary studies from UC Berkeley, his J.D. from the UCLA School of Law, and his M.A. and Ph.D. in communication from USC's Annenberg School for Communication and Journalism. Building from this diverse educational background, he seeks to create interdisciplinary classrooms that integrate the most effective pedagogical practices from a multitude of fields.
Past Professor of the Year recipients:
2007-2008: Roxane Cohen Silver
2008-2009: Eric Knowles
2009-2010: Justin Richland
2010-2011: Unknown
2011-2012: Joanne Zinger
2012-2013: Stephanie McEwan
2013-2014: Elizabeth Cauffman
2014-2015: Teresa Dalton
2015-2016: John Dombrink
2016-2017: Joanne Zinger
2017-2018: Joanne Zinger
2018-2019: Hillary Berk
2019-2020: No winner due to pandemic
---
Contact:
Mimi Ko Cruz
Director of Communications
949-824-1278