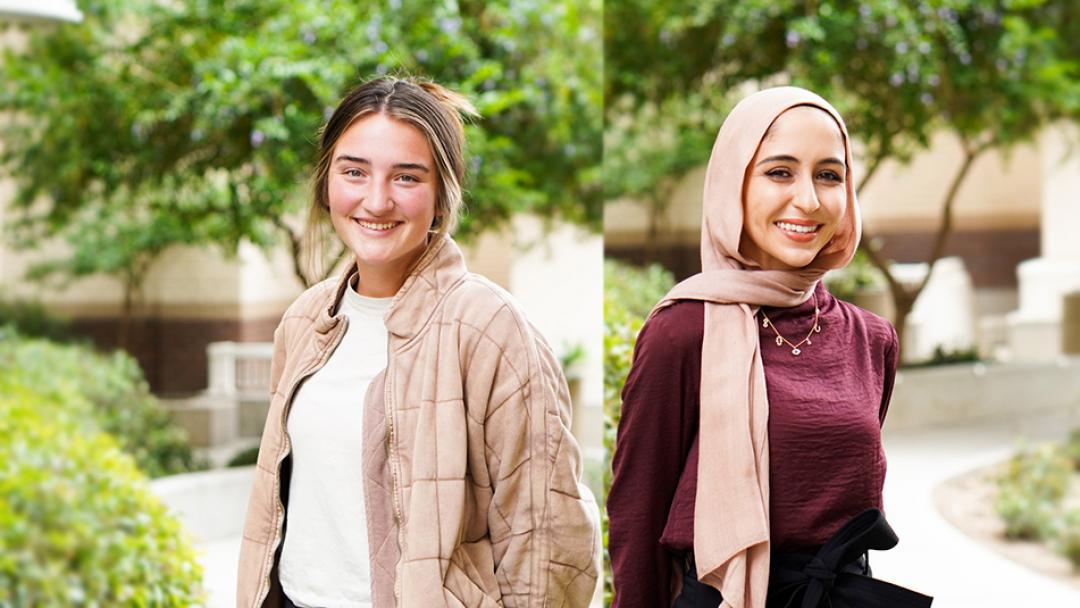 Sophie Wood, left, and Bayan Sbeini are this year's student commencement speakers. Photos by Christine Parales Porciuncula
---
Psychological science majors will deliver speeches at June 11 events
Bayan Sbeini and Sophie Wood, both psychological science majors, will be this year's student commencement speakers June 11. Sbeini will speak at the morning commencement ceremony and Wood will speak at the afternoon ceremony.
Bayan Sbeini
A transfer student from Santiago Canyon College in 2020 during the height of the pandemic, Sbeini was a UC Washington DC program participant, and a research assistant in the Biological Science Department.
After graduation, the 22-year-old plans to take a gap year, working in clinical research, before applying for graduate school to pursue studies in neuroscience. She hopes to contribute to making the world a better place through her service and scholarship.
As a student, she joined the Flying Samaritans Club, which travels to Mexico every month to deliver free medical services.
Sbeini, who was born and raised in Orange County, doesn't take for granted her opportunities. Her parents immigrated from Syria 33 years ago, but she has family there who are unable to get an education.
"My mom and dad sacrificed so much for me to be here today," she says. "They made a choice to give me a better life with more opportunities far from what they once called home. If my parents hadn't immigrated to this country, I would have likely been a mere statistic, among the 13 million Syrian refugees in the world today. I would have likely had to drop out of school in fifth grade to
help my family make ends meet, until eventually fleeing war to any country that would accept us. Instead, I'm here, knowing that my home will be there when I get back, and not turned to rubble. I am proud that I am the daughter of two Syrian immigrants, and that I am fortunate enough to have had the opportunities I've had."
Sophie Wood
When Wood became an Anteater four years ago, she joined UCI as a scholar-athlete. Her NCAA volleyball prowess was star quality from her freshman year, when she played in 58 sets, averaging 2.28 set assists, adding 35 digs and 25 kills. By senior year, she was team captain of the UCI women's volleyball.
She hit the books hard, too. Even with a grueling practice schedule, Wood, the recipient of the Big West Commissioner's Honor Roll with Highest Honors Award, never dropped off the Dean's Honor List. And, she served as president of Athletes in Action and was a member of the Student-Athlete Advisory Committee.
Though she suffered many injuries, from concussions to dislocating her jaw, she always came back stronger until this past season when she tore her ACL and meniscus and cut short her volleyball career.
Devastated, Wood would soon learn her most important lesson.
"Don't take life for granted," she says. "i used to complain day in and day out when practices were so hard. Now, there's nothing I wouldn't do to have another practice. But, I learned that your life and your identity isn't defined by just one thing. You are a collection of experiences and what's important to you. Those things don't change."
Upon graduation, Wood plans to backpack through Europe with friends and then look for a job in strategic development or real estate.
Keynote
Delivering the keynote address at the 8:30 a.m. commencement ceremony will be award-winning journalist Gustavo Arellano.
---
Contact:
Mimi Ko Cruz
Director of Communications
949-824-1278