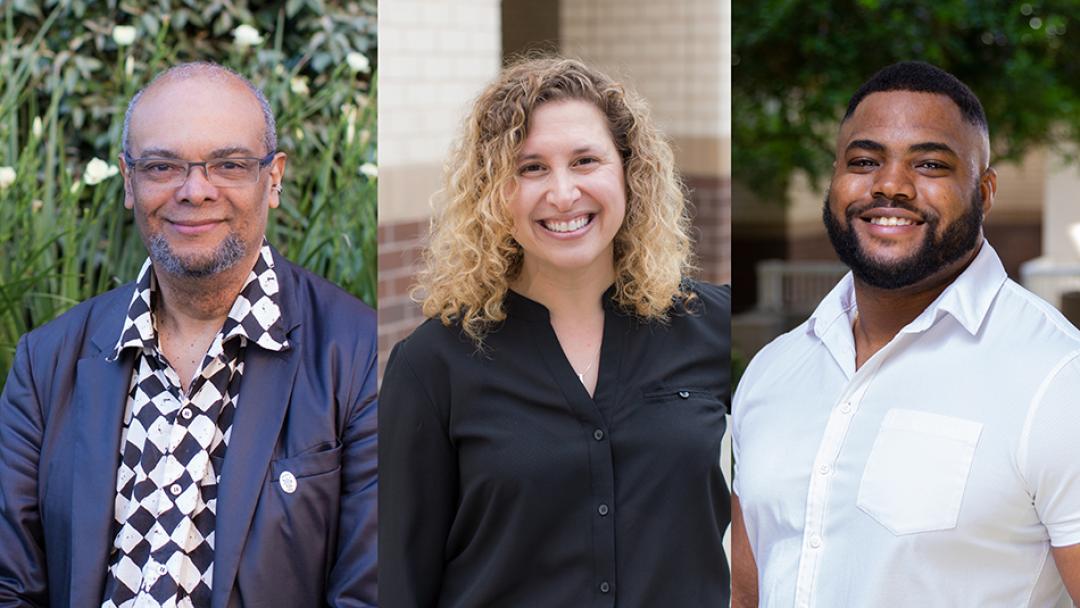 From left: Julian Thayer, Sarah Pressman and Cameron Wiley.
---
Psychological science trio singled out
Three scholars from the UC Irvine School of Social Ecology's Department of Psychological Science were honored during the American Psychosomatic Society's 80th Annual Scientific Meeting, which was held March 8-11 in San Juan, Puerto Rico.
Julian Thayer, Distinguished Professor of psychological science, received the APS Distinguished Scientist Award, which included him delivering a lecture on March 8 titled, "Effects of Racism: Personal and Scientific Reflections."
"Phenomenal talk and much deserved standing ovation for Dr. Julian Thayer receiving the Distinguished Scientist Award for his work on how physiological/emotion regulation to unfair treatment may explain cardiovascular health disparities," tweeted Ryan Linn Brown, a postdoc in the UC San Francisco Department of Psychiatry and Behavioral Sciences, after the presentation.
Meanwhile, Sarah Pressman, professor of psychological science and UCI's associate dean of undergraduate education, was named an APS 2023 Fellow of the American Physiological Society. Her research focuses on the interplay between stress, psychological well-being, and health, with a focus on the physiological processes and behaviors that underlie these associations.
An APS Diversity Scholar Travel Award was bestowed on Cameron Wiley, a Ph.D. student is psychological science who is a familiar face to Thayer and Pressman. He was a graduate research assistant in Thayer's Integrated Emotions and Quantitative Psychophysiology Lab and Pressman's Stress, Emotion, and Physical Health Lab.
Wiley's pedigree with recent UCI psychological science faculty award winners also extends to having served as graduate research assistant in the Stress and Coping Lab of Roxane Cohen Silver, the Distinguished Professor of psychological science, medicine, and public health and vice provost for academic planning and institutional research, who recently received UCI's 2022-2023 Distinguished Senior Faculty Award for Research.
Wiley, who studies the association between self-regulation (emotion and stress) and cardiovascular health, how these associations differ by race, and what physiological factors and mechanisms influence racial health disparities, was awarded a Ford Foundation Predoctoral Fellowship last year.
— Matt Coker