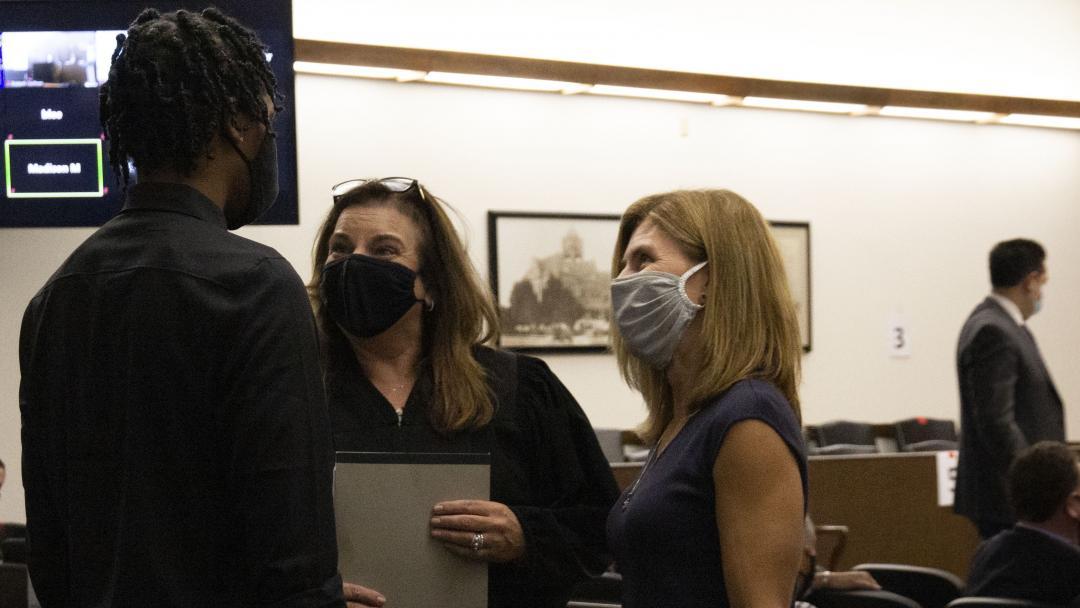 Zamire, left, is congratulated by Orange County Judge Maria Hernandez, center, and Professor Elizabeth Cauffman.
---
Pair become second and third graduates of Young Adult Court
Zamire was all set to start a good job with a security company until his would-be employer did a background check and found the felony on his record so he rescinded the job offer. But, after two years in the innovative Orange County Young Adult Court program that takes randomly-selected first-time felony offenders and offers them support services and resources for mental health counseling, job skills training, substance abuse treatment and housing and transportation assistance, Zamire has another chance.
If participants take advantage of the program and complete all the requirements, including attending all court hearings and meetings with probation officers and Orangewood case managers, they can graduate and have their felonies expunged or reduced to misdemeanors. Zamire and another young man, who requested his name be withheld, recently became the second and third graduates of the program and had their felonies expunged from their records.
"There are so many limitations and restrictions when you have a felony on your record," Young Adult Court Judge Maria D. Hernandez said, explaining that once you have a felony on your record, it is not only difficult to get a job, felons are routinely rejected for housing as well, and they often end up committing more crimes and returning to jail.
"This is the first step to break the cycle of recidivism," Orange County Sheriff Don Barnes said about the Young Adult Court. "It is essential to keep programs like this going so we can keep people from coming back to jail."
That is the point of the program, said its co-creator Elizabeth Cauffman, professor of psychological science. "The goal of what we do at UCI is to bridge science with practice, and that's the goal of the Young Adult Court. We know, developmentally, people change over time. We need a system that's more developmentally appropriate so that we can change people's lives for the better. We want people to be able to return to the community and be productive."
---
Media Contact:
Mimi Ko Cruz
Director of Communications
(949) 824-1278
mkcruz@uci.edu
---
Related stories:
Epoch Times: Orange County Youth Court Program Graduates Former Felons
Orange County Register: Orange County's 'Young Adult Court' celebrates its first graduate
Celebrating first graduate of OC Young Adult Court