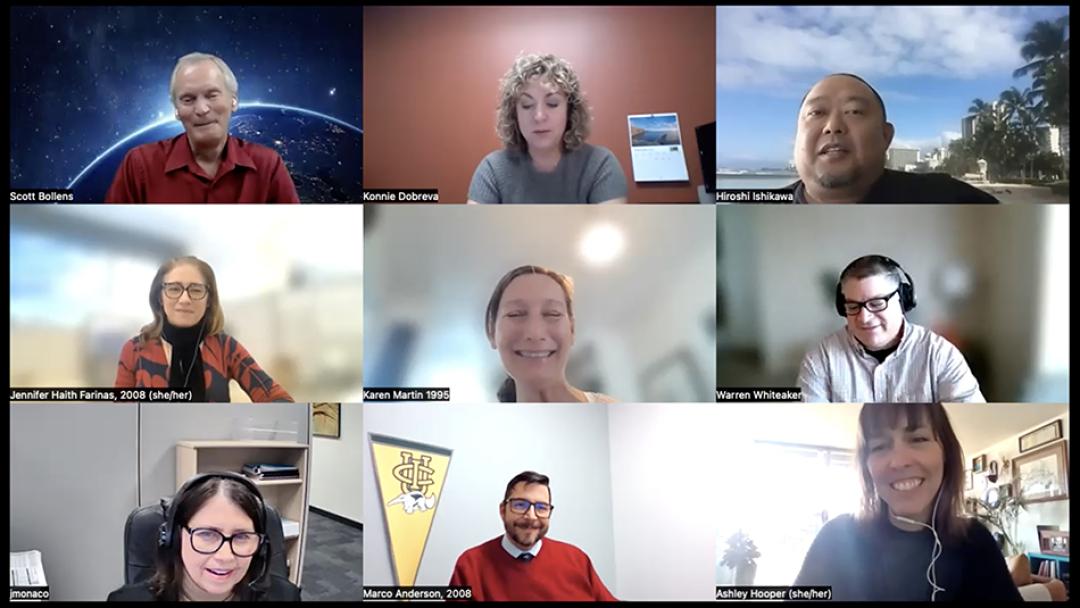 ---
Alumni reminisce with their professor
Though they embarked on different journeys after leaving UC Irvine, about a dozen former students of Scott Bollens came together Wednesday to report that they continue to be enriched by the lessons, wit and wisdom of the longtime professor of urban planning and public policy.
"It's an everyday influence in my life, and I am so grateful I had the UCI experience," said Karen Martin during the School of Social Ecology's latest Office Hours, an informal online get-together between Anteater alums and faculty members.
Martin and Bollens arrived at UCI in 1991, she as an undergraduate transfer from Saddleback College in Mission Viejo and he from his first assistant professor assignment at the University of Massachusetts.
Going on to earn a bachelor's in environmental design in 1993 and a master's in urban and regional planning two years later from UCI, Martin since 1999 has owned Pacific Planning Group, a Laguna Beach-based architecture and planning firm focused on sustainability and steadfast support of the School of Social Ecology, from which she has routinely plucked interns.
Asked by her former faculty advisor Bollens to recount memories from her time on campus, Martin recalled that the master's program was so young that she and fellow "MURPs" helped paint new offices. As they took a test to determine if they would graduate, they were frustrated by the sound of jackhammering.
Bollens informed that was construction noise for the Social Ecology 2 building on what had been a campus parking lot. Martin took it in stride. "When something is starting out, it's rocky, but it was still really fun and some of the best memories of my life," she said. "I still talk to all of my colleagues."
The professor's current office is in Social Ecology 1, which originally housed the school's four departments: Criminology, Law and Society; Environmental Analysis and Design; Psychology and Social Behavior; and Planning, Policy and Design. Today, there are three buildings for the now three departments: CLS, Psychological Science and Urban Planning and Public Policy.
"When I got here 32 years ago, there were three and a half faculty," Bollens said. "And, our first entering class was seven students in our master's program. We were just starting a planning program. And now we are 21 faculty. We have two master's programs. And collectively, we have an entering class each year of about 60 students. So, it's been phenomenal growth. I feel very grateful to be part of it and to see this long trajectory of the program."
The slight smile and twinkle in Bollens' eyes as his former students caught him up validated the notion that he was relishing the moment with a small sampling of the more than 3,000 students he has taught over the years, many of whom went on to planning and development-related careers, whether it be with cities, companies large and small or regional bodies such as Southern California Association of Governments.
The professor in turn revealed that his research for the past 25 years has focused on "contested, polarized cities across the world," which has embedded him in such cities as Belfast, Northern Ireland, Beirut, Lebanon, "and all the great places you hear about of turmoil and conflict." That resulted in six books and, as a self-avowed "academic rebel," Bollens says they have evolved from scholarly tomes "loaded with footnotes and dense writing" to "freeform narrative" that allows him to share his personal feelings about troubled regions.
"It's very cathartic writing this way," he said. "It really changed the way I write and the way I study and also the way I teach."
His rebellious academic nature bubbled up again during the height of the pandemic, when he wrote his first novel, ReStart: Stories of the Cairn Age, a copy of which he held up for the Zoom camera. "Because the world was coming to an end, or so it seemed, I just took what was in the news and extrapolated it into 25 years in the future," Bollens said. "This large computer system gets ahold of humankind and really distorts how we feel and is very influential in how we act. It ends up in deep, deep conflict and turmoil, with cities exploding and everything. It's very dystopian."
A sequel is in the works, as are the continuation of summer hikes along different sections of the Pacific Crest Trail and retirement planning.
"The greatest joy is when an alum comes back to me and says something that I said in some class stuck with them and they understand it now," Bollens said to the affirming nods of Office Hours participants.
"You're doing the greatest things out there," their mentor said. "It warms my heart to see what all the alumni are doing with their professional lives. If I had a small part in that influence, you know, it's just a really, really wonderful feeling. It reminds me what education is all about."
— Matt Coker