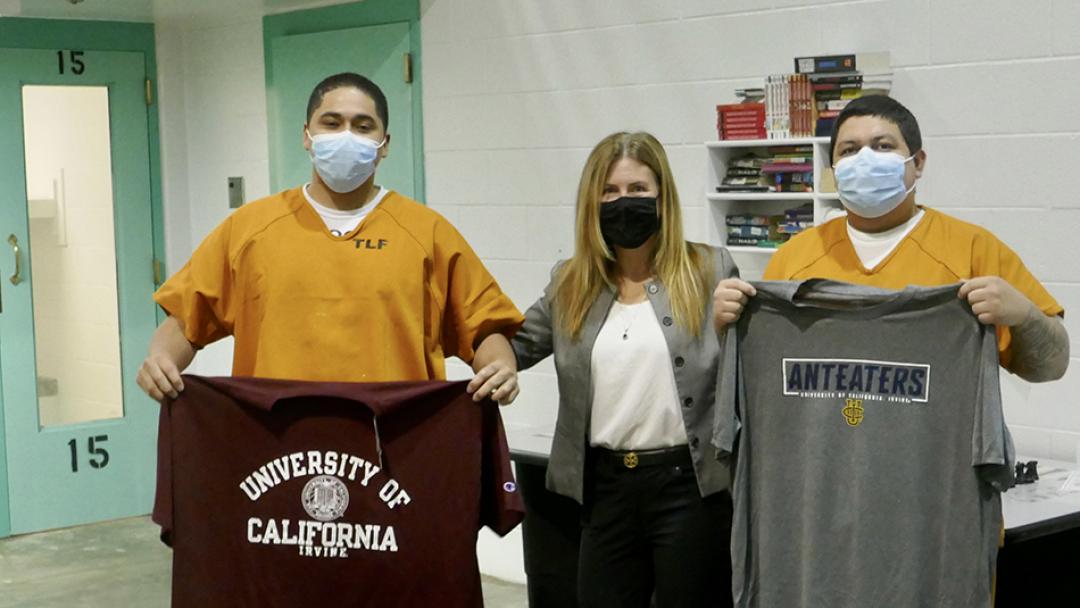 Professor Elizabeth Cauffman, center, congratulates Isaac, left, and Andrew, the latest graduates of the Road to Reentry program in Orange County Jail. Inset photo: Young Adult Court graduate Jorge speaks in court at his graduation. Photos by Mimi Ko Cruz
---
Students graduate from pair of innovative programs
By Mimi Ko Cruz
While countless students nationwide recently took part in traditional graduation ceremonies with full pomp and circumstance, a couple of Orange County events quietly marked the achievements of a few young graduates who completed a pair of innovative programs designed by UCI.
Andrew and Isaac recently became the seventh and eighth graduates of the Road to Reentry program, which is changing the experience for young inmates in Orange County Jail. Modeled after the Orange County Young Adult Court program, Road to Reentry randomly selects men between the ages of 18 and 25 who are scheduled to be released from the Orange County Jail within three to 12 months to participate in the program. The participants are housed together at the Theo Lacy Facility in Orange, where they work with case managers and are provided life skills training, tutoring, parenting classes, employment development, substance abuse prevention information and other support services.
Wearing their orange jumpsuits and listening to their case managers and Orange County Sheriff's officials congratulating them, Andrew and Isaac vowed to continue working on improving their lives so they can make a difference in their communities.
They received certificates and Elizabeth Cauffman, professor of psychological science, who created the program with a team of Orange County officials, gave them UCI swag and words of encouragement.
The goal of the program, she says, is to reduce recidivism.
Criminal activity typically starts during early adolescence and peaks during the young adult years, Cauffman explains. Her research has revealed that while 18- to 24-year-olds make up only about 10 percent of the U.S. population, they account for more than a quarter of jail inmates — and nearly half of them will reoffend within a year of being released.
"Young adulthood is a critical time for brain development and social milestones such as education and employment," Cauffman notes.
That's why housing young adult offenders together is important," she says. "If you're incarcerated and sharing a cell with a person who is older and more criminally sophisticated, you're going to have a very different experience than if you're living with people your own age and getting resources specific to where you are in life."
Road to Reentry launched a year ago with a $1.5 million grant from the National Institute of Justice to evaluate its effectiveness. Cauffman and her research team are doing so, following each program participant. So far, a total of eight have graduated from the program.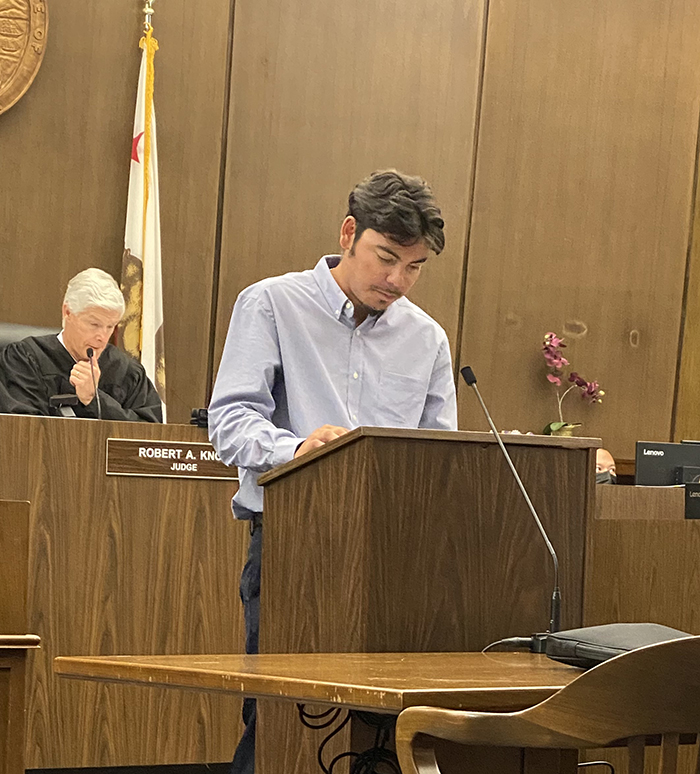 Meanwhile, the Orange County Young Adult Court graduated its 15th, 16th and 17th graduates in June. One of the graduates, Usei, thanked the judge, his probation officer, his attorney, his Orangewood case managers and his family who supported him through the program, which concluded with the dismissal of his felony.
"I am very grateful because Young Adult Court showed me that people who make mistakes are able to change their ways and become better not only for themselves, but for the community as well," he told the court. "My troubles began when I was 15–16 years old. I grew up in the streets and it drove me to use drugs. Through this experience I became lost. It made my family treat me differently, but it was all on me and I take full responsibility for my actions. I realized that I wanted to get out of that life, and I was only able to find a way out through the Young Adult Court program."
His fellow graduate, Jorge, whose felony charge also was dismissed, recounted his experience and thanked the court as well: "It was a rough start in the beginning after my arrest for drinking and driving. Transitioning to get my life back, the trust lost with my parents, and losing some friends was all very challenging. It is a regret I still live with to this day and I still think of ways to take it back. While I have to live with my past behavior, this Young Adult Court showed me that the rest of my life still has value and character. I learned my lesson. I've shut that door and I won't go back."
Young Adult Court is a collaborative court for first-time felony offenders between the ages of 18 and 25. Launched in Orange County as a pilot project in August 2018, it is one of few such courts in the country. It was created through the efforts of Professor Cauffman; Orange County Superior Court Judge Maria Hernandez; Cauffman's former postdoctoral student Zachary Rowan, who is a faculty member at Simon Fraser University in Canada; the Orange County Probation Department; the Orange County Public Defender and Defense Bar; Orange County District Attorney's Office; and the Orangewood Foundation.
One of the most consequential incentives of participating in Young Adult Court is the reduction of a felony charge to a misdemeanor or the complete dismissal of the felony charge. The program consists of developing a "youth action plan," which lays out all the steps participants must complete such as attending all court hearings, meeting with probation officers and case managers, getting substance and/or alcohol abuse treatment, mental health counseling and employment and education advice and following through.
The goal is to address and prevent criminal behavior in the future, Cauffman and Hernandez agree.
"This Young Adult Court is being watched very carefully because of the research that Beth Cauffman is leading," Hernandez says.
Like Road to Reentry, Young Adult Court aims to break the cycle of recidivism.
It's about "bringing science to the street," Cauffman says, explaining that the court is implementing policies that aim to make a difference."
---
Related:
OC Young Adult Court celebrates 4th graduation