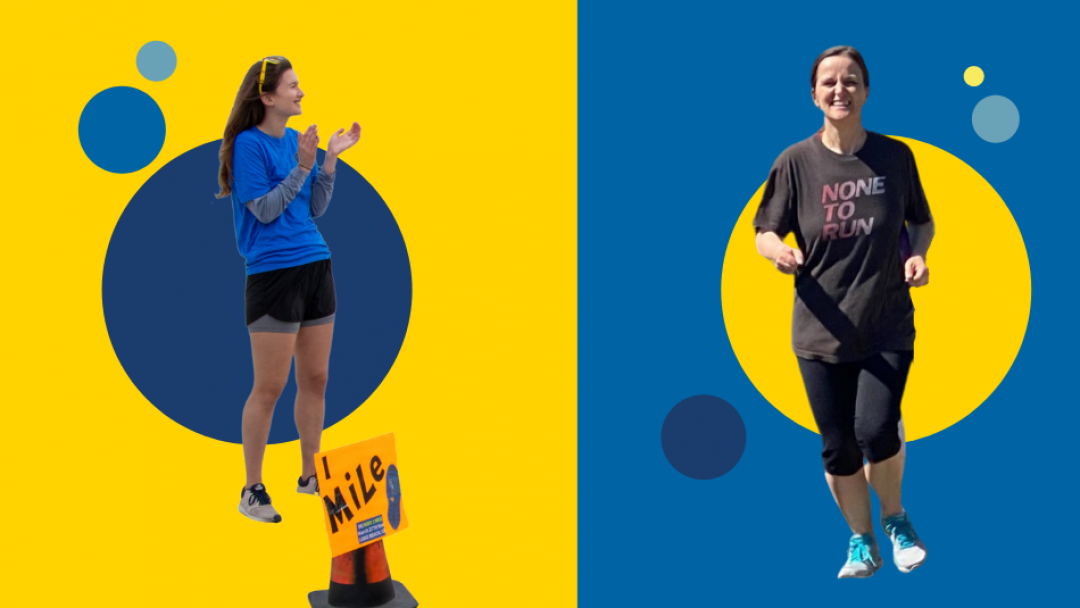 Sara O'Connor, left, and Ilona Yim took part in 5K events to raise funds for Ukrainian families.
---
Professor and graduate student raise funds for war victims
Ilona Yim, professor of psychological science, and Sara O'Connor, doctoral candidate in urban and environmental planning and policy, recently helped raise nearly $10,000 for the victims of the Ukraine War.
Yim and O'Connor took part in 5K runs to raise awareness and funds. Yim's 5K was organized by her dojo, Shorinji Kempo, in Huntington Beach on March 12. O'Connor organized her 5K in Long Beach on March 27.
Yim and her daughter have been training at the dojo for about five years. "Social Ecology was actually a part of why I became a member of the dojo," she recalls. "I heard of it from Nana Fukuda, a Japanese professor who stayed at my home while she spent her sabbatical here at UCI (in the Urban Planning and Public Policy Department). One day I told her that I was looking for a way to exercise together with my daughter Emilie (who was about 6 years old at the time), and she said that there is this dojo she goes to in Huntington Beach, where there are a lot of parents who come with their children. That's how I got hooked."
Her dojo is unique in several ways, Yim says. "There is only one Shorinji Kempo in the world (with headquarters in Japan), and the entire organization is fully non-profit. Nobody is allowed to make a living off of teaching it. Second, aside from learning martial arts, the organization is very dedicated to giving back to the community. We regularly do charity events (car washes, beach cleanups), and we donate all proceeds to causes that help the community. One of the principles of the Shorinji Kempo foundation is the idea that what you do should be ' half for one's own happiness, and half for the happiness of others.' This is a statement that was made by the founder of Shorinji Kempo, Doshin So, and that has become the backbone of the philosophy of this martial art. In the case of the 5K, the benefits to us were the health benefits from being physically active and running, and the benefits to others was the donation of the funds to Ukraine."
O'Connor organized her 5K because she wanted to do something to help support the people suffering in Ukraine. "I was here just like everybody else watching this happen and it's hard to explain feeling very helpless and very far removed," O'Connor says about watching news coverage of the Russian invasion in Ukraine. "So much tragedy and we've been processing it alone so I thought of a safe way to get people out of their houses to get together and be a community and understand what another community is going through."
Yim researches the biopsychological processes in health and disease, specifically as they relate to human stress. She focuses on stress during pregnancy and its effects on postpartum depression, and individual differences in stress reactivity (hormonal, immune, genetic).
O'Connor is on target to complete her Ph.D. next year. Her dissertation, "Urban Development and Civic Activism in Kazakhstan: Case Studies of Participation Under Authoritarianism," examines activism in authoritarian countries.
---
Media Coverage:
Orange County Register: Young martial artists in Huntington Beach jog to raise money for Ukrainian families
Long Beach Post: Donors raise thousands in aid at 5K run for Ukraine in Long Beach
---
Contact:
Mimi Ko Cruz
Director of Communications
949-824-1278