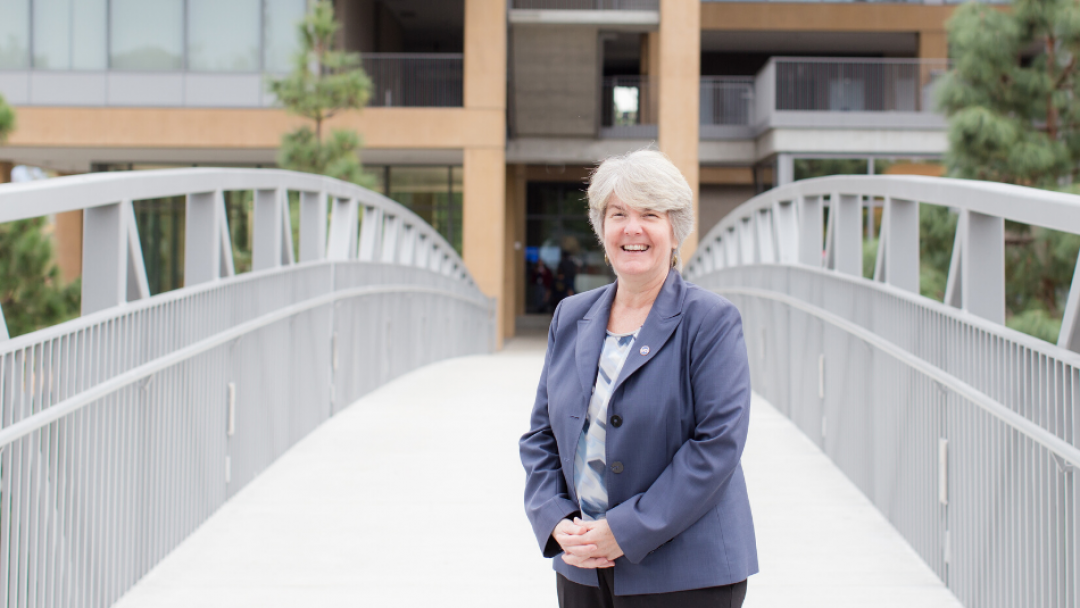 ---
Professor recognized by American Society of Criminology
For her outstanding contributions to research that relates to the pursuit of justice, Valerie Jenness, professor of criminology, law and society, as well as sociology and nursing science, has been honored by the American Society of Criminology (ASC) with its August Vollmer Award and its Teaching Award.
The August Vollmer Award, established in 1959, recognizes an individual whose scholarship or professional activities have made outstanding contributions to justice and/or to the treatment or prevention of criminal or delinquent behavior. It is named for the late Berkeley police chief, who was the intellectual founder of ASC.
The Teaching Award, established in 2008, is a lifetime-achievement honor designed to recognize excellence in undergraduate and/or graduate teaching over the span of an academic career.
"I'm incredibly honored to receive these awards, in large part because they affirm the important research and teaching we do in the Department of Criminology, Law and Society at UCI," Jenness says. "The Vollmer Award has also been bestowed upon other UCI professors, including my colleagues C. Ron Huff, Elliott Currie, and Joan Petersilia. As for the teaching award, it's gratifying because it is a testament to the promise and impact of public education. I'm a proud product of public education and deeply appreciate how it has transformed my life. It's the gift that keeps giving, a privilege and an honor to play a role in extending the gift of education to others, and a real pleasure to do so with my colleagues here at UCI — a place with lots of fabulous teachers!"
Jenness accepted the awards last month at the ASC's annual meeting in San Francisco. It follows two other national awards — the Feminist Scholar Activist Award from the American Sociological Association and the Doris Wilkinson Award from the Society for the Study of Social Problems — she received earlier this year.
Jenness, who has a Ph.D. in sociology from UC Santa Barbara, joined UCI as a faculty member in 1997. She served as dean of the School of Social Ecology from 2009 to 2015.
She is the author of many journal articles, book chapters, and reports, as well as four books:
"Appealing to Justice: Prisoner Grievances, Rights, and Carceral Logic" (with Kitty Calavita);
"Making Hate a Crime: From Social Movement to Law Enforcement Practice" (with Ryken Grattet);
"Hate Crimes: New Social Movements and the Politics of Violence" (with Kendal Broad); and
"Making it Work: The Prostitutes' Rights Movement in Perspective."
Her studies on hate crime, sexual assault in prisons, the management of prisoners with mental health concerns, transgender prisoners and the inmate appeals system in prison have have informed public policy in California, other U.S. states and in Europe.
---
Media Contact:
Mimi Ko Cruz
Director of Communications
949-824-1278
mkcruz@uci.edu