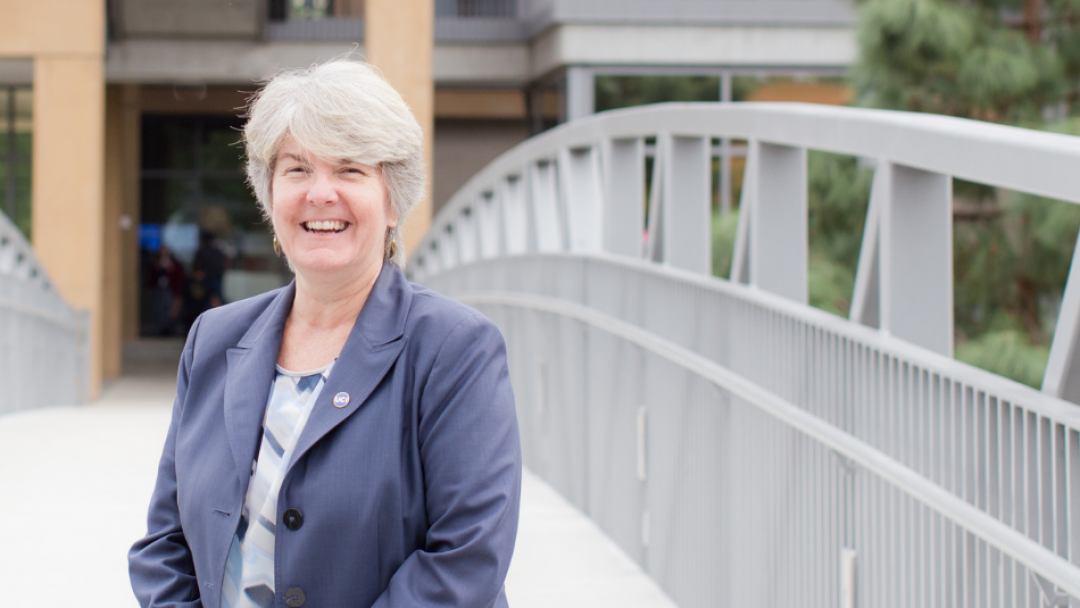 Valerie Jenness has received two national awards. Photo by Patricia DeVoe
---
Two national organizations honor Valerie Jenness with awards
For her research accomplishments and pursuit of social justice for vulnerable populations, Valerie Jenness, professor of criminology, law and society, sociology, and nursing science, was honored by two national organizations — the American Sociological Association (ASA) and the Society for the Study of Social Problems (SSSP) — at their recent annual meetings in New York City
The SSSP awarded Jenness its 2019 Doris Wilkinson Award. Professor Wilkinson is best known for her pioneering work on critical race theory and the sociology of health and illness. SSSP's congratulatory letter to Jenness reads:
"We believe this is a well-deserved honor because, like Dr. Wilkinson, you are a pioneer in the truest sense of the word. Both of you brought your sociological training to significantly fight for social justice. Your important work as an advocate for transgender women who are incarcerated is commendable. Your ability to bring your research to the public is remarkable, and includes an impressive list of forums, such as The New York Times, U.S. Immigration and Customs Enforcement, the L.A. Police Department, and the California Attorney General's Office. All of these contributions to the betterment of our society led us to the conclusion that you are overwhelmingly the best choice for the 2019 Doris Wilkinson Award."
ASA's Sex and Gender Section gave Jenness its Feminist Scholar Activist Award. The Section's congratulatory letter reads:
"Congratulations on winning the Sex and Gender section's Feminist Scholar Activist Award! The committee was very impressed by your prolific career and multiple contributions to the field of criminal justice at the intersections of feminist activism and gender scholarship. You have successfully raised awareness of a uniquely vulnerable population through an astonishing range of scholarship and commitment to feminist and intersectional public sociology. As we'll point out in the section newsletter, you were among the early pioneers of the field of rights for sex workers, and your impressive research has helped change policy and training in U.S. state and federal institutions as well as in Europe. You have worked with community organizations and state institutions, challenging carceral logics as well as hegemonic understandings of gender."
Reflecting on her latest honors, Jenness says: "It's really an honor to get to do research that interests me, promote the research I and others do, and be recognized for doing both in such a way that serves the public. In my mind, it's a privilege to do the kind of work I get to do and to have it recognized by my peers is just icing on the top. I really am humbled."
Jenness, who served as dean of the School of Social Ecology from 2009 to 2015, has conducted research on prostitution, hate crime, prison violence and grievances, and other topics related to criminal justice and the politics of crime control. She is the author of four books: "Appealing to Justice: Prisoner Grievances, Rights, and Carceral Logic" (with Kitty Calavita); "Making Hate a Crime: From Social Movement to Law Enforcement Practice" (with Ryken Grattet); "Hate Crimes: New Social Movements and the Politics of Violence" (with Kendal Broad); and "Making it Work: The Prostitutes' Rights Movement in Perspective."
Her studies of hate crime, sexual assault in prisons, the management of prisoners with mental health concerns, transgender prisoners and the inmate appeals system in prison have been published in prestigious venues and have informed public policy.
— Mimi Ko Cruz