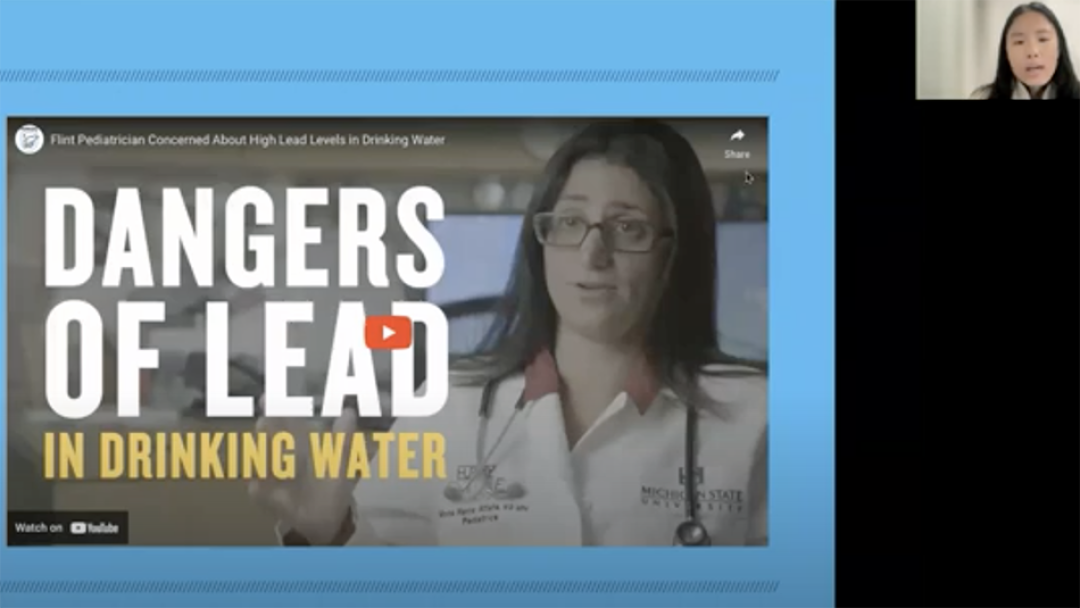 Screenshot from Water UCI's first Speaking of Water webinar this year.
---
NRDC drinking water equity advocate talks collaboration
Lessons learned from toxic drinking water disasters in Michigan and New Jersey are being applied in California, a representative of the Natural Resources Defense Council said during a Water UCI webinar Feb. 21.
Ellen Lee, an NRDC drinking water equity advocate, was the guest for the first Speaking of Water Series event of 2023, "Getting the Lead Out with the Bipartisan Infrastructure Law."
California may not have the preponderance of lead pipes and fittings that prompted unsafe drinking water conditions in Flint, Mich., and Newark, N.J., but lead levels greater than five parts per billion – the Food and Drug Administration-recommended level – have been found in nearly one in five schools built before 2010 in the Golden State, Lee said.
"It's been increasingly clear that lead plumbing is a problem across our country, including California," said Lee. "… Lead is a heavy metal that can leach from old and corroded plumbing and cause serious damage that affects the nervous system, fertility, cognitive ability and more. There's no safe level of lead, meaning any level is dangerous."
While lead pipe, solders and fittings were banned for new construction in the U.S. in 1986, no one knows how much corroded lead particles from upstream sources are still being carried by newer galvanized piping, Lee said.
That is why the NRDC is advocating that billions in state and federal funding, including from the Bipartisan Infrastructure Law, be used for lead service line replacement, particularly in communities that are disproportionately impacted by aging infrastructure, which also happen to be a lot of low-income communities and communities of color.
Unfortunately, many of these communities suffer "a lack of technical and managerial capacity," which in turn "limits their ability to access state and federal dollars," Lee said. "Agencies lack cultural competency and understanding of the communities they serve. There is inadequate information sharing and engagement with communities and community residents. Often there are one-size-fits-all regulations and policies. Overall, there's a lack of adequate water sampling data and inventories. And oftentimes, there's not enough funding in the form of grants or principal forgiveness, which can put communities in debt for decades."
The NRDC is working at the local, state, and federal levels to ensure resource equity and accurate inventories of problematic piping requiring replacement, she added.
"Our work in California is very much guided by our lessons learned in cities like Flint and Newark," said Lee, adding that while the problem may not be as dire as it was in those rusting cities, the NRDC wants to "make sure that California is addressing its lead service line issue once and for all."
Responding to questions from Water UCI Director and speaker series host David Feldman as well as followers of the event on Zoom, Lee said that NRDC's goal is to ensure lead line replacement costs are only borne by residents and tenants who can afford them; unlike other political issues, ensuring safe and affordable drinking water has bipartisan support; and it's important for advocate like her to make real connections to community partners on the ground.
"It's not a one-way street," she explained. "We're not telling them what they need to do. But we are providing our expertise and our knowledge and providing education while they're also giving us information about the background, what the community needs, issues that community residents are facing. And so, having this kind of two-way street where we collaborate and really foster true collaboration, where we learn from each other, I think really helps to alleviate tensions. Relationship building is very important, not just in the water justice space, but also to environmental work as a whole."
— Matt Coker