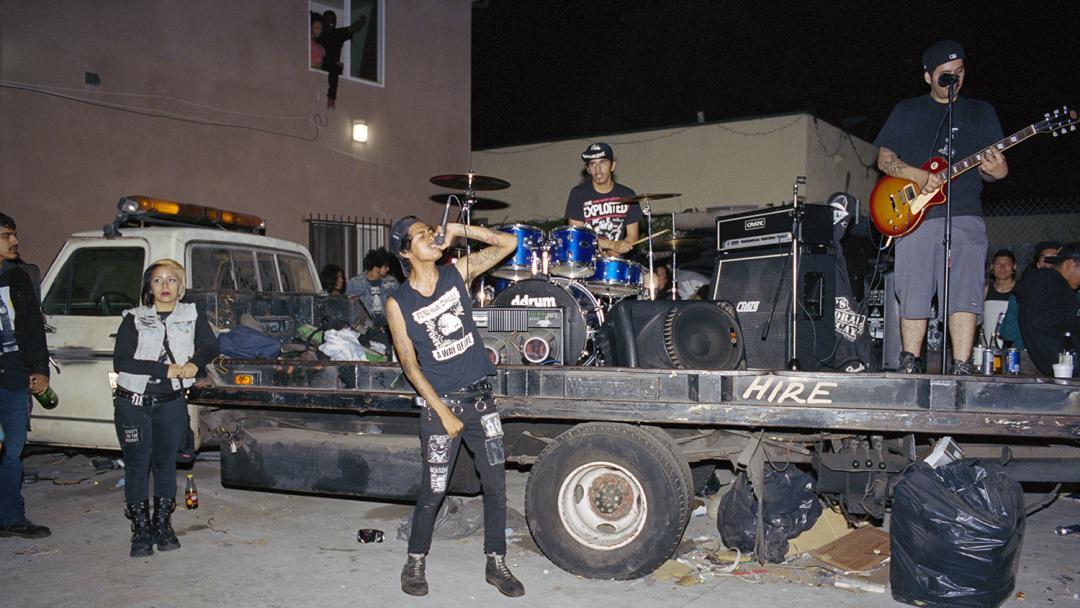 Scenes from the documentary, "Los Punks: We Are All We Have," above and top inset photo, and the film's director Angela Boatwright, below.
---
Why screening a film on L.A. punks makes perfect sense for the 'Triple P' and Urban Studies Student Association
By Matt Coker
What do a documentary about punk rock kids in Los Angeles circa 2013 and the University of California, Irvine School of Social Ecology and Department of Urban Planning and Public Policy have in common?
Well, most prominently, an upcoming special screening of "Los Punks: We Are All We Have," presented by UPPP and Urban Studies Student Association on Wednesday, May 10, from 5-7 p.m. in SBSG Bldg., Room 1517. The event includes a Q&A with director Angela Boatwright, who represents another connection to UPPP and Social Ecology: she's completing studies for Bachelor of Arts degrees in urban studies and psychological science.
Also taking part in the Q&A will be some people featured in the film — punks Jennie Sanchez, Ray Flores and Silvia Aceves as well as Aceves' daughter Alice — who populate DIY shows captured by Boatwright's cameras in the residential backyards and secret venues of working-class neighborhoods. These are in places such as Watts, Boyle Heights and East L.A. that are worthy of UPPP research because they represent the collision of crime, poverty, redlining, immigration and, other than law enforcement, governmental inattention.
"As you may know, this is South Central, and I know a lot of talented people, a lot of them," says Luis after opening his SCLA Apparel warehouse to a show at one point in the film. "Unfortunately, there is not enough resource or guidance for everybody to be like, 'OK, now focus all that energy and all that potential into something productive.'"
How Los Punks became the subject of a public screening hosted by UPPP (or "Triple P," as the cool cats call it) is quite serendipitous.
Walter Nicholls, professor and chair of the Triple P, says he's always on the lookout for books, films, and other materials to present to his large "Introduction to Urban Studies" course, which is required of Social Ecology students.
"In the class we talk about inequalities in Southern California but also the ways in which marginalized people work in their communities to create meaning and a certain voice," Nicholls says. "Cities create huge inequalities and terrible issues of marginalization, especially for low-income people of color. And then folks form groups to create meaning. They're not just passive victims; they create their own communities and cultural systems to give voice through punk rock, through politics, through things like queer social movements."
During one of the professor's searches for new materials a few years ago, he found the 2016 documentary Los Punks and decided to start showing it at the end of the quarter, when the urban studies course is dedicated to punk rock and the city.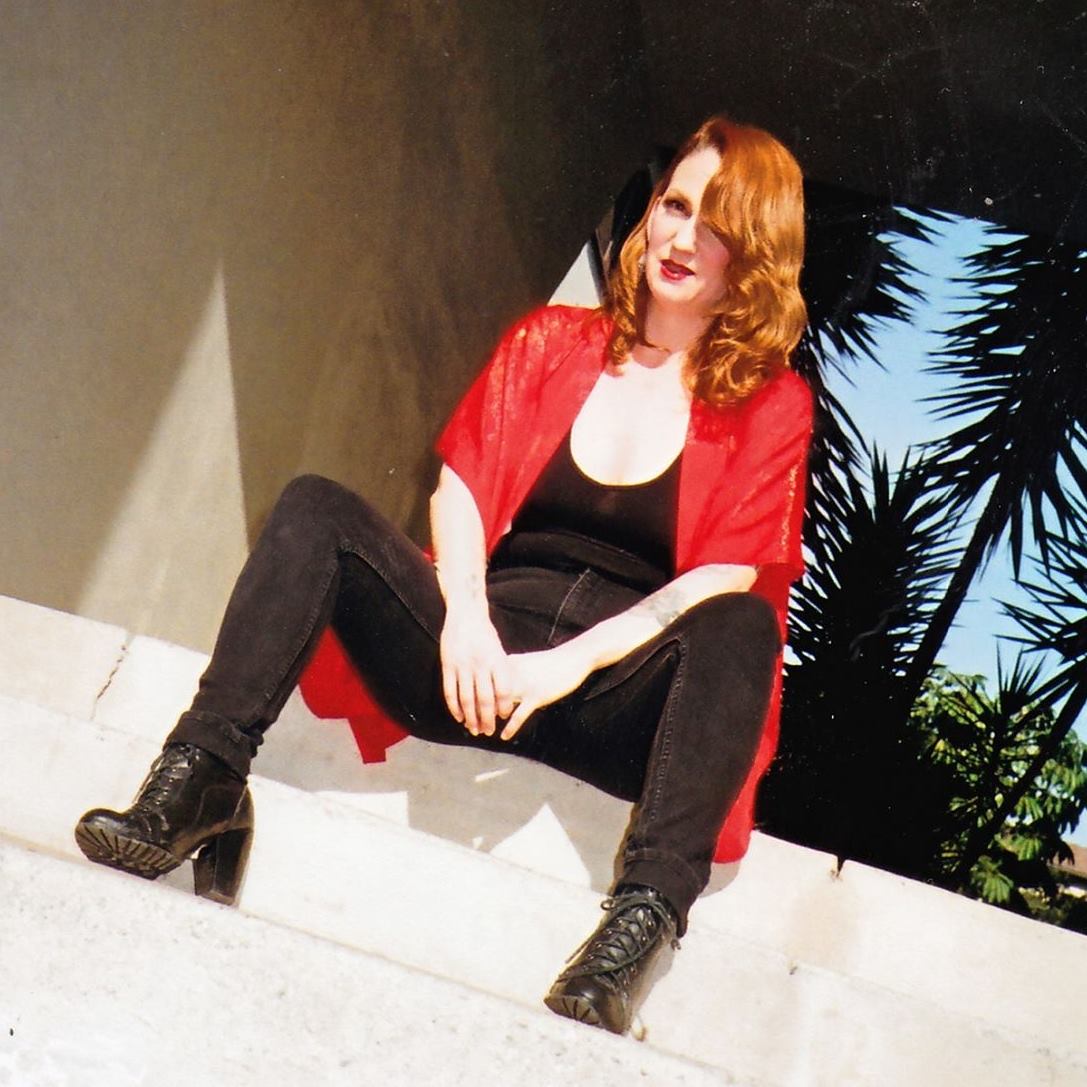 "Social movements and integration are my areas of expertise, but I also have an interest in subgroup formation in cities, and I am a longtime follower of punk rock and hip hop," Nicholls explains. "I found Angela's movie just by chance. I started showing it as part of the class, and I'd give the lecture in the last week, and the students loved it. We talked about it and a lot of our students are from South Los Angeles, so they knew where these backyard parties were held."
Nicholls figures he had screened Los Punks to three different classes before a Social Ecology colleague informed him that Boatwright was a UPPP student. Around the same time, the filmmaker-turned-transfer student was hearing, "There's a professor in Triple P who plays it for his students.' I was like, 'No way.'"
That bit of knowledge prompted Boatwright to enroll in Nicholls' class "Gentrification" — plus the subject fascinated her.
"I told him on the first day that I directed that film," Boatwright recalls. "And he's like, 'What?'"
"I was like, 'Wow, a movie star!' " recalls Nicholls, who is now her advisor for social ecology honors.
"My social ecology thesis is a thematic analysis of individuals' participation in the mosh pit, with a focus on socioeconomic factors," Boatwright says. "Like, do people experience the mosh pit differently if they're in different socioeconomic classes?"
Nicholls was later stunned to hear the filmmaker had kept in touch with many of her L.A. punk subjects.
"I told him I would bring them into his class, and he said, 'Whoa, really?' And then I kind of kept bugging him like, "Let's do a screening,' and he was like, 'All right, cool.' So, he kind of put it together," Boatwright says of the upcoming screening.
Attendees will be treated to a very absorbing and educational examination of an underground subgenre composed of admittedly broken people who can experience wholeness during fleeting moments on stage or in the mosh pit. Viewers will be struck by the quick-cut editing of Tyler Hubby (The Devil and Daniel Johnston and Tony Conrad: Completely in the Present), which adeptly pushes the story forward, as well as the many intimate situations Boatwright captures, often involving the punks' family members.
"I think that's my strength as an individual," she says of her ability to build trust with her subjects. "I'm a psych science and urban studies major, so you get a little bit of both. It's perfect for those punks. And I was always honest and upfront with everybody throughout the entire process."
Her ability to capture those surprisingly candid moments is even more amazing when you consider Boatwright is not from L.A. nor was she originally a punk fan. Metal was her musical genre of choice while growing up in Columbus, Ohio, in the late 1980s.
"When grunge killed heavy metal in the early '90s, I was still young enough to be accepting of it," she says. "Grunge was my gateway into punk. I mean, I used to watch Headbangers Ball [on MTV], and they'd play Bad Brains videos and stuff like that. I was always into the rowdy stuff. When I was 15 or 16, I started going to see grunge shows but also hardcore shows like straight-edge bands. So, I grew up in a punk scene in Ohio."
Boatwright moved to New York in 1993 and started what would become a 25-year career as a commercial photographer — until she soured on the profession.
"I always put it politely that commercial photographers are kind of motivated by ego or personal accomplishment, and I was too for a while," she says. "But, I was also so motivated by learning about the people that I was documenting and photographing. That was one of the nails in the coffin of my photography career."
She began production on a documentary in 2010 that featured several heavy metal bands that were big enough to tour the world yet whose members could not afford homes and decent rentals. Boatwright moved to Los Angeles in 2012 and spent another couple years and her life savings on the film that was never released.
Boatwright also continued to shoot photos on the side for clients like Vans. When Doug Palladini, then a vice president with the pioneering Orange County action-sportswear company, mentioned to Boatwright they were backing documentaries for a promotional campaign in 2014, and wondered if she had any ideas, it planted the seed for what would become Los Punks.
"There is a rich history of punk, but I wanted to know what's going on now," she explains. "Like, we could go see these old punk bands 400 times. Those guys are in their 60s. But what are the kids doing now?"
Vans told Boatwright to go for it, she latched onto a thriving underground scene in East and South Central Los Angeles and, after shooting some videos for the campaign, the skater shoe brand commissioned a full-length documentary. While she is proud of the resulting film, she is not so keen on the moviemaking business.
"It became very clear to me that I couldn't care less about rubbing elbows with the film industry types," Boatwright says. "I had such a distaste for it. I was terrible at it. I like people, but I hate schmoozing. It's all about, 'What can you do for me?' 'What can I do for you?' It just was really starting to pickle my brain."
This led to an "epiphany" when Los Punks premiered in 2016 at the Slamdance Film Festival in Park City, Utah.
"I had been with the punks for four years at this point, and we opened the film to a very upper class, older white audience. Apparently, I was supposed to be schmoozing with these people so I could get my next film deal sealed, and I was not spending time with the punks. I was just like, 'I don't want to do this. This is going to ruin my life.' It was a really hard time."
Nevertheless, she plunged into making a second documentary in 2018 that would explore another underground subgenre, Juggalos (a.k.a. fans of the hip hop group Insane Clown Posse). Boatwright says that project imploded partly because of misogyny in the film business, the release of a different documentary on the same subject around the same time and "stuff going on in the Juggalo world that I didn't want to have any connection to."
Her connection to her L.A. punk friends remained strong.
"When I started documenting the backyard punk scene, it was looking through the eyes of a commercial photographer. Some of my early photographs look like advertisements, they're all slick and pretty. But as I spent more time in the scene, I was starting to notice things about the neighborhood, about the culture, about the kinds of opportunities and chances these young people have and, more specifically, that they didn't have compared to when I grew up. I didn't have a perfect childhood, but I had the status of being white and middle class to some degree. I had a lot of advantages, and when I was seeing all these amazing people in the punk scene who are brilliant and so funny and such a joy to be around and seeing the societal obstacles they had to deal with, I started to get mad and really frustrated."
So mad and frustrated that she decided to swap her cameras for notebooks and head from her then-home in West Hollywood to Los Angeles Valley College, where she took one class and aced it. That led to a second class, and then more, and then a transfer to UCI, where a cousin had previously studied physics and enjoyed the experience.
"Also, exactly at that time, it was a little serendipitous because I started dating someone who lived in Anaheim," Boatwright says. "UCI was the only school I applied to."
She began solely as a psychological science major but being in the School of Social Ecology required taking "Introduction to Urban Studies," which she did with Emeritus Professor Rodolfo Torres.
"What an amazing class," Boatwright says. "It brought everything together for me, like having lived in New York for 19 years and for a month in Mexico and having traveled to Cuba. It was these urban, gritty environments. Dr. Torres' class was a perfect fit, so I decided, 'I'm going to major in this.' There is an incredible team of people within urban studies. I've learned so much from so many different points of view, and so many perspectives. I've worked for Professor Maria Rendon for two years now. She's brilliant."
Boatwright is currently busy with her honors thesis. She's been accepted to grad school but is going to defer for a couple years, having recently entered the workforce so her boyfriend Dylan Arseo can pursue his bachelor's degree.
She says it frustrates her that the rest of the world does not know how great Triple P is. Perhaps there's a great documentary in there. Asked whether he'd prefer to see Boatwright make a career out of urban studies or filmmaking, Nicholls answered diplomatically: "I'm sure she'll be great at whatever she chooses to do."
"Will I do another film? I never say never," she says. "We'll see."
---
Related: