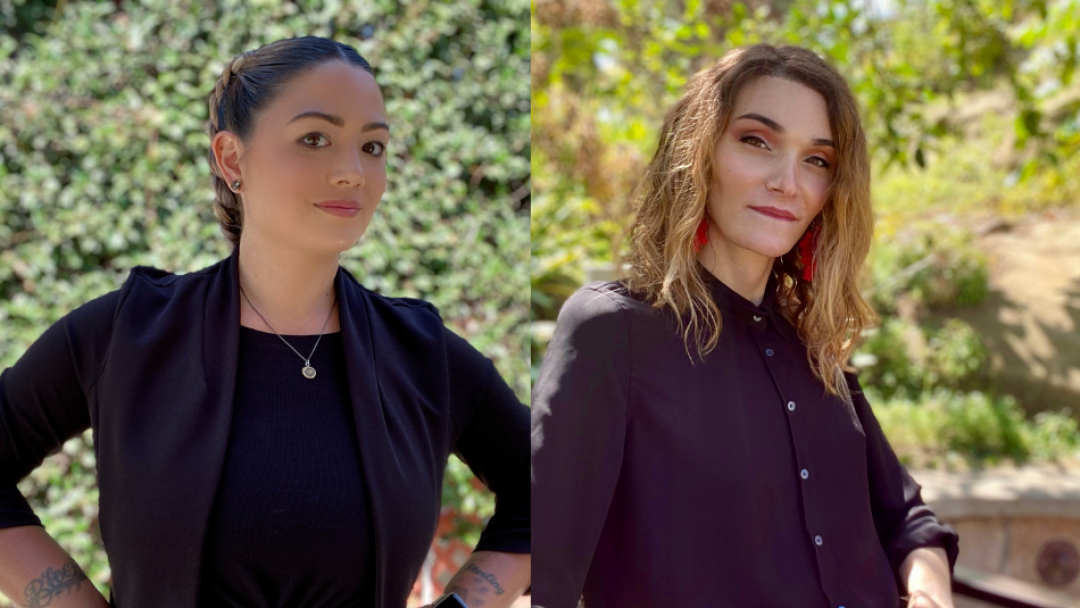 Ginny Oshiro, left, and Alexis Rowland have received been named Health Policy Research Scholars.
---
Ginny Oshiro and Alexis Rowland study prison programs
Ginny Oshiro and Alexis Rowland, both criminology, law and society Ph.D. students, have been selected to participate in the Health Policy Research Scholars leadership program of the Robert Wood Johnson Foundation. Each will receive $30,000 a year for the next four years as they complete their doctoral degrees.
The program is designed for doctoral students from historically marginalized backgrounds and populations underrepresented in specific disciplines. Health Policy Research Scholars apply their work to policies that advance equity and health while building a diverse network of leaders who reflect the nation's changing demographics.
Ginny Oshiro
Oshiro's dissertation will focus on evaluating the role of healing and transformative programs in prisons. Her analysis could aid in formalizing support and legitimizing trauma-informed, life-affirming opportunities for those incarcerated across the country to build a "culture of health."
She received her B.A. in criminal justice from Cal State Fullerton in 2020 with the support of Project Rebound CSUF, a mentorship program that supports the higher education and successful reintegration of the formerly incarcerated. In 2017, she earned her A.A. in administration of justice from West Los Angeles City College. In 2012, she completed a certification in counseling from UCLA Extension.
Alexis Rowland
Rowland's research broadly examines how prisoners are categorized and how they are given services, opportunities and punishments. She will examine prison housing policies that affect incarcerated transgender people.
Rowland received a B.F.A. from the School of the Art Institute of Chicago, and an M.A. in counseling from The University of Missouri-Kansas City.
"I've come to the conclusion that social science and art are more similar than they are different — both are about sharing and producing knowledge, the rest is academic," she said. "Before I started at UCI, I was a mental health counselor at a county jail in Missouri, and part of that daily practice was to make art with my clients. That work was really rewarding, but it also made it very obvious that the carceral apparatus was part of the problem, and by extension, so was I. As a result, I'm here, attempting to produce scholarship capable of affecting change at a systems level. I don't think prisons should exist, and I'm just trying to do my part to make that happen."
---
Contact:
Mimi Ko Cruz
Director of Communications
949-824-1278