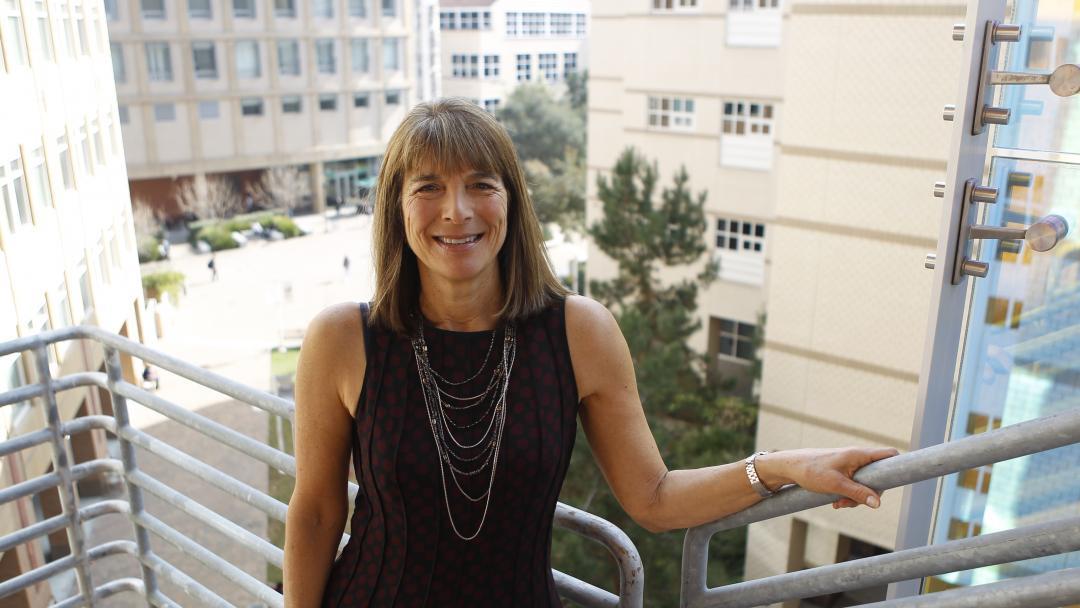 ---
Social Ecology's 4th Dean Steps Down After Successful 5-year Term
By Mimi Ko Cruz
When the pandemic hit, shutting down the campus 15 months ago, Dean Nancy Guerra immediately set out to help students, faculty and staff cope.
She established a special fund that provided relief for students who lost their housing, their jobs and their loved ones as a result of COVID-19. She initiated a task force to help faculty members get up to speed on teaching remotely. She was instrumental in launching the Wellness Initiative in Social Ecology (WISE) which provides students with mental health promotion activities and programs as well as campuswide resources.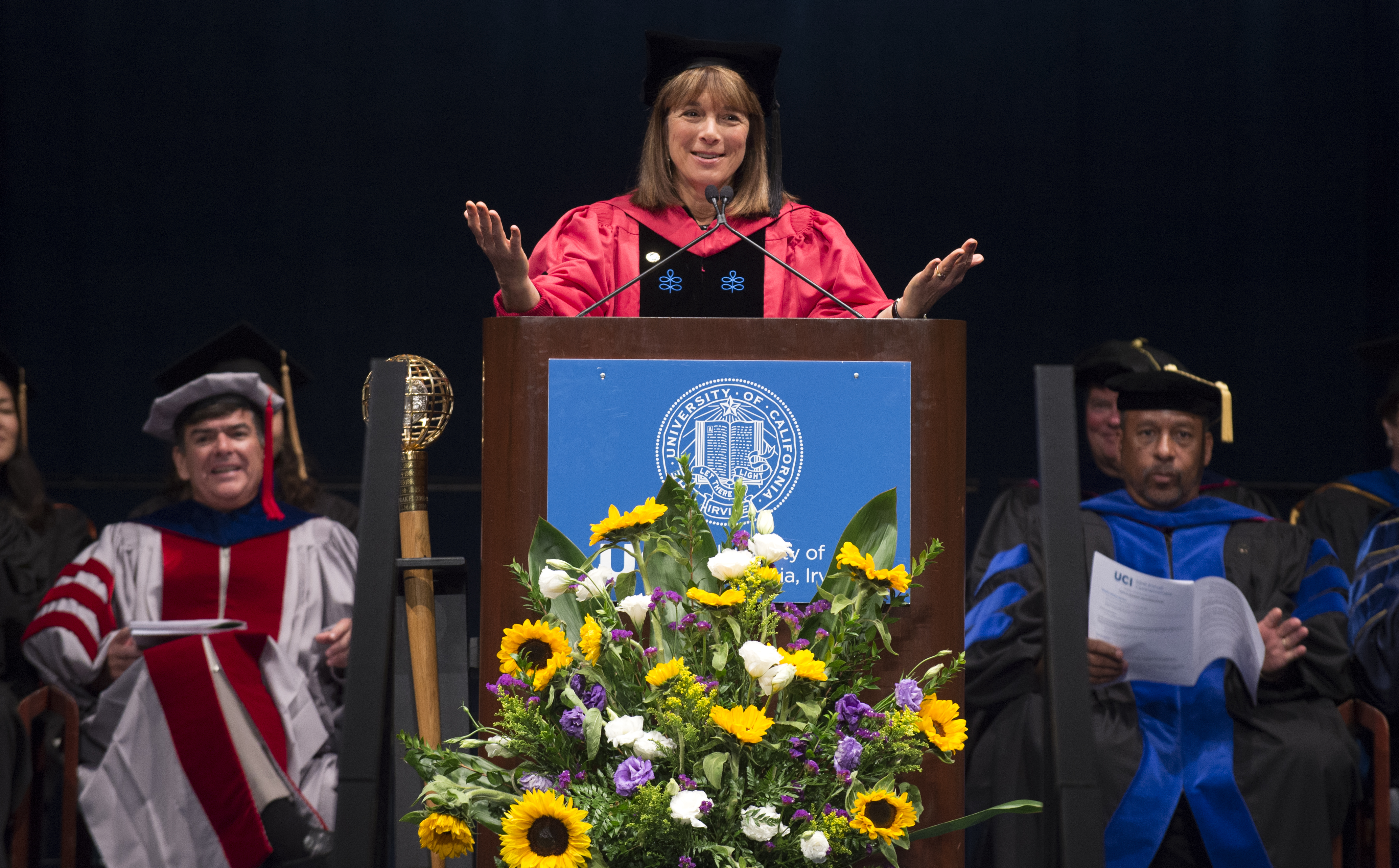 To Guerra, the challenge was making sure students didn't "fall through the cracks." To that end, she supported a team of faculty members who compiled suggestions and resources for professors and teaching assistants to promote wellness and she was instrumental in securing a $2 million grant to launch a drop-in mental health clinic for students.
"Nancy Guerra's leadership in prioritizing student wellness has been phenomenal," says Susan Bibler Coutin, associate dean for academic programs and professor of criminology, law and society. "She had the foresight to understand that a concern for wellness needs to be integrated into everything we do, from classroom teaching to programming to communications. I am excited that I got to be part of the process and vision."
Guerra is passionate about compassion and has been a driving force behind the School's Compassion Initiative, which involves courses on the science and practice of compassion, the Global Service Scholars program and community workshops and videos, all geared toward inspiring people to act compassionately toward themselves and others.
Compassion, Guerra says, is the foundation of social justice, which is what the School of Social Ecology is about.
"People are all connected, and the compassion initiative is really a bigger way of thinking about social relationships," she says. "Being compassionate is a call to action to build a better world — a world with less inequality, greater access to resources, more kindness and healthier human relationships."
"Nancy has a very sincere commitment to the School and a strong sense of the ways in which it could flourish in a turbulent world characterized by complex challenges and deep divisions," says Richard Matthew, associate dean for research and international programs and director of UCI's Blum Center for Poverty Alleviation.
"The programs she initiated or strengthened — programs focused on climate change, wellness, social justice, compassion, problem-solving technology, prison reform, service learning and so on — are exciting and important programs that have opened tremendous opportunities for research, education and community engagement at the School," he adds. "COVID-19 forced Nancy — and everyone — to pivot to a new agenda. But while the pandemic interrupted some of these initiatives, it also underscored how profoundly important they are. The School will be changed by the experience of this remarkable crisis, but I think in many ways it will continue along the pathways she envisioned. As dean, she's had a wonderful ability to listen carefully and decide quickly. She built a strong leadership team across the School and she was fiscally very conservative, which meant that the School was able to respond to the pandemic very effectively. She is a pleasure to work with. I learned a great deal about every aspect of managing a School, and I very much admire her transparency and her honesty."
Colleagues concur.
"When I learned that Nancy had been named Dean of the School of Social Ecology, I immediately knew it was time to come home to UCI," says Candice Odgers, professor of psychological science. "Nancy was exactly the leader that the School and the field needed for the moment and for the challenging days that were to follow. She is high energy and her creative and interdisciplinary vision has driven positive impacts both locally and globally. She is fearless in her approach to leadership and meets uncertainty with a level of optimism that inspires others to follow."
Even before the global pandemic hit, children and adolescents were spending much of their lives online, Odgers says, explaining that the digital world was changing rapidly, and young people were early and enthusiastic adopters of digital tech.
"The problem was that there was a tremendous gap in our understanding of how, when and for which children the digital world would benefit or create new risks for," according to Odgers. "When I first met with Nancy to discuss the launch of the Children in the Digital Age Initiative, she immediately began to map out potential collaborators and opportunities across campus and in the community. Her forward thinking and investment in this Initiative has paid off — in the four years that followed we partnered with collaborators from Schools across campus to bring Social Ecology into a leadership role in the new Organized Research Unit, the Connected Learning Lab. We have recruited leading scholars in the area of digital mental health to our campus and have now secured over $11 million to launch a new center focused on these issues that will be led by myself in Social Ecology and the Vice Provost for Graduate Education Gillian Hayes. We are incredibly grateful that Nancy's leadership has positioned Social Ecology to begin solving some of society's most wicked social problems — including our vision to better support children growing up in an increasingly digital and unequal world."
Under Guerra's leadership, some of the programs launched by the School include:
During her tenure, Guerra hired 31 faculty members as student enrollment increased from 2,933 five years ago to 3,457 in 2020. In addition, faculty members have landed millions of dollars in grants and gifts to continue their research and create programs that promote social and environmental justice.
For example, "Nancy was especially supportive of two timely diversity initiatives on campus, at their foundation," recalls Keramet Reiter, associate professor of criminology, law and society. "First, she initiated a conversation about LIFTED among the campus deans, encouraging them all to pledge to support the program with at least two courses per school (which the deans did). Second, she gave critical funds to support graduate student researchers in building the PrisonPandemic (a digital archive project collecting stories from people incarcerated in California carceral facilities during the pandemic) website in the midst of the COVID crisis in the summer of 2020."
Seeing the School grow and thrive has been Guerra's reward.
"I have been so happy to see how our faculty, staff and students have flourished, the new programs we have developed, a marked increase in extramural funding and donor support, the continuing success of our self-supporting degree programs, and all of the wonderful new faculty and staff we have hired," Guerra reflects.
The School's success aside, Guerra's actions truly show compassion in action, says Elizabeth Loftus, professor of psychological science and one of many recipients of the dean's goodwill.
"I can't say enough about Nancy's amazing generosity. It's off the charts," Loftus says. "She helped me through the pandemic in so many ways. She knows I don't cook so she would cook extra food and bring it to me on the weekends. When I was lamenting that I couldn't go to my hairdresser, she taught me how to dye my own hair. When I complained about a camera crew that knocked a hole in my wall, she took a paint chip, got the right paint color and taught me how to fix it. She's not intimidated by obstacles and simply sets out to make things better."
Guerra may be stepping down from the deanship, but she will continue working at UCI as a professor of psychological science.