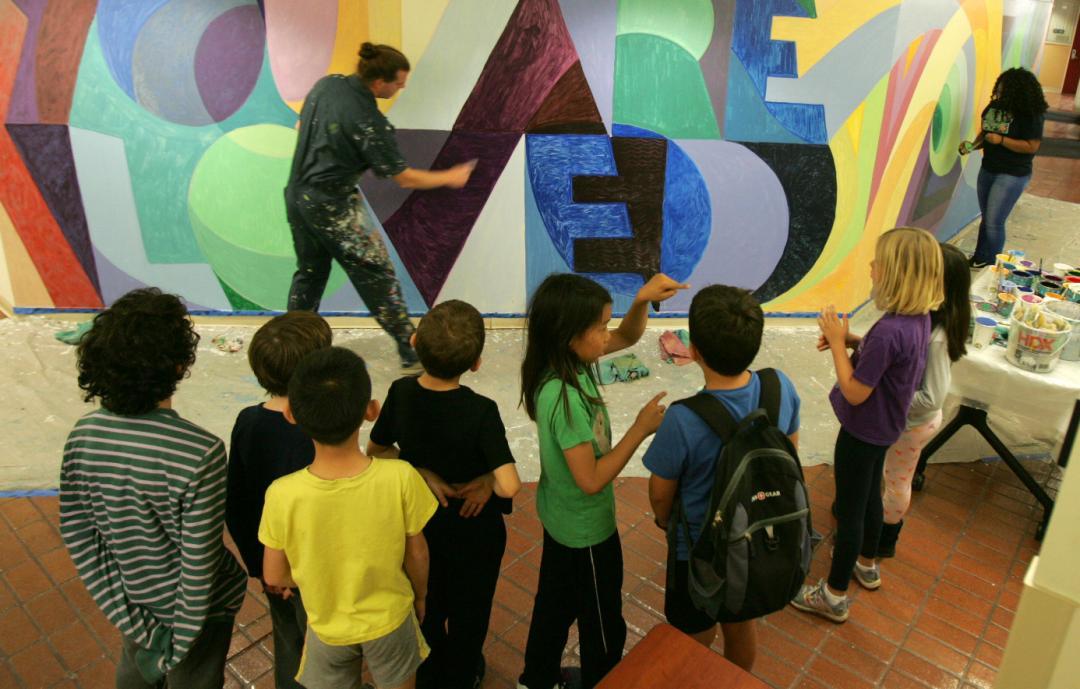 Children watch as artist Alex Cook and psychological science major Erin Jackson paint the "You Are Loved" mural in the Social Ecology I building. Photos by Karen Tapia
---
Artist paints walls, blasting special message: 'you are loved'
By Mimi Ko Cruz
With the help of more than 80 community members and UCI employees and students, artist Alex Cook spent four days painting a colorful mural, blasting a very important message: "you are loved."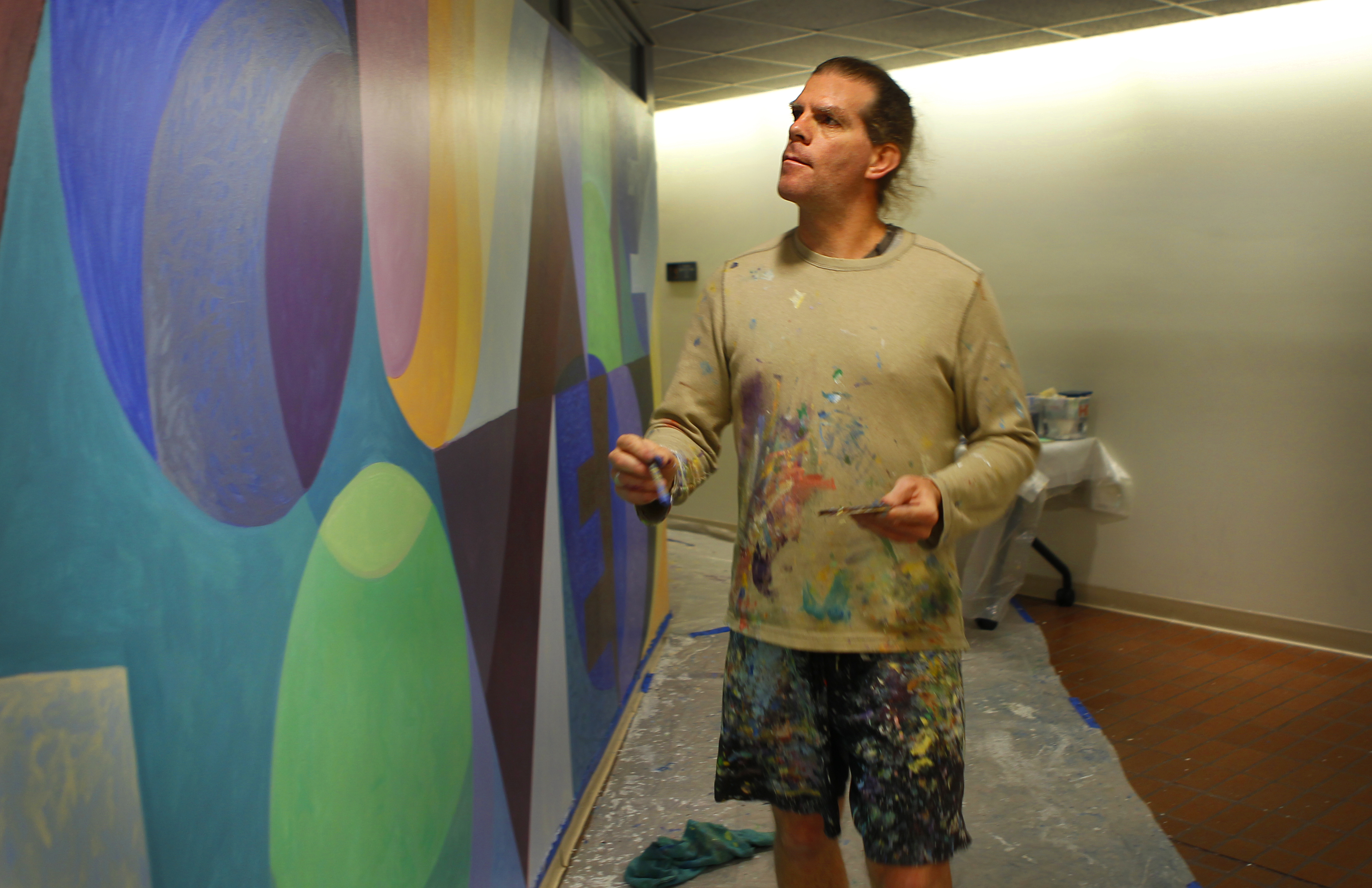 "These words are meant to support a culture of warmth and acceptance," Cook said as he watched volunteers paint in the letters he outlined in the 68th "you are loved" mural he's created in 12 states throughout the country. "This message pushes back against prevalent negativity that sometimes dominates the public conversation."
The mural, on two walls in the Social Ecology I building, measures 8 feet tall by 32 feet wide. It features "you are loved" in giant letters on one wall and the message is translated into Spanish, Korean, Chinese, Vietnamese and Farsi on the other wall.
Dean Nancy Guerra said the school invited Cook to paint the mural as part of the School of Social Ecology's Compassion Action Project, a partnership among the School, the UCI Blum Center for Poverty Alleviation and the Living Peace Foundation.
"One of the School of Social Ecology's goals is to promote compassion," Guerra said. "There is so much unrest, anger and discord in the world today, and incorporating compassion into our daily lives helps us embrace our common humanity and contribute to the common good."
The mural, she added, "is a creative way to promote compassion because compassion, kindness and empathy are badly needed. Alex's mural connects so much with what we're doing in our school, trying to create a more compassionate universe. As academics, we're very much in our minds and our thoughts and our writings and we need to look at other ways to connect with people. We want compassion message to expand beyond the research we do and the teaching we do. We want to be able to send these messages through things like art."
The message also helps create a sense of community, said students who worked on the mural.
"On such a big campus like UCI, I think this mural helps us students feel more grounded and feel more like one," said Lesley Perez, a psychological science major.
Added business major Robert Reyes: "I think this message is really beautiful because a lot of people get distracted with school and they kind of forget sometimes that being loved is really important."
Cook agreed.
"Going back a long way to when I was in college myself, I had a real clear feeling that love was important," he said. "It's not just about feeling good or romance. This is really what makes a life function. It's a sense of being loved and being able to love that is an anchor for moving through difficult times and succeeding in good times."