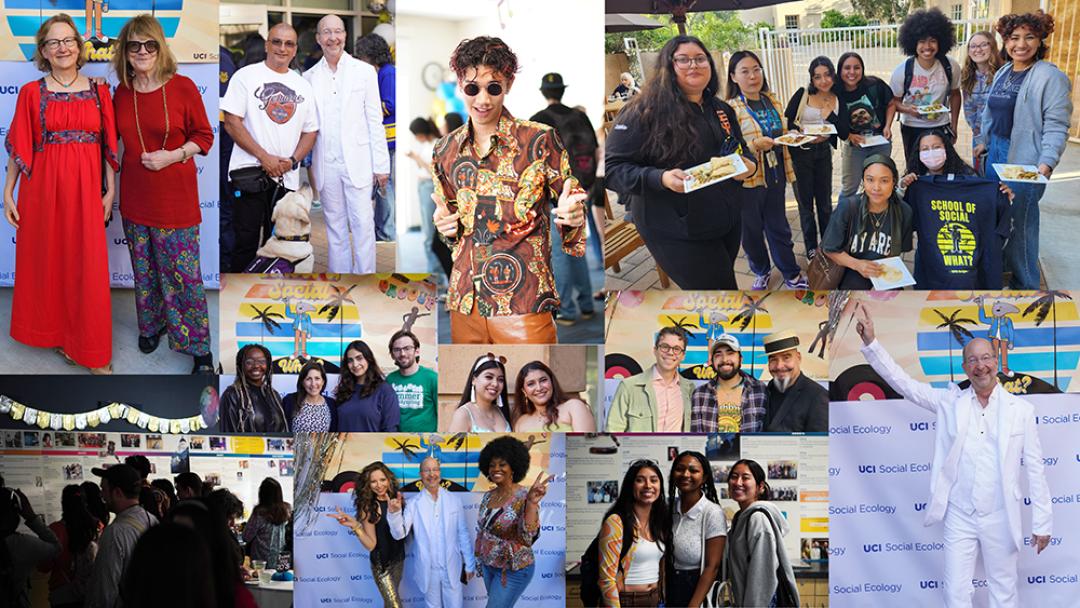 ---
New media campaign leans into confusion
The School of Social Ecology was founded as a program in 1970 and became a full-fledged school in 1992. Yet, people still ask us: "What is Social Ecology?"
So, we are taking advantage of the confusion around the school's name to better explain what we do and our value to the larger community with our School of Social What? media campaign.
The campaign launched April 26 with a 1970s-themed party, and will continue the rest of this year. Free T-shirts distributed to students at the door ask "School of Social What?" on the front and "Solutions for a Struggling World" on the back. If you got one, wear it with pride. We are unique as no other university has a School of Social Ecology.
Those who took to heart prodding to wear attire that harkens back to the Me Decade were vastly outnumbered by attendees in current era garb, but the line to enter SBSG-1517 stretched to the building's main entrance. Once inside, Anteaters were treated to tacos, hummus, disco dancing, hula hooping, a Social Ecology trivia contest (with prizes), a large School of Social What? cake and much casual conversing.
Dean Jon Gould got on the mic to break the ice, taking a cue from his quite-white, three-piece suit to introduce himself as "Jon Travolta Gould." He shifted to a serious tone as he explained our mission this way: "We not only study social problems, we try to solve them, and we do that collaboratively, across disciplines and in partnership with policymakers, community leaders and practitioners. If there is an issue that affects the quality of life, our people are studying it and trying to solve it."
Some of the biggest issues we tackle involve mental health, homelessness, criminal justice, social justice and environmental justice. Our research offers strategies for solutions and we welcome your support.
Our School of Social What? campaign will continue through the end of 2023 with more fun and informative messages and videos via our social media channels — Twitter, Instagram, Facebook, YouTube, LinkedIn and TikTok.
Campaign launch party photos are downloadable on Flickr.
---
Contact:
Mimi Ko Cruz
Director of Communications
949-824-1278