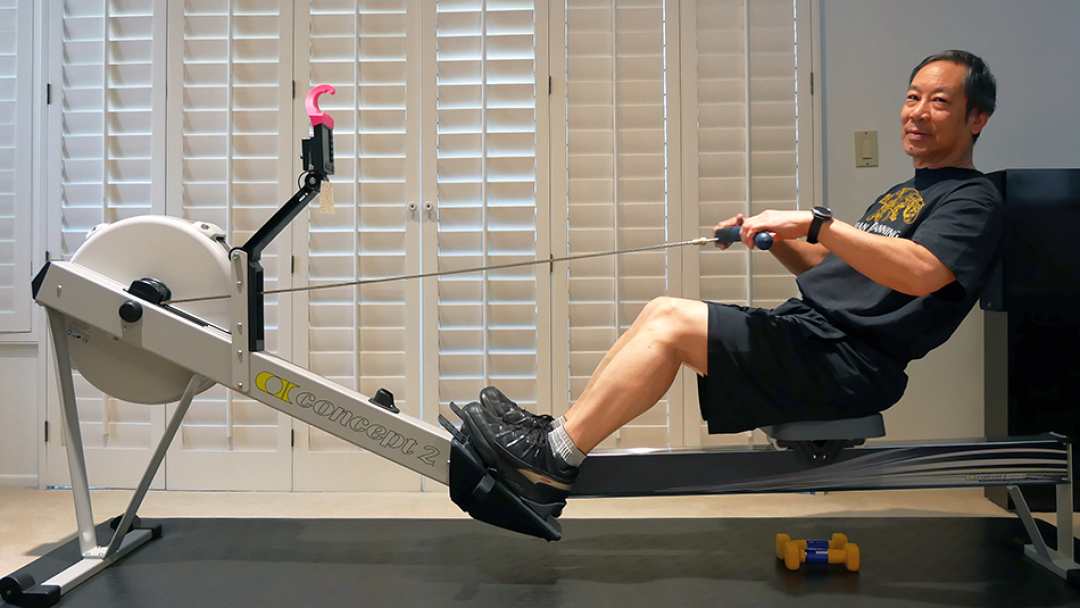 Ken Chew rows for charity. Photo by Trish Cahill
---
Emeritus professor turns pandemic fitness into fundraising opportunity
When the COVID-19 pandemic lockdown commenced, Ken Chew, emeritus professor of urban planning and public policy, immediately ordered a last-in-stock Concept2 rowing machine so he could continue his favorite gym exercise at home. He became addicted, rowing while watching the Food Network or the SYFY channel.
"Unrelated to Covid-19, during the pandemic, I have become both a cardiac rehab guy and a cancer survivor," the 68-year-old retired professor reveals. "These two events have motivated me to double down on fitness and to do a little more for charity."
So, he launched his row-a-thon, rowing for donations. He raised $600 in December, 2020 for Doctors Without Borders and $1,400 in December, 2021 for UCI's Fresh Hub.
Serious setbacks, Chew says, can be turned into positive motivation. "Even before these setbacks, I've tried to enjoy every moment and take each day as it comes. Now it's even more the case."
Chew has discovered a global community of indoor rowers. "This year I joined 25,000 others worldwide who each completed at least 100 kilometers during the Winter Holidays to raise funds for charity — $66,000 raised directly through the Concept2 company and some large multiple of that raised indirectly through side-sponsors. I am looking forward to the next row-a-thon this coming December!"
He advises others, who also want to give back, to start small. "What hardly makes a difference to you may amount to something big for someone who needs help."
---
Contact:
Mimi Ko Cruz
Director of Communications
949-824-1278