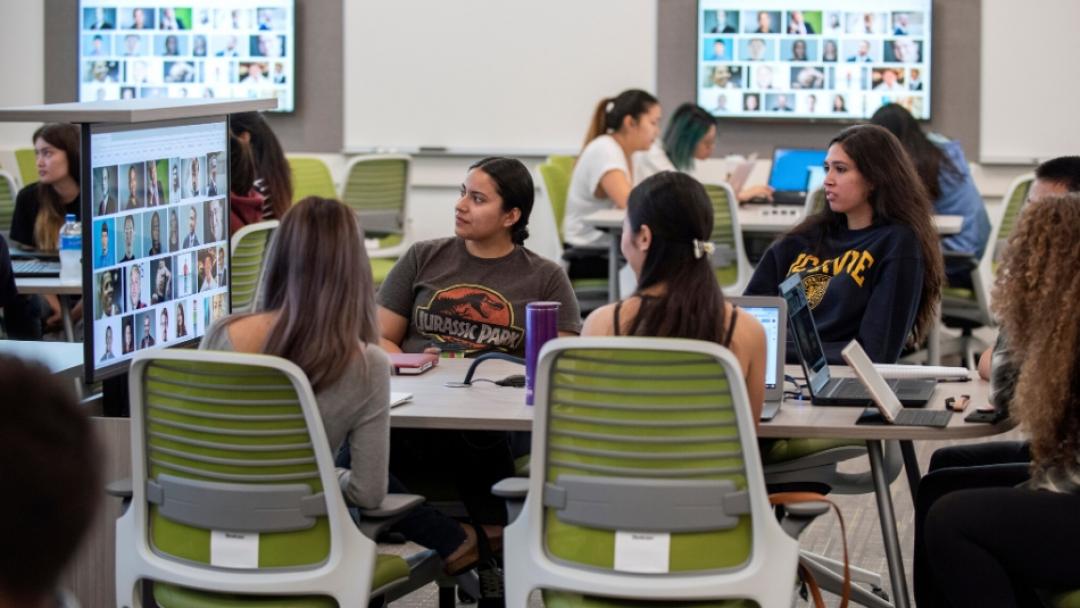 ---
Supervised Self-Swab COVID-19 Testing Collection
---
Commencement
The graduating class of 2020 received an invitation to participate in UCI's 55th annual commencement. This year will be a virtual commencement program that all can watch from any location on June 13, 2020 at 10 a.m. PDT. Participating graduates are required to register. A winter commencement program will be held during Winter Break 2020. That is planned to be an in-person commencement ceremony held in the Bren Events Center (pending public health). Graduates who participate in the Virtual Commencement can also participate in the Winter Commencement program. For more information and updates, please visit the commencement website.
---
Farm-to-FRESH Produce Voucher Program
In collaboration with Tanaka Farms, UCI's program helps increase access to fruits and vegetables during the COVID-19 pandemic. Sign up to receive a weekly voucher to use at the Tanaka Farms Drive-Through Produce Market Stand, open daily 9 a.m.-5 pm. Sign-up here
---
Virtual CalFresh Application Assistance
Receive up to $194 to buy groceries every month. Application assistance appointments are available via Zoom. Book your appointment here and find out if you qualify.
---
Emergency Meal Swipe Program
EMSP helps students access several healthy and well-balanced meals offered at UCI's Dining Commons (Brandywine).
Apply here
---
Emergency Crisis Response Grant
Grants of up to $2,000 to cover an emergency are available for students who have used all of the loans available to them. The Economic Crisis Response Grant is a case-specific, university intervention to be used to address a student's financial crisis.
Apply here
---
FRESH Social Worker Consultations
Confidential Zoom appointments with our basic needs clinical social worker. Receive support and guidance if you're experiencing financial stress, food/housing insecurity, and other stressors or complex needs.
Book here
---
FRESH Basic Needs Hub Temporary Pantry Procedure
Due to limited food availability, the UCI FRESH Basic Needs Hub student food pantry had to make some temporary changes and implement limits on food available. The new hours of operation to pick up a FRESH Pantry Food Bag will be on odd weeks (1, 3, 5, 7, 9) Thursdays 12 p.m. - 4 p.m. and Fridays 9 a.m. - 12 p.m. and the sign up link will be available on every Tuesday of the week at 3 p.m. on the website. Additionally, the FRESH Basic Needs Hub must strictly enforce its once-per-week visit limit at this time. The phone number for the Basic Needs Hub is (949) 473-2806 and the email address is fresh@uci.edu.
---
Career Events and Workshops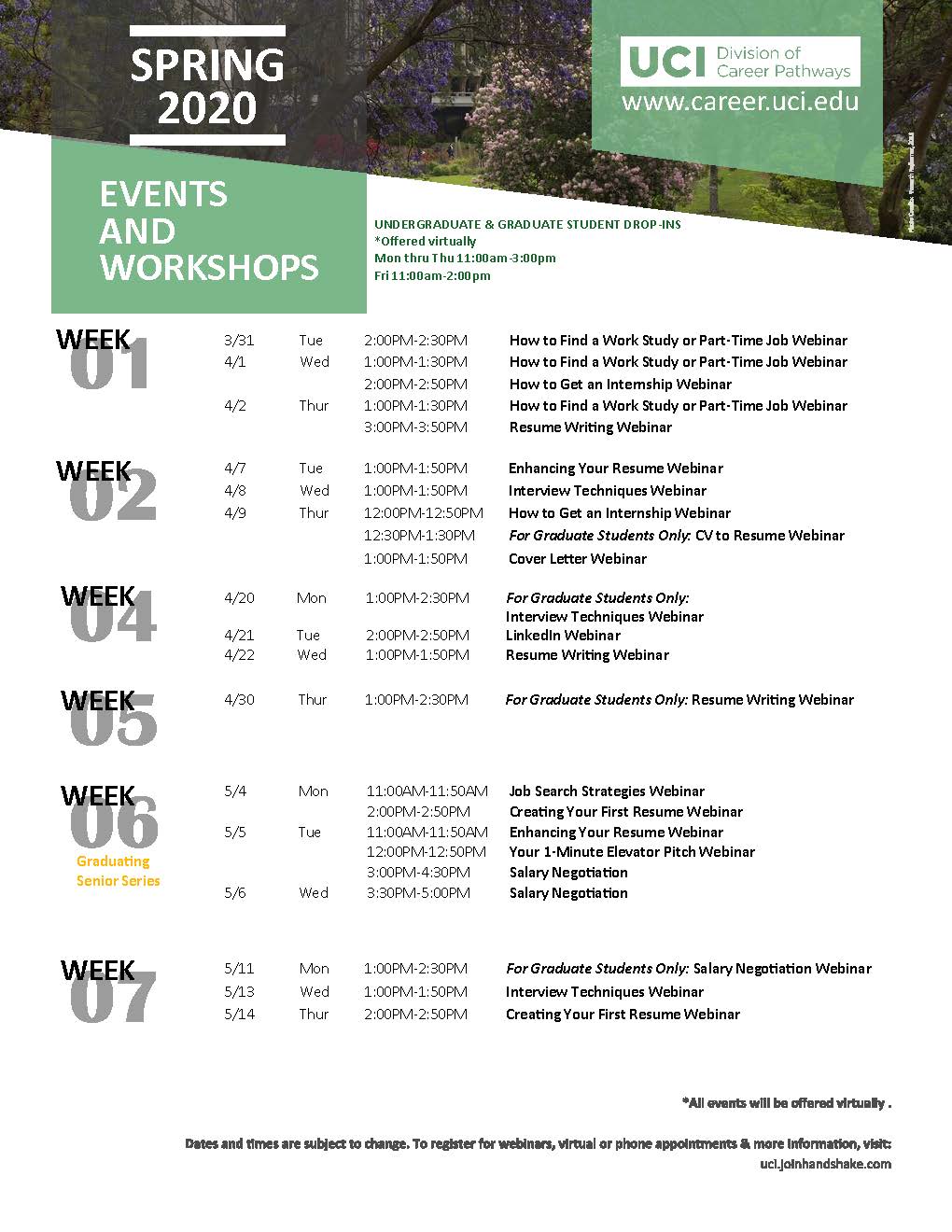 ---
Contacting Counselors
The Undergraduate Advising Office has set up Zot Chat, a live chat session for students to chat with Social Ecology undergraduate advisors during the hours of 9 a.m. to noon and 1-4 p.m. Monday through Friday, excluding Wednesday mornings.
Questions can be directed via email to sepeer@uci.edu.
In addition, UCI's Counseling Center is offering therapy sessions via phone, at 949-824-6457, and secure video conference.
Also, the Office of the Campus Social Worker supports UCI students during situations and crises that may be impacting their personal and academic well-being, through short-term resource referral and long-term case management. Referrals can be made by UCI faculty or staff only. Generally, students may not self-refer. Campus Social Worker services are meant to complement and support current campus services offered to students.
---
Field Study
Field study requirements have been are are being modified for spring and summer, 2020. Check these frequently asked questions for more informaiton. For advising, visit the field study website.
---
Wi-Fi Connectivity
Search this directory for free Wi-Fi hotspots.
This UCI link is continually being updated to include free and discounted broadband options.
---
Parking Permit Refunds
Students who have an active prepaid parking permit with unused months will receive a refund from UCI Transportation on a prorated basis. There is no need to do anything to receive a partial refund.