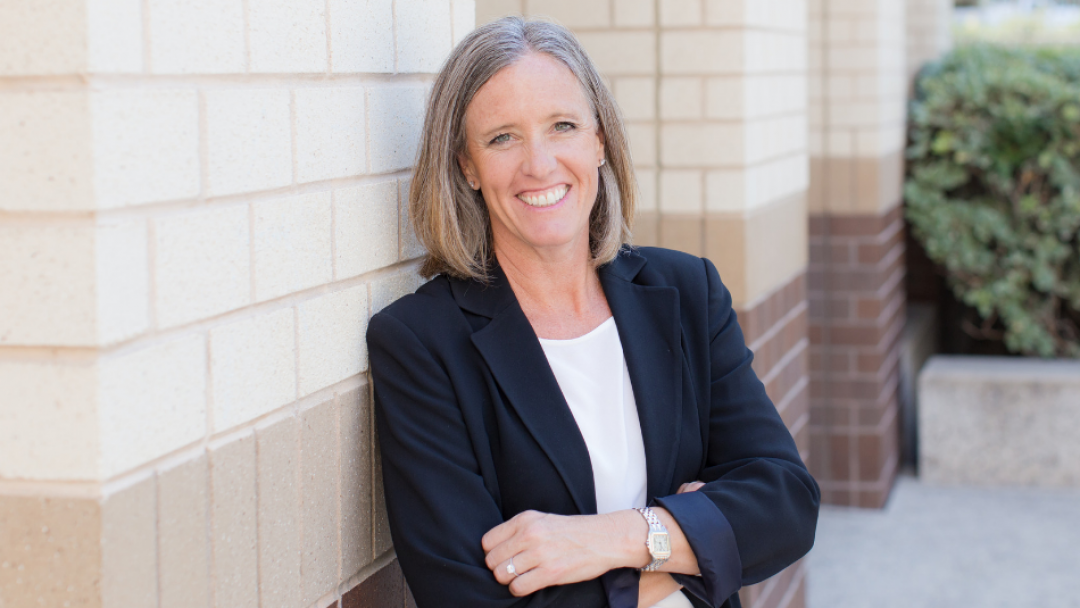 Jodi Quas. Photo by Patricia DeVoe
---
Professor Jodi Quas awarded $500,000 National Science Foundation grant to study forensic interviewing procedures of adolescent victims of trafficking
By Mimi Ko Cruz
More than 1.5 million children and adolescents under 18 are believed to be victims of sex trafficking worldwide. In the U.S., an estimated 300,000 youth are being lured into trafficking each year. Intervening on their behalf has been a daunting challenge, often because the victims don't tell.
Step in Jodi Quas.
The professor of psychological science is working to help law enforcement officers better improve how they question the victims — treating them as victims not criminals — in order to increase victim disclosure and, hence, identification.
"Adolescent sex trafficking victims are highly likely to be reluctant to disclose their exploitation to police, who often encounter the teens because of suspected delinquent or criminal activity and who then interrogate them as suspects," says Quas, an expert on forensic interviewing practices that improve the completeness and accuracy of children's reports of abuse and other forms of trauma.
"Little scientific and policy attention has been devoted toward expanding what we know about interviewing children to adolescents, especially those who have been trafficked, so that we can reduce the adolescents' disclosure reluctance and increase their provision of legally relevant information," she says.
Quas has done extensive research on children's memory and eyewitness capabilities, the effects of stress and trauma on children's development, and children's and adolescents' involvement in the legal system.
"With child victims, we know a great deal about their memory and reporting abilities, and we have created well-established protocols that help elicit information. We routinely train interviewers on these protocols," Quas says.
"Once the children become teens, however, the protocols might not work. New protocols need to be developed," she explains. "Trafficking victims are more likely to be adolescents — 12 to 17, ages when they don't want to be treated like children, so the child-focused protocols are unlikely to be especially effective."
In addition, trafficking victims tend to come from unstable or unsafe home environments. They lack trust in adults because their parents or caretakers have been violent or neglectful and they are vulnerable to exploitation. They also have often bounced around foster homes and, as a result, may resent authority figures, who they see as contributing to their volatile lives, failing to recognize that their removal and subsequent moves might be necessary.
Police need to take these factors into account when establishing rapport in a forensic interview and when trying to elicit information, she adds.
Quas and her colleague, Thomas Lyon, professor of law at USC, have been awarded a $500,000 National Science Foundation grant to examine several hundred interviews and trial transcripts of suspected adolescent victims of sex trafficking.
The team will be evaluating the types of questions asked, the tone of the questions, how victims respond (whether they report their abuse or are evasive), what types of detail they provide, and how the questions and victims responses relate to the outcome of legal cases against traffickers.
"Police and other legal professionals must question adolescent sex trafficking victims in a way that elicits clear disclosures about their experiences in order to intervene, ensure their protection, and prosecute those who commit these heinous crimes," Quas says. "Our goal is to help these professionals do just this, but we cannot help until we know what questioning tactics work and what tactics do not with this specific population. By systematically studying actual interviews and trials in which adolescent trafficking victims participate, we will be able to determine what approaches are used, and of these, which are more or less effective at eliciting abuse and trafficking details. We will also be able to identify how the questions and victims' responses relate to the outcomes of the criminal cases in which the victims are involved."
Ultimately, the insight gained by Quas' and Lyon's research will be used to continue to develop protocols for interviewing victims of sexual abuse, in this case, for highly vulnerable teen victims who have been subjected to sex trafficking and who desperately need to be identifed and protected.
Quas will present her research at the Sept. 14 Human Trafficking and Child Marriage Forum on campus. The event is open to the public.
In addition, Quas will discuss her research as part of the NSF Directorate for Social, Behavioral and Economic Sciences 2019-2020 Distinguished Lecture Series in Alexandria, Virginia on Oct. 16. The event is free and open to the public, but attendees must request a visitor badge in advance. To request a badge, send email to tdarden@nsf.gov. Quas' lecture is titled "Lessons from Science: Questioning Children about Trauma to Obtain Accurate and Complete Accounts."