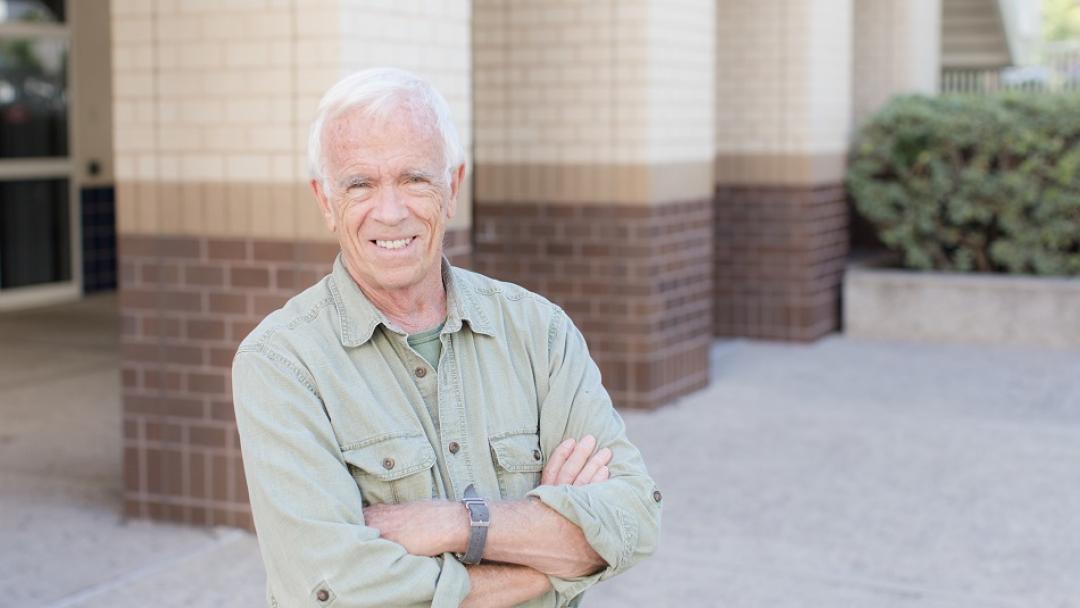 Elliott P. Currie. Photo by Patricia DeVoe
---
American Society of Criminology honors Elliott Currie
By Mimi Ko Cruz
When Elliott P. Currie arrived at UC Irvine as a new faculty member more than a dozen years ago, then doctoral student Tryon Woods became his first mentee.
"I was trying to get my dissertation on track," Woods recalls. "I was working with a professor in African American Studies, but my two previous faculty advisors in criminology, law and society hadn't been a good fit, and I was in need of a steady influence to oversee my project. Elliott had no background in the area I was researching (decolonization in the Niger River Delta and Chiapas), but I immediately felt that he valued my vision and respected what I was trying to achieve with the project, even if he did not necessarily understand or agree with my approach. This was very refreshing for me and just what I needed to ease my way over the finish line."
In retrospect, adds Woods, now an associate professor of crime and justice studies at the University of Massachusetts, "I better appreciate today that I was a beneficiary of Elliott's admirable ability to convey respect without elitism or dogmatism, even when confronted with a graduate student like myself who was undoubtedly more full of ideology than good sense. I am grateful to Elliott for his wisdom, good-groundedness, and support."
Respect is the secret to good mentorship, says Currie, professor of criminology, law and society. And, his students aren't the only ones who appreciate his style.
The American Society of Criminology has given the popular professor its 2019 Mentor Award for his exemplary mentorship of graduate students.
In a letter addressed to the ASC awards committee, Currie's former student Christie Gardiner, associate professor of criminal justice at Cal State Fullerton, writes:
"Elliott was my faculty advisor and dissertation chair at the University of California, Irvine from 2004 to 2008. Not only was he was a phenomenal advisor and mentor while I was a doctoral student, he has continued to be a valued mentor and friend since I graduated. Elliott is an amazing mentor because he listens, guides, and inspires.… Elliott is a great listener! He has a way about him that encourages his students to talk about themselves and their passions. Not only does this open the door for a meaningful relationship, it allows him to understand his mentees so that he can help them figure out who they are as scholars and guide them appropriately. The key here is that he does not attempt to mold students in his image but rather looks inside each student to reveal their inner passions and person so that he can help them make wise personal choices — about their research, their program progression, and their future career. … Elliott asks great questions that implore his students to think deeply about their projects and decisions and to consider both the benefits and potential consequences. He genuinely cares about each of his students as individuals. He has a patience for students that is unmatched by other faculty with whom I've worked. These qualities make him a very highly sought-after mentor. … He truly ignites a passion and purpose in students that is difficult to put into words. He has a way of making each of us think that we can personally change the world. … He is truly remarkable!"
For Currie, it's about genuine concern for his students' success.
"One of the main reasons why I was excited to come to UCI was the opportunity to work with graduate students, and the first 15 years of doing that have vastly exceeded my expectations," he says. "It's been an incredible experience, and one I wouldn't have missed for the world. It's given me a unique and, I think, privileged opportunity to work with the most creative, thoughtful, and committed bunch of people I've ever encountered in one place in my life. It has been especially gratifying to watch them go out into the world and continue to do work that is important, well-crafted, and attuned to issues of social engagement and social justice."
There is no single recipe for good mentoring, Currie says, but in his experience, the most important ingredient is respect — for the students as scholars and for the strengths they bring to the relationship.
"Mentors sometimes make the mistake of adopting a kind of deficit model of their students: they're seen as sort of incomplete versions of us, and our job is to make them as much like us as possible," he explains. "But, students bring a wealth of experience and understanding of their own, and by the time they get to grad school, they have usually already accomplished a great deal. The best mentoring builds on that: it engages students where they are and helps them to draw out and enrich the ideas and perspectives they already have — while also encouraging them to absorb, and to draw on, the best traditions of their discipline."
Currie has found that an important part of his work as a mentor involves supporting students in taking on projects and challenges that they aren't sure they can do. "Some of my best and most gratifying work as a mentor has come when I've committed myself to that principle," he says.
Besides his success as a mentor, Currie also is an accomplished scholar. He earned his Ph.D. in sociology from UC Berkeley before joining the School of Social Ecology faculty in 2004. He is an expert on criminal justice policy in the U.S. and other countries, causes of violent crime, social context of delinquency and youth violence, etiology of drug abuse and the assessment of drug policy, race and criminal justice.
Currie is the author, coauthor or editor of several books, including "Progressive Justice in an Age of Repression: Strategies for Challenging the Rise of the Right," "The Roots of Danger: Violent Crime in Global Perspective," "Crime and Punishment in America," "The Road to Whatever: Middle Class Culture and the Crisis of Adolescence," "Whitewashing Race: The Myth of a Color-blind Society," "Reckoning: Drugs, the Cities, and the American Future," "Dope and Trouble: Portraits of Delinquent Youth," "Confronting Crime: An American Challenge," "America's Problems: Social Issues and Public Policy" and "Crisis in American Institutions."