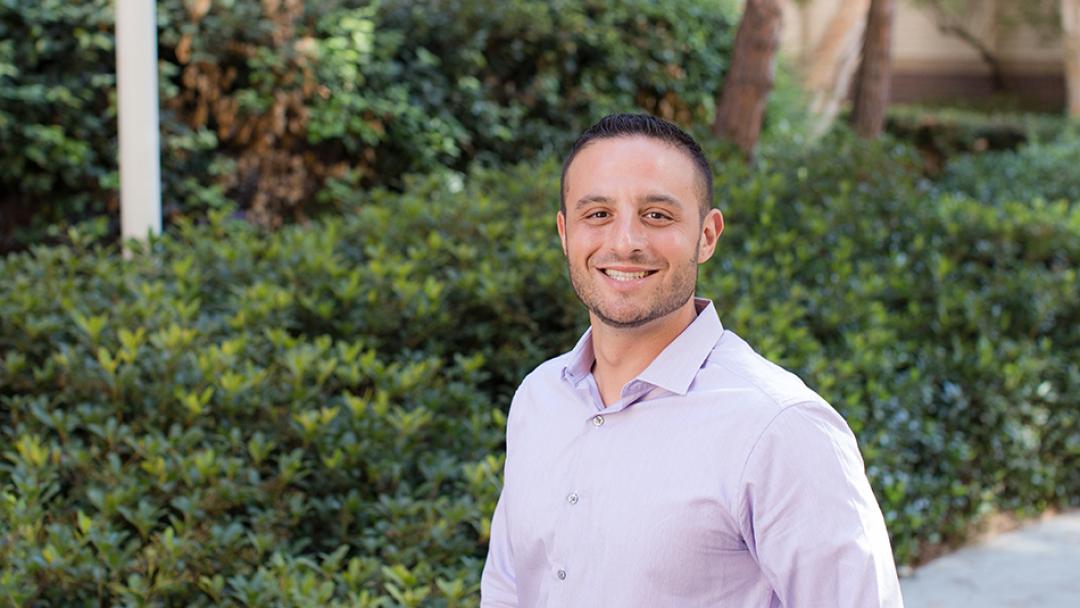 ---
Ph.D. student Dmitry Tsukerman focuses on mentoring UCI students
Like many people, Dmitry Tsukerman has changed his mind several times about what he wants to do with his career. That's why one of his favorite parts of being a graduate student is being able to mentor and share his experiences with other UCI students as they forge their own academic and career pathways.
After graduating with a degree in psychology at Cal State Fullerton in 2008, Tsukerman worked with at-risk teens through a nonprofit organization. In 2010, he went back to Cal State Fullerton for his master's degree in clinical psychology, but soon found that the role of therapist felt too passive, with more emphasis on listening than on providing direct help and advice.
"After doing clinical psychology for a year, I realized I loved the idea of it — reading about it, discussing it, even teaching it — but not necessarily practicing it," says Tsukerman. "At that point, teaching really appealed to me because I wanted to connect with people and help them thrive with whatever their goals are."
Tsukerman decided to pursue a Ph.D. with the goal of becoming a psychology instructor, and he chose UCI because he had already done work with professor Susan Turk Charles, who is known for her research on emotional processes across the lifespan.
As soon as he arrived on campus in 2015, Tsukerman began advising other students in the Post-Baccalaureate Program in Psychological Science, which gives college graduates an opportunity to complete the coursework and gain the research and clinical experience necessary to continue on to a graduate-level psychology degree.
"Dmitry is an amazing mentor, and he has been a positive role model in my life," says Cecilia Nuñez, who completed her post-baccalaureate at UCI in 2017 and is now in the Clinical Psychology Ph.D. program at the University of Illinois at Chicago. "I know for a fact that I wouldn't be here without him."
Nuñez worked as a project manager for one of Tsukerman's studies in the Memory and Development Lab, which she says helped strengthen her research and leadership skills. He also provided her with advice on graduate schools and the application process.
Tsukerman also mentors students through the Undergraduate Research Opportunities Program, offering them the chance to assist with research on his projects. "It's been a pleasure working through this process with the students and getting to hear about their future success," says Tsukerman. "I love that they can still come to me for advice even when they've gone on to their graduate programs."
One of Tsukerman's former undergraduate research assistants, Gabriela Vasquez, is now earning her master's degree at Cal State Fullerton. "Dmitry took notice of my potential and helped me see that I could do anything I set my mind to," says Vasquez. Together, they discussed her graduate school options and the type of program that would best suit her career goals.
"Not enough programs for undergraduates teach them about potential career and graduate school paths," says Tsukerman. "I encourage students to sit down with TAs and talk about how they got where they are, and to talk to faculty about their interests, and how they evaluate potential graduate students."
It's the kind of advice he wishes someone had given him on his journey.
For his dissertation, Tsukerman will study the sleep habits of college athletes — a project that combines expertise he gained working with his advisor, Susan Turk Charles, as well as with associate professor of psychological science Angela Lukowski, who studies the effects of sleep. "I want to understand how athletes manage stressors and pressures of being a regular student on top of the pressures of being an athlete and whether that affects their sleep and additionally whether sleep affects their performance."
In addition to bringing together his research interests, the project reflects one of Tsukerman's passions: sports. He plays on a city softball team, and participates in UCI intramural sports with other graduate students. Recently, he and his classmates volunteered at a flag football skill-building workshop with Special Olympics athletes. "Athletics have provided a huge stress relief and benefit to my own academic career," he says.
Yet, even as he embarks on his dissertation research, Tsukerman is preparing to shift focus once again. He thinks he may return to the nonprofit world instead of academia.
"Thanks to my education at UCI, I have developed the skills to evaluate program data and outcomes, which builds on my previous experiences working in various helping fields. I believe this has set me up for a future career in nonprofit program growth and development," he says.
"It's just as important to find what you don't want to do as to find what you do want to do," says Tsukerman. "I learned that the hard way, through this long process of exploration."
Yet every step of the way, he continues to pass along his knowledge and experience to other students, to help them find their own pathways sooner.
"From Day One, Dmitry demonstrated a passion for using his education and experience to help others," says his mentee Vasquez. "Dmitry could have well enough left me alone to figure things out, but he chose to make the time to help me. From him, I learned the art of giving back."
— by Christine Byrd