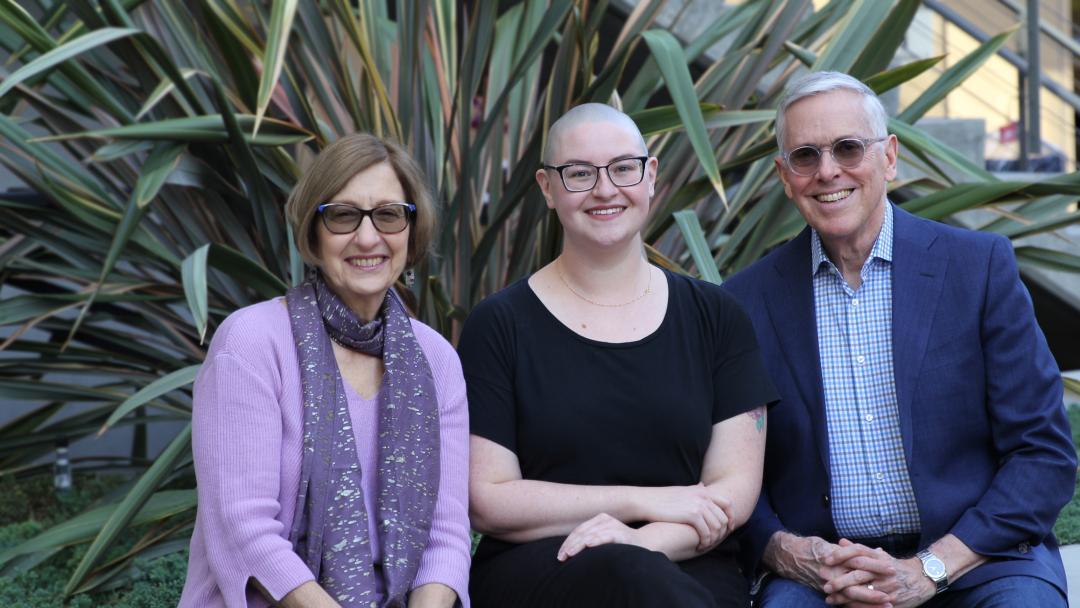 Hannah Gorback, center, is this year's Dan, right, and Jeanne, left, Stokols Social Ecology Graduate Fellowship Award recipient.
---
Hannah Gorback pursues research on sustainability
After graduating from NYU with a bachelor's degree in anthropology and environmental studies five years ago, Hannah Gorback worked in corporate sales, an ironic position for someone who champions buying as little as possible.
"I'm a big fan of regulating capitalism and not buying things, and becoming entrenched in the business of selling things that people don't need really fueled my passion for voluntary simplicity and waste abatement," Gorback explained.
That passion led her to UCI's doctoral program in social ecology. And, she has been selected as the recipient of the 2019 Dan and Jeanne Stokols Social Ecology Graduate Fellowship Award.
"We are very happy to be able to support Hannah's doctoral studies in social ecology," Dan and Jeanne Stokols said. "Her strong commitments to promoting environmental sustainability and social justice, and to pursuing interdisciplinary action research on these topics, are very much in keeping with the mission of our School and the Social Ecology Core Ph.D. Program."
When Gorback was an undergrad, she said she worked on projects that focused on sustainable living.
"Essentially, I was introduced to discussion around externalized waste costs during my undergrad studies in environmental science in a class about systems theory and life cycle analysis," she recalled.
She also ran a program called LoadOUT! for a nonprofit organization. The project was aimed at collecting "waste" items from all over New York City. Donors of the waste included Boys and Girls clubs, theaters, a record store and other businesses. The items collected were set up in a streetside location as a free/low cost artists' event, where New York creatives could come and collect materials for their projects.
"It was incredible to watch the empty space normally taken up by a multi-family apartment building be filled to the brim with all manner of materials and then completely emptied in one day, everything down to the staples on the polyform decorations from a Halloween party at a major music venue," Gorback said. "It changed the way I looked at the objects around me and it sparked my passion for mitigating waste."
Then, after graduation when she was working in sales, she said, "I really started to understand more of the 'American Dream' model of success and wealth, and realized how much it was predicated on buying stuff. Stuff we don't need. Stuff that costs more than it's worth. Stuff that can only be used once. Stuff that is meant to be used once but will last for hundreds, if not thousands, of years."
She moved to Charlotte to help start up a composting company to reduce commercial and residential food waste and to help start community-based educational pop-up events modeled after LoadOUT!
"Running these programs helped me realize that so much of success and wealth is based on having excess, and I started to wonder how we could break down those cultural ideals and replace them with something more productive and less wasteful," Gorback said.
Social ecology provides her with a platform to tackle the issue from the perspective of consumer behavior and decision-making and from the perspective of policy making and urban planning, she added. "Both are essential perspectives because without participation from consumers, policy cannot be upheld, and without policy, there is little participation from industry. We've seen a lot of good first steps come from companies responding to consumer demand for less plastic use, but so much of the world is still built on cheap crap meant to make a quick buck. I see policy and reformed urban planning as major platforms for making these changes in order to nudge the kind of commercial and consumer behavior we want to see, and hopefully help normalize some new cultural standards for what we value and what we demand from the world around us."
---
Media Contact:
Mimi Ko Cruz
Director of Communications
949-824-1278
mkcruz@uci.edu