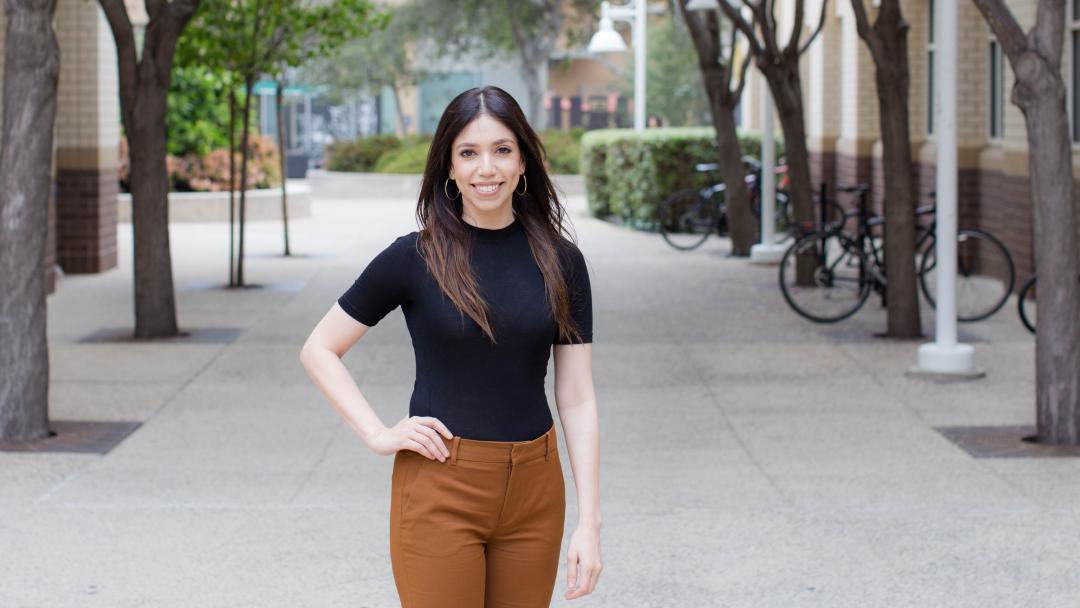 ---
Yasmin Barrientos Kofman has received a 2021 UCI Latino Excellence and Achievement Award (LEAD).
LEAD is the only celebration and awards event in the University of California system focused on Latinx graduate student success. Presently, Latinos are 39.3% of the state population in California but are only 11.8% of the graduate student population at UCI. LEAD aims to raise awareness of challenges in the graduate community, increase visibility of success, and inspire the Latinx community to advance in graduate and postdoctoral programs.
Kofman was among 20 graduate students, alumni, professors and staff members and community members honored with LEAD recognition this year.
"Receiving this award means so much to me, and I am truly honored to share this recognition with a group of incredible Latinx scholars, staff, and alumni," she said.
Kofman is a doctoral candidate in psychological science, and expects to graduate next year. Her research involves community outreach and participatory research to target the needs of women most at risk for stress-related disorders during pregnancy.
She is examining the relationship between intimate partner violence, depressive symptoms, and obstetric and neonatal outcomes in pregnant women who are in severe crisis and experiencing chronic homelessness.
"This is an important area of research because experiencing complex, chronic stressors during pregnancy can have long-term negative health effects on a mother and her infant. By understanding both the biological and psychosocial mechanisms involved, we can lay the groundwork for interventions that might mitigate some of the harmful effects of stress," she said.
Kofman earned her B.A. in psychology and M.A. in psychological research from Cal State Long Beach. Her faculty adviser is Ilona S. Yim, associate professor of psychological science.
"I learned early in my career that even as student researchers, we can have a positive impact by harnessing academic resources to service the community in ways that are relevant, practical, and empowering," Kofman said.
"Health is a fundamental human right but, unfortunately, health disparities and inequities are pervasive in the U.S. For this reason, I have focused my research on the biological and psychosocial mechanisms that underlie this issue, especially in pregnancy, which is a particularly vulnerable time. Identifying these mechanisms enables us to develop sustainable, culturally tailored interventions to reduce health inequities and spur change in health and social policy."
The pandemic limited her field research over the past year, but she's found alternative ways to get the message out about violence against women, including analyzing public and secondary data, and writing manuscripts, commentaries, and opinion pieces.
---
---
Contact:
Mimi Ko Cruz
Director of Communications
(949) 824-1278
mkcruz@uci.edu