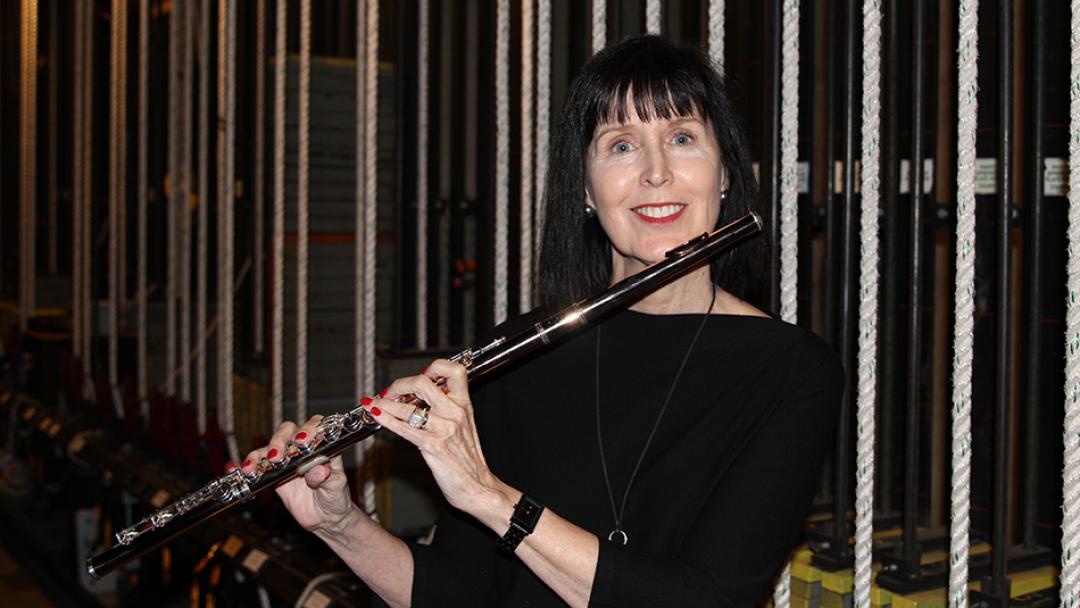 ---
Susan Turner's 'semi-retirement' has her continuing to teach and running the Center for Evidence-Based Corrections
By Matt Coker
Asked to choose the accomplishment at UC Irvine she is most proud of – receiving the Distinguished Scholar Award from the American Society of Criminology in 2010, having her Master of Advanced Study in criminology, law and society program named the best online criminal justice master's program by U.S. News & World Report for the past three years in a row, or playing flute with UCI Symphony Orchestra her entire 17-year tenure here – Susan Turner lets out a laugh.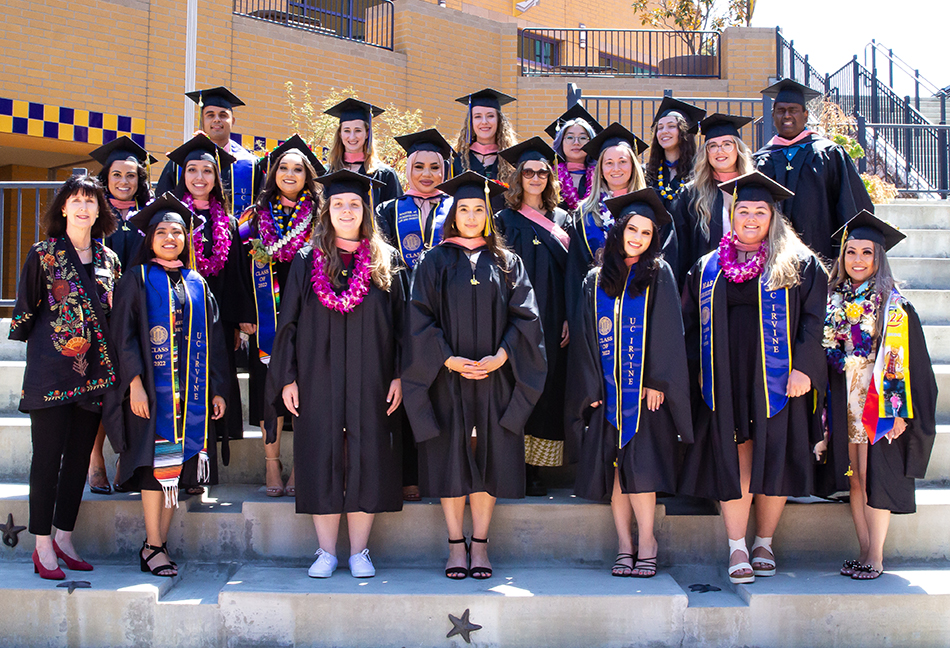 "That's so hard," protests the professor of criminology, law and society in between chuckles. "They are totally different. One is working with colleagues, and one is performing. I can't really say they are on the same scale. Personally, the most thrilling is performing in the orchestra. But you know, I couldn't have received the Distinguished Scholar Award without the people who came before me and the team that I work with. So, I cannot take that as my finest achievement because it was not mine, it was ours."
The reason for reminiscing was Turner having retired – or, more accurately, semi-retired – on July 1, the same day her partner, Stephen Tucker, hung up his baton after 22 years as the orchestra's music director. But while, as Claire Trevor School of the Arts put it, "The Maestro Has Left the Building," Turner is keeping her campus office and her role as director of the Center for Evidence-Based Corrections.
Why?
"I still have my projects to do," she answers, "and I'm still going to be teaching in the online programs. So, I'm kind of semi-retired, but retired from the orchestra."
For 22 years, Turner conducted criminology research exclusively at the RAND Corporation, where she remains an adjunct senior behavioral scientist. She joined the UCI faculty in 2005 and the Center for Evidence-Based Corrections, which harnesses the university's research power to help clients, including California corrections officials, make policy decisions on programs for adult prisons and juvenile detention facilities that are based on science rather than emotion.
"The main idea is that we're trying to do good work that will inform the policy debate with numbers and not just whims or what happens to be popular in the press," Turner says. "So, we're trying to get evidence-based work into the hands of those who really need it."
Looking back at her research career, she says she is most pleased by having collaborated with the California Department of Corrections and Rehabilitation on the design or evaluation of programs that improve the lives of inmates and parolees. "When we have the opportunity to work and change things for the better," she says, "those are my favorite projects."
Current Center for Evidence-Based Corrections projects include evaluations of a tool that assesses an offender's risk of recidivism, how parole violations are handled in California, and a project aimed at making youth detention facilities resemble institutes of learning rather than incarceration. California Prison Industry Authority GPS monitoring and healthcare behind bars have been past center research subjects.
Besides continuing to work on center projects, Turner will continue to teach a sentencing and corrections class in the online Master of Advanced Study in Criminology, Law and Society program and Mental Health and the Law in the Master of Legal and Forensic Psychology program, directed by Elizabeth Cauffman, professor of psychological science.
"Dr. Turner is a wonderful addition to our Master of Legal and Forensic Psychology," Cauffman says, "because she does amazing and rigorous science but also has the ability to apply and integrate it into practice. She epitomizes exactly what we need in the field today, which is the ability to make the bridge between science and practice. Susan is that person, and by having her teach this in our program, she is leading the next scholars on to do the very same thing."
Turner says she got a dose of the adjustment she is making from her day-to-day UCI work life several months before her official last day.
"I think I'm going to miss what we started to miss in COVID: being with my colleagues and having hallway conversations and meeting people," she says. "Because I no longer attend the weekly meetings, I already miss my team in the online master (MAS) program that I worked with to make it No. 1."
There is one thing Turner is glad to be putting behind her: "I will not miss coming up for review," she says with a laugh.
Not that she had anything to worry about given the accolades she's received and the regard national criminology associations have for the programs she helped build. That's amazing when you consider her mentioning this: "I never intended to be a professor." She explains that after leaving the University of North Carolina Chapel Hill with her Ph.D. in social psychology, she figured she would never enter a classroom again.
"When I came out of graduate school, I made a conscious choice to go into a research career," Turner says. "And so, for over 20 years, I was at the RAND Corporation as a research scientist. My whole sort of upbringing as an adult in the profession has been more on the research side of it."
She adds, "The training at RAND, in terms of the quality of the work, really prepared me for academia," although she concedes that "when I came to UCI and started teaching undergraduate students for the first time, it was different. I was really pleased that the transition was as smooth as it was."
Now she can confidently state, "I do enjoy teaching students about the research that I do and having interested students join the research teams."
How she came to join the team that is the UCI Symphony Orchestra began in elementary school. Turner and her twin sister Virginia were nine years old when an itinerant music teacher came to their fourth-grade class, where he played the flute for the students and sought recruits for a musical performance.
The twins informed their mother that they both wanted to learn to play the flute, but after seeing how much the woodwind instruments cost, she said she could only afford one, so one of the girls would have to choose something else, like the violin.
"I stuck to my guns," Turner says. "I said, 'No, I'm playing the flute' because it was just so beautiful. My sister backed down and chose the violin."
She continued playing flute through high school, where a different music teacher told her she could never make a living as a flautist. As her friends and orchestra mates went off to musical careers, including some who joined professional orchestras, "I decided to go the academic route," Turner says. "When I graduated from high school, I didn't play my flute after that."
However, she "dragged my flute and all my flute music" with her to undergraduate school, graduate school, even RAND, "and then a number of years ago, I picked it back up again. I joined a community orchestra and got a flute teacher."
After accepting the professorship, but before arriving on campus, she checked the UCI Symphony Orchestra webpage and learned players are recruited from the Anteater community. She then arranged to have coffee with the conductor so she could ask about auditioning.
When Turner mentioned she used to play duets with her twin sister, who is now an attorney, Maestro Tucker revealed he has a twin brother. "I thought it was the worst pickup line I'd ever heard," Turner recalls. Nope, it's true: Paul Tucker, Stephen's twin, was the longtime choral conductor at the University of Kansas before he retired in 2020.
As for her maestro, Turner says, "his final performance on the 27th of May was a pretty wonderful kind of performance. But, we both decided it was probably best for me to retire from the orchestra, too. So, I'll be looking for other venues to play."
Perhaps she can find a new duet partner upstairs in her University Hills home, where Maestro Tucker has "a big old grand piano," according to Turner. "Sometimes he'll be playing while I am at my little nook on a Zoom call."
She will need to remember her Zoom password as "it doesn't feel like I've closed a door or anything. It still feels like I'm engaged and part of the team. So, unlike the Maestro, who has left the building, turned in his keys and moved from his office, I've still got my office, I expect to continue my projects with other faculty and working with them in the online programs. The door is partly open."
---
People of Social Ecology: Susan Turner