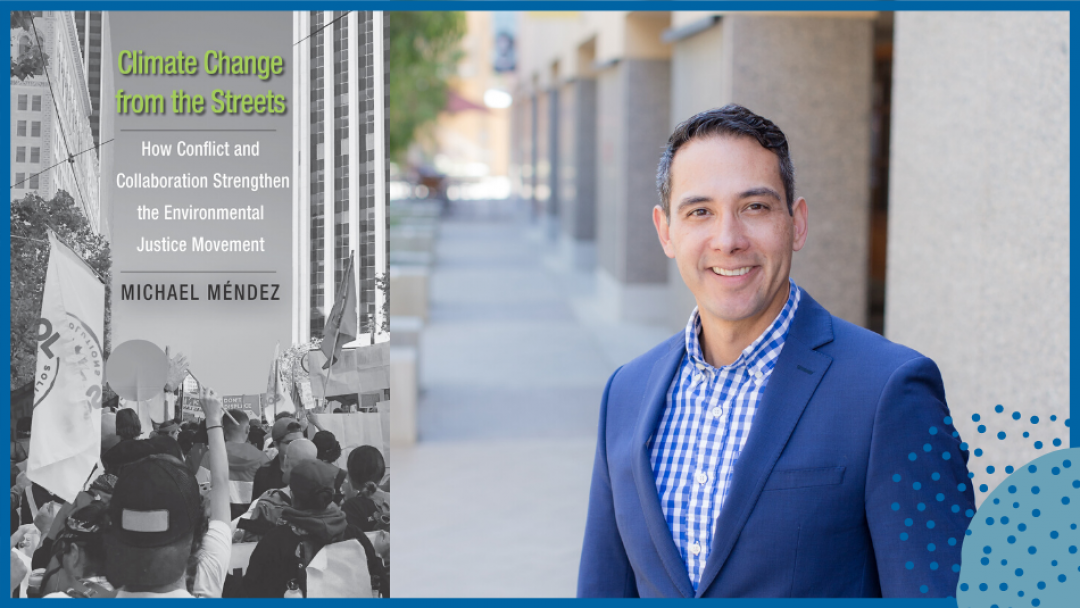 ---
International Studies Association bestows Harold and Margaret Sprout Award on Michael Méndez for his book, "Climate Change from the Streets"
By Mimi Ko Cruz
The International Studies Association is bestowing its Harold and Margaret Sprout Award on Michael Méndez, assistant professor of urban planning and public policy, for his book, "Climate Change from the Streets: How Conflict and Collaboration Strengthen the Environmental Justice Movement."
On Méndez' book, the award committee noted: "In 'Climate Change from the Streets,' Michael Méndez focuses on the equity and justice dimensions of climate policy. Writing as a scholar and practitioner with a deep knowledge of California's climate policy and politics, Méndez convincingly argues that policymakers must embrace both social justice and public health principles to address the climate crisis. His multi-scalar analysis, which demonstrates the power of the environmental justice movement to influence climate governance at every scale, is a hopeful and important contribution to the climate change and environmental justice literatures."
Méndez will be honored at the association's virtual meeting April 21.
"I'm honored to receive this award and help amplify the important stories of environmental justice in low-income communities of color," Méndez said.
In his book, Méndez argues that for society to successfully resolve the phenomenon of climate change, "critical attention must be placed on the cultural and human dimensions of climate policy."
The book points to the California perspective.
"California is not just a national leader but a global leader looking at mitigation and adaptation policies around climate change," he says. "I look at how environmental justice groups in communities of color, who are suffering the worst from climate change with things like air pollution and greenhouse gas emissions, are working to address some of the needs."
Méndez notes that environmental protection and improving public health are inextricably linked and maintaining that link is key to advancing future climate action policies.
His book includes his own observations that he gathered while working on public policy as an advisor, senior legislative consultant, and lobbyist, and as a gubernatorial appointee during the passage of California's climate change laws.
Méndez says he "gained valuable insight into ways in which governments, businesses and nongovernmental organizations interact to shape climate policy. My connections with environmental justice groups helped me understand how community and public health benefits can be more effectively integrated with global climate policy. While most scholarship in the field of environmental politics has focused on elite actors, my research provides a more nuanced analysis of the influence of environmental justice activists in transforming climate policies. My book amplifies their efforts and voices, which have largely been ignored in the narrative of global leadership on climate change."
Méndez was born and raised in a northeast neighborhood in the San Fernando Valley, a place that confronted the environmental justice issues he now studies.
"I grew up questioning why the neighborhood I lived in looked really different from other parts of suburbia," he says. "So, that led me to urban planning, which is a great intersection between the political process, the environmental process and the social process."
Méndez has a B.A. in urban studies and planning from Cal State Northridge, an M.A. in urban studies and planning from MIT and a Ph.D. in city and regional planning from UC Berkeley. And, he completed a three-year faculty fellowship at Yale's School of Forestry and Environmental Studies.