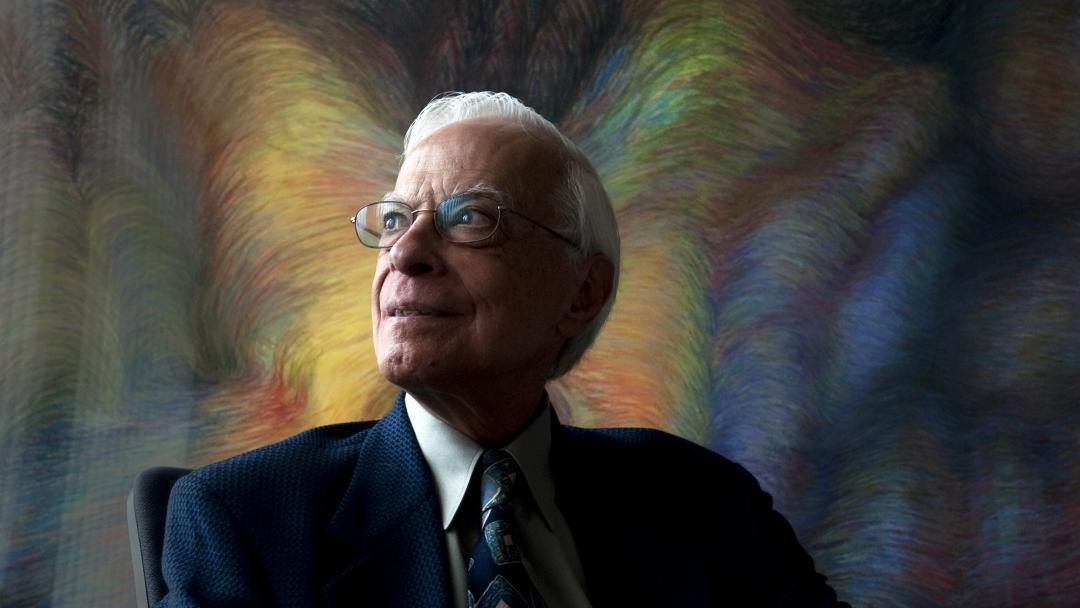 Salvatore R. Maddi changed the way stress is viewed. Photo by Daniel Anderson
---
Professor emeritus was authority on hardiness
Salvatore R. Maddi, professor emeritus of psychological science, an authority on hardiness, died of cancer Nov. 29. He was 87.
Maddi's pioneering research changed the perception of stress from an evil to be avoided to an intrinsic part of life that can be beneficial when treated as a challenge. He identified key traits of those who handle stress well — control, commitment and challenge. He coined the term "hardiness" to describe these personal strengths, and he argued that people can develop these skills over time. His training methods have been applied to groups including students, firefighters, police officers, military personnel, corporate executives and others.
"When you can navigate professional and personal changes in a way that furthers your and your employer's goals, strengthens your ability to turn adversity to advantage, and deepens professional and personal meaning, you succeed as an employee and as a person. That's the way of hardiness!" Maddi is quoted on the website of the Hardiness Institute, which he founded.
The institute evolved from a landmark study by Maddi and his team of researchers at the University of Chicago. The influential study involved 400 employees at Illinois Bell Telephone before, during, and after the greatest divestiture in history. Almost 2/3 of the people showed significant wellness breakdown. But, the remaining third maintained health and performance and actually thrived on the upheavals.
Those who thrived had characteristics that Maddi and his team came to call hardiness. Today, hardiness assessment and training is used in businesses, colleges, and military and safety organizations and others.
Maddi's "research regarding hardiness and resilience shaped our field, helping to pave the way for the positive psychology movement of the 1990s," said Susan Charles, chair of the Psychological Science Department.
"Colleagues across the campus remember him as an elegant man and insightful scientist who cared deeply about understanding ways that stressful or traumatic experiences could be catalysts for growth," said Nancy Guerra, Dean of the School of Social Ecology. "He brought this passion not only to his research but also to the classroom, where he was dedicated to helping students succeed. He will be missed."
Maddi, the child of immigrants, was born in 1933. Raised in New York, he earned his B.A. and M.A. in psychology from Brooklyn College in the mid-1950s and his Ph.D. in clinical psychology from Harvard University in 1959.
He taught and conducted research at the University of Chicago from 1959 to 1986, when he joined the faculty at UCI as Director for the School of Social Ecology, and worked at UCI until 2015.
While at Irvine, Maddi developed the HardiTraining program for those who want to master stress. He also created training classes that teach students hardiness skills such as problem-solving, building a strong support network of friends and family members, and caring for themselves through healthy eating, exercise and meditation.
In 2005, he and his wife Deborah Khoshaba published "Resilience at Work: How to Succeed No Matter What Life Throws at You."
"You learn to reconstruct the stressful situation and consider how you can make it better," Maddi said in an interview with UCI's ZotZine in 2010. "Then you construct an action plan and carry it out."
At UCI's Hardiness Research Lab, Maddi studied how academic and recreational resources such as counseling and career centers help students manage college life. In 2002, he conducted a study of 1,200 UCI undergraduates that showed improved grades among those who had undergone hardiness training.
His many related studies were published in scores of journals throughout the decades. In 2009, for example, he published a study in The Journal of Positive Psychology of 1,200 UCI undergraduates in which he found that hardiness trainees subsequently improved their grades compared with a control group.
Always involved in practice and consulting, Maddi practiced family therapy, especially helping parents to further the development of their children.
"What I learned is that life is stressful, but you have to do the best you can — and if you do, it'll work," Maddi said in the ZotZine article that called him an example of someone able to channel stress into the motivation to improve one's life. He coped with gangs and poverty in his youth by focusing on his schoolwork. "You may see yourself doing things you never thought you could do."
His awards were numerous. Among them:
Gold Medal in Lifetime Achievement by the American Psychological Association (2012).
Lifetime Achievement Award from the International Network on Personal Meaning (2000) for his contributions to the field of personal meaning and humanistic psychology. Maddi was also elected to the board of directors for this association.
2004 recipient of the Henry A. Murray Award from the Association for Research in Personality for his important contributions to the "grand theory" tradition in personality psychology.
In her nomination letter for Maddi's Gold Medal, Distinguished Professor Elizabeth Loftus wrote: "It is hard to think of a psychologist better suited for the Gold Medal Award for Life Achievement in Psychology in the Public Interest than Salvatore R. Maddi. Working back and forth between theory, research, and practice, this distinguished psychologist has produced such major themes as (1) his classic book on personality that is still valued and in print 35 years later, (2) his emphasis on the motivational characteristics leading to creativity, (3) his elaboration of the strengths and weaknesses in one's existential search for meaning in life, and (4) his seminal work on hardiness as the courage and motivation to turn stressors to advantage. ... Maddi is clearly among the foremost authorities on characteristic hardiness as a key resilience factor. His empirical and conceptual efforts represent significant and sustained contributions to this body of literature. Maddi has consistently maintained a style of intellectual leadership that includes provocative writing, active interaction with fellow professionals and students, and a commitment to leadership roles that facilitate the study and impact of personality psychology."
Maddi is survived by his wife of 34 years. Memories and condolences are being collected online.