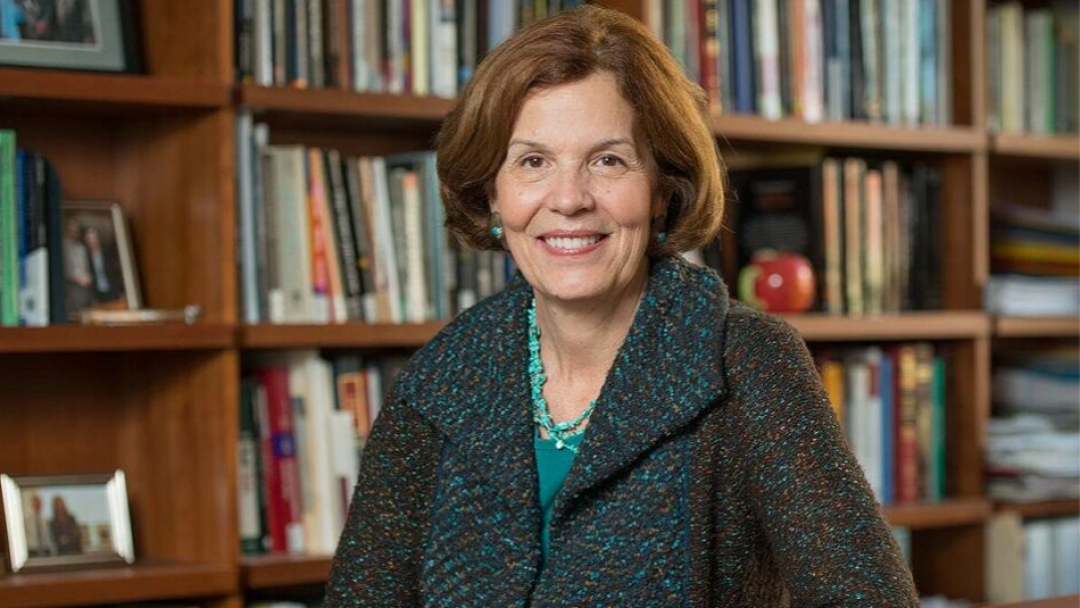 ---
Award-winning criminologist, UCI professor, alumna remembered
By Michael Gottfredson, Valerie Jenness, Jodi Lane and Mona Lynch
Joan Petersilia (1951–2019) was a distinguished scholar, policy advisor, president of the American Society of Criminology, and cherished colleague and mentor to too many people to count. She died Sept. 23 from ovarian cancer. She was 68.
To Petersilia, even more importantly, she was a loving wife, mother, and sister; a good friend; an engaged community member; and consummate public servant committed to positioning social science analyses front and center when it comes to doing all we can to ensure criminal justice systems better people's lives, including by delivering justice.
The daughter of an Air Force general and an Army nurse, Joan was born in Pittsburgh. She earned her B.A. in sociology from Loyola University of Los Angeles in 1972, her M.A. in sociology from Ohio State University in 1974, and her Ph.D. in criminology, law and society at UCI in 1990.
During an illustrious career spanning over four decades, she was a senior researcher and director of the Criminal Justice Program at RAND (1989-1994); a professor of criminology, law and society and the founding director of the Center for Evidence-Based Corrections at the UCI (1992-2009); and the Adelbert H. Sweet Professor of Law at Stanford University (2009-2018), where she also was the co-director of the Stanford Criminal Justice Center.
Professor Petersilia was a preeminent scholar and one of the most widely known and respected criminologists in the world. The quality and impact of her work was recognized with the 2014 Stockholm Prize in Criminology, the most prestigious award in criminology (sometimes called "The Nobel Prize in criminology").
Petersilia's principal scholarly focus was on the workings of the criminal justice system, including how it processes people, how it makes decisions about various sanctions, and the consequences of those decisions for both society and those punished. Although her voluminous body of work covered a range of topics, from probation, prosecutorial decisions, criminal careers, and the processing of vulnerable populations such as people with disabilities, she is best known for her innovative work on sentencing, community corrections, and prisoner reentry.
Her work on these and other issues focused on improving the corrections system through program evaluation and policy relevant research; in fact, she referred to herself as "an embedded criminologist" as a way of emphasizing that her professional pursuits as a researcher and scholar required her to effectively work from within the criminal justice system.
With an applied interest as her guide, Petersilia often was ahead of the times. Beginning her research career at RAND in 1974, she was one of the first criminologists to recognize community corrections as an important area for research and to conduct large-scale empirical studies in this area. Beginning in the mid-1980s, much of her research focused on assessing the impact of community-based punishments on offender behavior and public safety. Her research in this area includes a number of specific program evaluations, including evaluations of intensive supervision, electronic monitoring, day fines, drug testing, and work release.
With her colleague Susan Turner, she pioneered the use of the experimental paradigm in real-world criminal justice settings to assess the impact of intensive supervision.
In a related line of empirical work, she examined the effects of diverting people from prison to intermediate sanctions. This research focused on such questions as how much prison populations could be decreased by diverting specific classes of offenders to community corrections, and how much crime that group would be expected to commit if left at large.
In the late 1990s, Petersilia turned her attention to a new line of research by focusing on the way in which the justice system deals with individuals with developmental disabilities. Her work along these lines broke new ground by demonstrating that people with developmental disabilities are disproportionately likely to be involved in the criminal justice system as both victims of crime and people who commit crime, and the inability of the system to understand their special needs and problems is a significant public policy problem.
As a result of growing national interest in this topic, the U.S. Congress passed the "Crime Victims with Disabilities Awareness Act," signed by President Bill Clinton in 1998. The Act mandated a National Research Council panel on the topic. Joan was appointed chair of that panel, and in that role she co-wrote the final report, "Crime Victims with Developmental Disabilities," which was published and distributed by the National Academy of Sciences (2001).
Also at the turn of the century, Petersilia was once again ahead of her time when she directed scholarly and policy attention to what is now commonly called "the prisoner re-entry problem." As prison populations swelled in the United States, she led the way in understanding two aspects of prisoners' re-entry into the community:
the consequences of releasing large numbers of formerly incarcerated people into communities, and
determining what types of reentry programs are most effective.
Related to this concern, she wrote a review essay commissioned by the National Institute of Justice, "Parole and Prisoner Reentry" that also appeared as a chapter in her co-edited book, "Prisons" (1999). Thereafter, in her (now classic) book titled "When Prisoners Come Home" (2003), she utilized both qualitative and quantitative data to critically examine the prisoner reentry problem. "The Public Interest" explained, this book provides a "masterful synthesis" and "sensible recommendations" about how to best address the challenges of reentry for prisoners and communities.
Throughout her career, Professor Petersilia was called upon by government officials to lead efforts to reform the criminal justice system. For example, she was tapped by the California State Legislature to chair an expert panel on correctional reform in California and, thereafter, by Gov. Arnold Schwarzenegger to chair a strike team charged with the implementation of California Assembly Bill 900, also known as the Public Safety and Offender Rehabilitation Services Act of 2007. For this work, the governor formally thanked Professor Petersilia for bringing systematic evidence to bear on correctional reform and significantly influencing his thinking about prison and parole reform in California.
Her influence on California policy over the years was substantial and consequential. Former California Gov. Jerry Brown shared that "Joan was a giant intellect whose contributions to improving our criminal justice system are immense and will thankfully survive us all. I was honored to know and work with her."
Likewise, Professor Petersilia's work has been recognized by a plethora of research and service awards from diverse audiences, including academic societies, community groups, practitioner organizations, and government agencies. As just two examples, she was an elected Fellow of the American Society of Criminology and she received its Vollmer Award for scholarship and professional activities that have made outstanding contributions to justice or to the treatment or prevention of criminal or delinquent behavior.
Over the course of her career, Professor Petersilia did not assume that social science research, however well done, will miraculously find its way to public policy makers; thus, she routinely worked with lawmakers, law enforcement agencies, and corrections officials on issues surrounding criminal justice reform.
For example, she testified before both the California Legislature and U.S. Congress on issues pertaining to crime victims with disabilities and parole, successfully encouraging new legislation in these areas; she participated in the National Institute of Justice's Executive Sessions on Sentencing and Corrections with a group of officials who met quarterly to discuss policy issues; she briefed hundreds of organizations on her research on community corrections, crime and disabilities, and prisoner reentry problems; and, most recently, she served as the leading expert for many stakeholders, including the governor, on the implementation of California's Public Safety Realignment Law of 2011 (A.B. 109), the state's historic attempt to downsize prisons, enhance rehabilitation, and protect public safety.
Petersilia enjoyed a national and international reputation among scholars, policymakers and practitioners alike as someone who effectively took research beyond the walls of academe and into the belly of the criminal justice system, especially corrections. Always asking policy-relevant questions, she was greatly respected for her ability to analyze highly politicized issues in a fair, impartial, and data-driven manner and to cast light on such issues by utilizing rigorous empirical research. For this reason, she is easily recognized as one of the most applauded and decorated applied criminologists in the U.S. and abroad.
One of Petersilia's mentors, Peter Greenwood, commented that "Joan was well organized and a self-starter from the day she started at RAND. She always had a clear idea of where she was headed and how to get there. As soon as something appears on her 'to do' list, she is up at 5 a.m. hammering away on it." Those who know Joan best would agree and attest to the fact that her passion for the work she did was fueled by the sheer love of doing criminological research and an unwavering commitment to escorting research into arenas where it can make a difference in the lives of real people, families and communities, especially those who most suffer from policies and practices that can be improved by evidence-based considerations.
Her compassion for others knew no bounds; it motivated her dogged work ethic and insatiable desire to "get it right." Likewise, she took great pleasure and pride in cultivating this passion and commitment in others, including her many law students and Ph.D. students over the decades. Indeed, toward the end of her life, she often remarked on how she found inspiration in her students and took great pride in their many accomplishments, knowing they represent the future.
Joan is survived by her husband, Stephen Richard Thomas, her sons Jeffrey Ramme Petersilia and Kyle Gregory Petersilia; her two sisters Margaret (Peggy) Ann Johnson (Douglas) and Jeanne Cora Sydenstricker (Robert Michael), nephews Stephen Michael Sydenstricker and Brent Ramme Sydentstricker, and nieces Lindsay Rosewater Sacco, Andrea Michelle Johnson and Stacy Johnson Kassover.
Remembrances may be made to Santa Barbara Special Olympics (281 Magnolia Ave Suite #200, Goleta, CA 93117), a group which held a special place in Petersilia's heart.