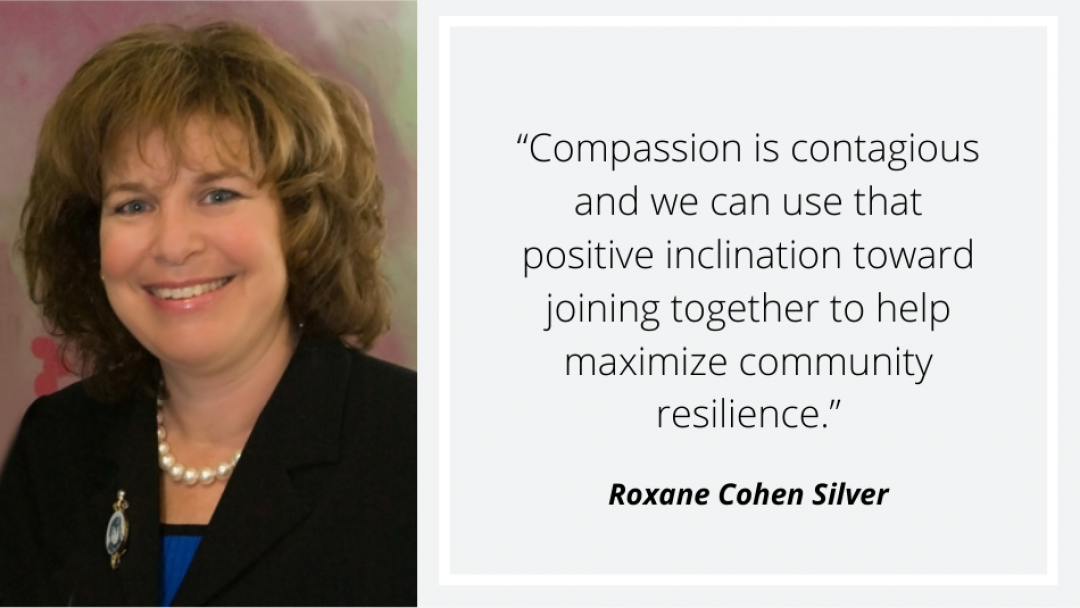 ---
Roxane Cohen Silver discusses how to ensure resilience during COVID-19 pandemic
Speaking on how to ensure resilience during the coronavirus pandemic, social psychologist Roxane "Roxy" Cohen Silver offered her expertise as a featured speaker on a pair of recent webinars and a couple of podcasts.
Humans are quite resilient, the professor of psychological science told more than 100 journalists who took part in a March 30 media briefing sponsored by SciLine (Scientific Expertise And Context On Deadline), which is part of the American Association for the Advancement of Science.
Though Silver has studied the psychological impacts from natural and manmade disasters for decades, she said today's coronavirus pandemic "feels different."
It's unlike school shootings, earthquakes, hurricanes, war, the Sept. 11 terrorist attack and the 2013 Boston Marathon bombing, she said, presenting the unique case of COVID-19.
"It's an invisible threat," Silver said. "We don't know who is infected and anybody could infect us. It's an ambiguous threat. We have no idea how bad this will get. We don't know how long this will last and it's a global threat. No community is safe."
It is important to acknowledge that the uncertainty is stressful and that anxiety is appropriate under the circumstances, she added. "This is a normal reaction to our new normal."
It's also important to tell the truth, Silver said. "The situation may get worse before it gets better. Evidence is strongly suggesting that we are probably not yet in the eye of the storm. But, there is a potential to help frame a more positive message: if we work together, we can save lives."
While several factors can impede community resilience, such as conflicting political agendas and contradictory messages from leaders, she said, there are ways to maximize community resilience:
"We can enlist community support via strong social institutions that were in existence before this crisis began such as faith-based alliances. We can promote shared values and we can bolster confidence in trustworthy authorities such as health professionals, who are fighting the disease on the frontlines."
Silver delivered a similar message to public officials on a March 23 American Psychological Association webinar.
In that webinar, she said: "anxiety is contagious but so is compassion. And, we can use that positive inclination to help maximize community resilience. Leaders can encourage positive community outcomes such as altruistic behavior or social cohesion. Community leaders can suggest ways in which people can come together, even if virtually."
Silver also was interviewed April 3 for a podcast by the Association for Psychological Science and March 17 by Claudia Shambaugh on Radio UCI for her "Ask a Leader" podcast.
Latest Research
In a paper published online in the journal Health Psychology, Silver and co-authors from the Sue & Bill Gross School of Nursing – Dana Rose Garfin, assistant adjunct professor, and E. Alison Holman, associate professor – describe how media exposure during a shared trauma can amplify negative public health consequences.
"It's a public health paradox that has been identified during and in the aftermath of other collective stressors, such as the 2014 Ebola outbreak," Silver said in a press release. "In the case of the current coronavirus, people may perceive it as higher in risk because it's novel, compared to other viruses such as the more common influenza. This can increase worry that may be disproportionate in terms of the actual chance of contracting the illness."
Earlier longitudinal studies conducted by the team after the 9/11 attacks, the Boston Marathon bombings and the 2014 Ebola epidemic in West Africa showed that repeated high levels of media consumption and graphic content led to heightened anxiety during and in the immediate aftermath of threatening events. This elevated emotional response was associated with adverse physical and mental health outcomes, including cardiovascular disorders, post-traumatic stress and fear of the future. Beyond these physical and psychological effects, healthcare facilities can be overburdened by an influx of concerned patients and critical shortages of resources, such as face masks and respirators, that may be diverted from reaching those who are most at risk.
"There's a relationship between stress responses and physical health outcomes that accumulates over time," Garfin said. "Those people with the greatest concerns continue to seek out more media coverage, which may create a cycle of distress. It's imperative for the public to avoid speculative stories and limit repetitious exposure to stories that offer little new information. News organizations must convey relevant knowledge without sensationalism or disturbing images."
In the paper, the researchers recommend that public health officials strategically employ social media, such as hashtags, to provide ongoing updates. In addition, they advise residents to connect with and follow the websites of government and community agencies and service providers for the most geographically specific guidance.
Related