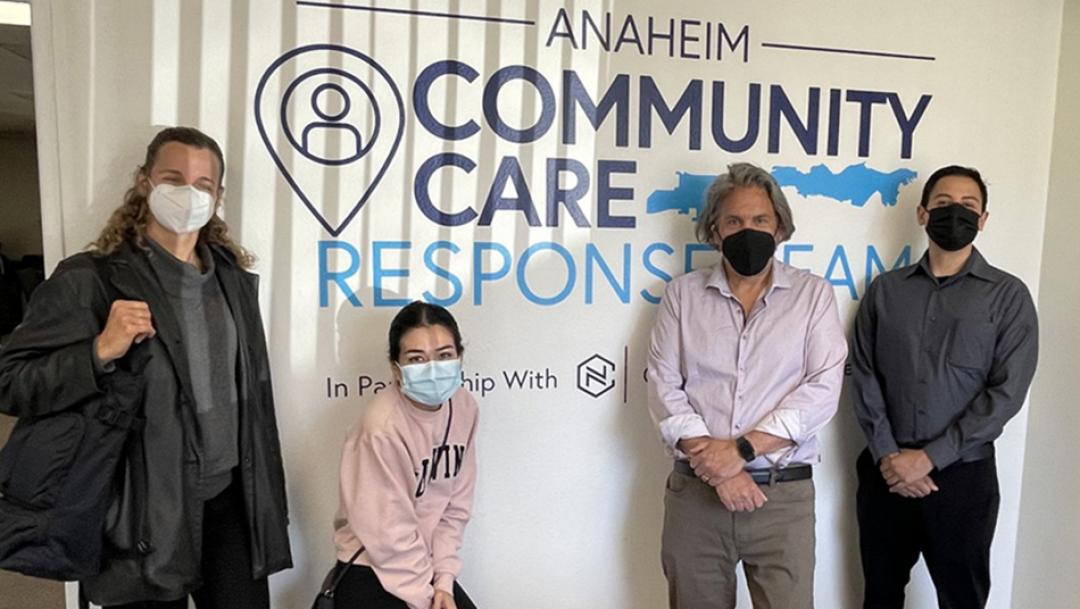 From left: Amanda Geller, assistant professor of criminology, law and society; graduate student Yasmine Aguilera; George Tita, Livable Cities Lab director; and graduate student Cristian Apolinar.
---
Anaheim sends unarmed team of professionals to address homeless issues
In an effort to address the homeless crisis in Anaheim, the city uses an unarmed team of professionals that include nurse practitioners, social workers and mental health clinicians instead of police. The Community Care Response Team (CCRT) has been dispatched to deal with issues of homelessness since the beginning of 2021.
To find out whether the CCRT is effective, the city has hired UCI's Livable Cities Lab (LCL).
"The city of Anaheim, like many places throughout the country, has embraced an interdisciplinary approach to addressing the needs of individuals experiencing homelessness or mental health issues. Reports of loitering, panhandling, trespassing or public intoxication were previously handled solely by the police, usually resulting in fines, incarceration, and/or a criminal record," says George Tita, professor of criminology, law and society and LCL director.
With its CCRT, Anaheim and its police department has embraced more of a public health approach to addressing low-level crimes, Tita adds. "Partnering with CityNet, a group of intervention specialists respond to the majority of such calls with the goal of addressing the person's needs. This might mean finding the person a bed at a local shelter, a referral to a job training center, or access to a clinic for mental health or drug treatment."
The CCRT also provides resources and opportunities for COVID-19 mitigation. During the pandemic, jails and prisons were especially susceptible to the spread of the virus. The CCRT is able to reduce the intake into jails and divert individuals to settings where testing, masking and monitoring are more controlled, Tita noted.
The CCRT is a partnership between the city of Anaheim and its nonprofit homeless outreach partner City Net. The team works from 7 a.m. to 9 p.m., seven days a week. It also manages a dedicated, live call center to answer calls from residents and businesses related to homeless concerns, as well as calls redirected from the police dispatch line.
The goal of the CCRT, according to the city, is to provide more effective outreach and better use city resources by diverting homeless calls from the Anaheim Police Department.
The LCL is evaluating the CCRT implementation and examining the impact that the program has on crime.
"By examining where CCRT responses occur, we can examine crime trends in those areas over time, and compare crime patterns in implementation areas to those in neighboring areas," Tita explains.
---
Contact:
Mimi Ko Cruz
Director of Communications
949-824-1278