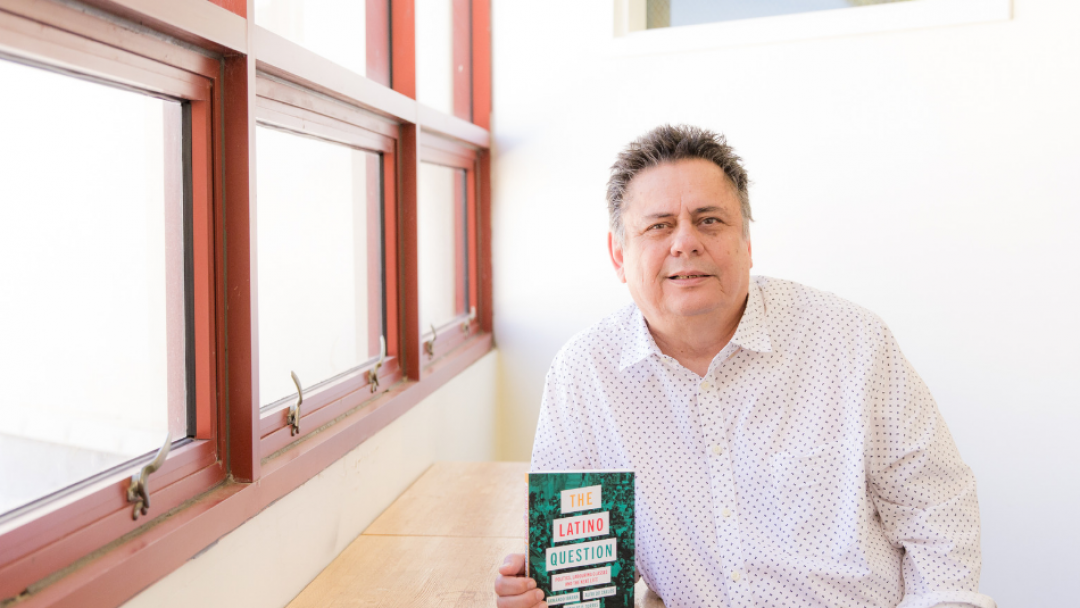 ---
The American Political Science Association has bestowed its 2019 Best Book in Latino Politics Award on "The Latino Question: Politics, Labouring Classes and the Next Left," authored by Rodolfo D. Torres, professor of urban studies and public policy, and two of his former doctoral students, UCI alumni Armando Ibarra and Alfredo Carlos.
"This book makes a very important contribution to the literature by calling our attention to the historical homogenization of Latinos by asking, 'how can we continue to speak about the 'Latino vote' as if Latino is one unifying category?' It is important for us as a field to seriously consider this question, and this book provides the groundwork for such consideration," Melissa R. Michelson, president of the APSA's Latino Caucus in Political Science wrote in her congratulatory letter to Torres, Ibarra and Carlos.
"Additionally, the authors' Empire Theory of Migration is a very well-developed, alternative theory to modern neoclassical political economy," she added. "By using a political economy lens to analyze the position of Latinos in the U.S., this work helps readers understand the link between Latinos and the globalization of the capitalist economy. This point cannot be understated in that most analyses in the field do not do this. This is an excellent, refreshing and much needed contribution."
Ibarra, associate professor and director of Chicano Latino studies at the University of Wisconsin-Madison, earned three UCI degrees — B.A. in sociology and Spanish, M.P.A. and Ph.D. in political science; and Carlos, a political science lecturer at Cal State Long Beach, earned his Ph.D. in political science at UCI.
The authors were recognized Aug. 29 at the American Political Science Association's Annual Meeting in Washington, D.C.
The following is an excerpt from the introduction of "The Latino Question":
Our book articulates an alternative Latino politics — that is, a critique of political economy embedded in voices of Mexican American men and women and their children, their practices, and their actions.

Over the past five decades, Latinos in the United States have emerged as strategic actors in the processes of socioeconomic and spatial transformation. This so-called Latinisation of the United States comes at a time of increasing social polarisation and class inequalities with wide and deep divisions. These forces assert themselves economically, demographically and politically in schools, workplaces and the everyday life of Latino/a populations. Yet, when we scratch the surface of urban centres like Los Angeles, San Francisco, Chicago, New York and Atlanta — cities portrayed as having a rich mosaic of multinational cultures — a grittier truth emerges. Behind the huge, shimmering urban economy, we discover a hidden economic trap that limits the genuine social progress of poor, working-class and the fragile first generation of middle-class Mexican Americans.
The high praise the book has been receiving includes these reviews:
"This is a necessary book in these political times. Well researched and clearly written, it exposes the problems and possibilities emergent when engaging and understanding the intersection of Latino politics in the American context."— Marcus Anthony Hunter, associate professor of sociology and chair of African American studies at UCLA
"Studies of Latino politics in the past have largely failed to locate their discussions in the context of the American capitalist political economy and the class divisions that it fosters and that shape so much of the country's political and cultural struggles. The 'Latino Question' provides a pathbreaking and extraordinary account of contemporary Latino politics." — Mario Barrera, UC Berkeley professor emeritus of ethnic studies and author of "Race and Class in the Southwest"
"This is a remarkable analysis of Latino politics and labour in this period of market-driven madness and unruly democracy ... a compelling critique of our political economy as well as offering us democratic alternatives." — Rodolfo F. Acuña, professor emeritus and founder of Chicana and Chicano studies at California State Northridge and author of "Occupied America"
— Mimi Ko Cruz