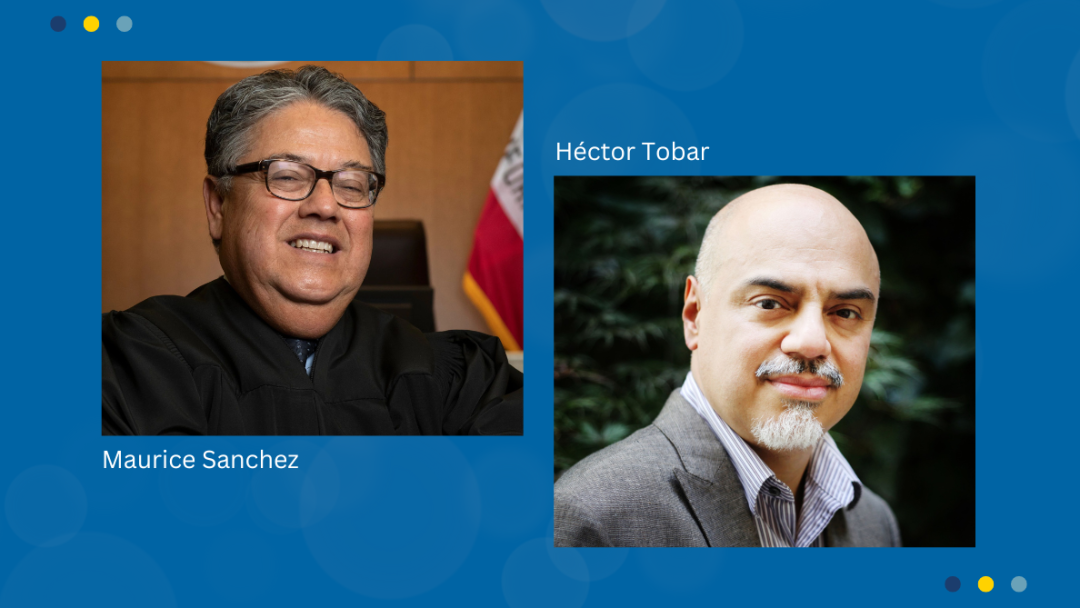 ---
Sanchez and Tobar headline Social Ecology ceremonies
Justice Maurice ("Mo") Sanchez and author Héctor Tobar are delivering the keynote addresses at this year's School of Social Ecology commencement ceremonies June 18.
Sanchez will be the featured speaker at the 12:45 p.m. ceremony and Tobar will be the featured speaker at the 5 p.m. ceremony.
Justice Sanchez
Sanchez made history this year when he was confirmed as associate justice of California's 4th District Court of Appeal, Division 3. He is the first Latino and first person of color to serve on the bench.
The justice, who earned his bachelor's degree in social ecology from UCI in 1978 and law degree from UC Berkeley in 1981, grew up in Santa Ana, where the appellate court is based.
"Historically, it's humbling to be the first person of color on this court, which is about 40 years old," Sanchez says. "I never would have dreamed when I was a kid riding my bicycle around the streets of Santa Ana that I would be in this position."
Sanchez is the son of Mexican immigrants who settled in Santa Ana with the dream of giving their four children opportunities they never had. His father died of emphysema when he was 8, and his mother worked long hours while her daughters looked after their younger brother. Despite their difficulties, the Sanchez children took their schoolwork seriously. The future judge attended Mater Dei High School on a scholarship, and he and all his siblings earned college degrees.
After receiving his J.D., Sanchez began his legal career with Rutan & Tucker in Costa Mesa. He later worked as in-house counsel for Hyundai Motor America and Mazda Motor of America Inc. He returned to private practice with Alvarado, Smith & Sanchez and later became an equity partner with two Am Law 100 firms – Baker & Hostetler, where he was named national leader of the distribution and franchise team; and Nelson, Mullins, Riley & Scarborough, where he helped launch its Los Angeles office.
Sanchez represented more than a dozen motor vehicle manufacturers, trying numerous cases in several states, before administrative agencies and in court, including bench and jury trials and appeals. He was primarily responsible for drafting and implementing national dealer agreements and policies for six major motor vehicle companies.
Before his latest appointment, Sanchez served as an Orange County Superior Court judge on the Family Law Panel for four years.
His volunteer service includes serving on the boards of numerous professional and charitable organizations, including the Orange County Hispanic Bar Association, Olive Crest (which provides services for abused children in Orange County and the western United States); the UCI School of Social Ecology Dean's Advisory Board and the Hispanic Education Endowment Fund.
Professor Tobar
Tobar, Guggenheim Fellow, Pulitzer Prize winner and the son of Guatemalan immigrants, is the author of six books, including Our Migrant Souls: A Meditation on Race and the Meanings and Myths of Latino, published this year by MCD/Farrar, Straus & Giroux.
The UCI alumnus' other nonfiction Deep Down Dark: The Untold Stories of Thirty-Three Men Buried in a Chilean Mine and the Miracle that Set Them Free, was a finalist for the National Book Critics Circle Award and the Los Angeles Times Book Prize. It also was a New York Times bestseller and adapted into the film "The 33," starring Antonio Banderas.
Born in Los Angeles, Tobar also wrote the nonfiction Translation Nation: Defining a New American Identity in the Spanish-Speaking United States.
His novels include The Tattooed Soldier, The Barbarian Nurseries, and The Last Great Road Bum. The Barbarian Nurseries was a New York Times Notable Book and won the California Book Award Gold Medal for fiction.
Tobar earned his MFA in fiction from UCI in 1995, and has taught writing at Pomona College and at the University of Oregon. He presently is a professor of Chicano/Latino Studies and English at UCI.
As a journalist, he was the Los Angeles Times bureau chief in Buenos Aires and Mexico City, and a part of the reporting team that earned a Pulitzer Prize for coverage of the 1992 Los Angeles riots. Tobar also has been an op-ed writer for the New York Times and a contributor to The New Yorker, Harper's, The New York Times Magazine, Smithsonian and National Geographic.
In 2020, he received a Radcliffe Fellowship at Harvard University to write Our Migrant Souls.
His books have been translated into 15 languages, including French, German, Portuguese, Italian and Mandarin.
---
Contact:
Mimi Ko Cruz
Director of Communications
949-824-1278