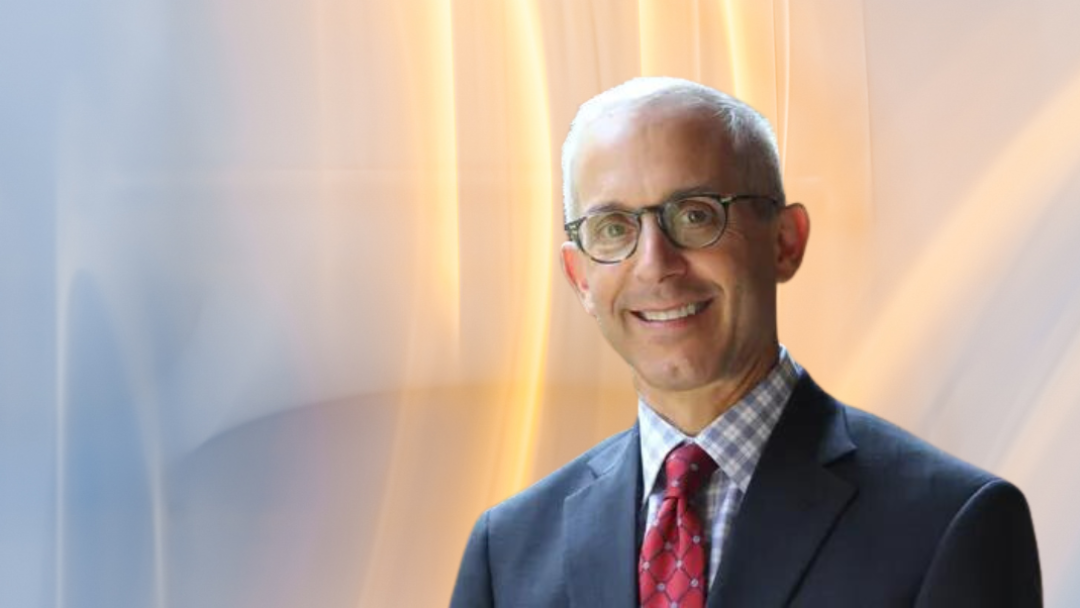 David Altman (Ph.D. social ecology) is the chief research and innovation officer at the Center for Creative Leadership. Inset photo: Altman (front and center in light blue cap and white T-shirt) with fellow Ph.D. students in 1982. Photo courtesy Daniel Stokols
---
David Altman applies multidisciplinary passion to leadership development
By Matt Coker
David Altman would fit right in at UC Irvine's Paul Merage School of Business, which produces some of tomorrow's industry leaders. Consistent with his graduate education in Social Ecology, he would be just as comfortable in the UCI schools of Public Health, Social Science, Medicine and, of course, Social Ecology. As the chief research and innovation officer at the Center for Creative Leadership (CCL), a nonprofit global leader in leadership development based in Greensboro, North Carolina, Altman oversees the research group and other parties developing evidence-based programs, assessments, and tools to help leaders from children to the senior-most authorities at the top of global organizations learn and grow. He has also written articles and books on leadership development and on health promotion/disease prevention. Prior to joining CCL, he was a tenured public health professor at Wake Forest University School of Medicine, where he is now adjunct.
"I work with several colleagues here at CCL who are UCI grads, so we joke proudly with each other about being 'Eaters," the School of Social Ecology's 2007 Alumnus of the Year says in a recent interview.
Born in Washington, D.C., and raised in northern Virginia and Salt Lake City, where he attended middle and high school, Altman came to UC Santa Barbara in 1975 with an interest in pursuing oceanography but migrated to psychology and sociology. He long had an interest in public health, which grew through his education in the UC system. His father is Irwin Altman, who is now a 92-year-old University of Utah emeritus distinguished faculty member known for having co-authored the social penetration theory, which holds that communication moves from shallow to deeper as relationships become more intimate. The elder Altman is also recognized for his work in social and environmental psychology.
"In my senior year at UCSB, I didn't know how to pursue my divergent interests in public health," David Altman explains. "This was the time basically before personal computers as we know them, so I got on a typewriter and completed 45 graduate school applications. I applied to programs in community psychology, social psychology, public health, medical sociology, medical social work, and community medicine. And I applied to the UCI social ecology program because it had one of the only truly multidisciplinary graduate programs."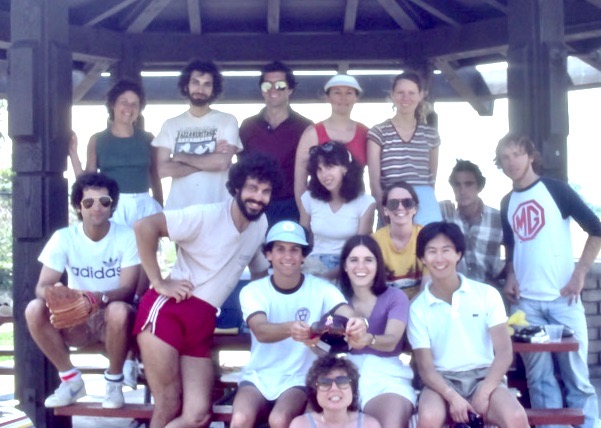 It would be the stuff of folklore had meeting Dan Stokols as a teen inspired Altman to come to UCI. After receiving master's and doctorate degrees in social psychology at the University of North Carolina at Chapel Hill, Stokols was hired for his first academic job: assistant professor in UCI's nascent Program in Social Ecology in 1973.
Stokols went on to serve as the program's director and founding dean of the School of Social Ecology that was established in 1992, and he is now a Chancellor's Professor Emeritus of social ecology. He explained in a separate interview that his interest in social and environmental psychology while at Chapel Hill led him to regard a leading scholar in the field, Irwin Altman, "as a kind of mentor. I've always had a lot of admiration for his work, and he's been a leader."
After Stokols, who was editing a journal at the time, convinced Irwin Altman to contribute a piece, they stayed in touch, eventually became friends, "and when my wife and I were driving out from North Carolina to Irvine, he invited us to stop on the way to visit him and his wife Gloria at their home in Salt Lake City. We had a nice visit."
Stokols vividly recalls meeting the Irwins' sons David and Bill that day. Alas, David's memory is fuzzy because so many professors visited their home over the years, their names and faces became a blur, "I was more interested in playing baseball than in meeting academics. I probably met him," he says of Stokols.
David does remember meeting Stanley Milgram, a social psychologist who taught at Yale, Harvard, and City University of New York, only because David and Bill challenged their dad and Milgram to a game of two-on-two basketball in the driveway. "In our drive to win the game — which we did — on a drive to the basket, one of us knocked Milgram down, resulting in a tear of his only pair of pants he brought on the trip," Altman remembers. "We were not invited to the colloquium he gave the next day in his tattered pants. I don't think we would have won against the elder Altman and Stokols team!"
We will let our imaginations suggest that Stokols stoked David Altman's inner fire to come to UCI as a grad student and embrace the Program in Social Ecology's multidisciplinary approach to studying and solving the world's ills.
"I think David decided to come to UCI rather than the alternative, more traditional graduate programs because Irwin knew about our school and was intrigued because it was very interdisciplinary and had researchers and behavioral scientists who were ecologically oriented," Stokols says. "And, I guess he mentioned to his son that it might be an option to come here. David was accepted to three or four Ph.D. programs, but he came and visited UCI and decided this is where he wanted to be."
Social Ecology "gave me the ability to build a semi-customized graduate education," Altman explains. "I was able to pull together or curate, on top of the social ecology education, some of my interests, and that worked for me intellectually."
While enrolled here, he completed a health psychology course at UCLA and a health education internship at UCI Medical Center in Orange. Between receiving his social ecology master's in 1982 and doctorate in 1984, he spent a year working in the Office of Cancer Communications at the National Institute of Health's National Cancer Institute in Bethesda, Maryland.
After leaving Irvine, Altman did postdoctoral studies in cardiovascular disease prevention and epidemiology at Stanford University's School of Medicine (Stanford Prevention Research Center), which set the course for the first half of his professional career as a public health researcher and professor. While at Stanford, several other graduate student colleagues in Social Ecology also were selected as postdoctoral fellows in public health at the Palo Alto university, he notes.
"David's public health research while at Wake Forest included studying tobacco farmers and ways to help them transition to other crops as a way to reduce cancer, heart disease and those kinds of things," Stokols says. "So, a lot of his work was focused on behavioral, psychological, social and community approaches to prevent tobacco use and substance abuse. That is reflective of his social ecological approach to the problem. He's a systems thinker, which really reflects some of the first principles of our graduate program."
Altman has long been funded by the Robert Wood Johnson Foundation, and he previously served as co-director of the RWJF Executive Nurse Fellows Program. For 15 years, he was national program director of the RWJF Substance Abuse Policy Research Program and, for four years, the co-national program director of the RWJF Ladder to Leadership Program. In 1997, he was selected as one of 40 Americans for a three-year W.K. Kellogg Foundation National Leadership Program, for which he rode his bicycle from California to North Carolina to raise public awareness about food insecurity and endowment funding for international relief organization MAZON: A Jewish Response to Hunger.
"Along the way, he stopped and gave talks," Stokols recalls. "He gave a talk at UCI and a local synagogue about the work he was doing. It was a very grueling trip, even though he's always been in excellent shape. But he peddled all those miles and raised quite a lot of money for MAZON."
Altman left his bike behind when he returned to what had become the UCI School of Social Ecology in February 2000, when then-Dean Stokols served as the chair and moderator of Altman's Interdisciplinary Research Colloquium keynote address, "Trajectories of Social Ecological Training and Research." (Talk about keeping it all in the family: Stokols and Irwin Altman had joined as co-consulting editors of Cambridge University Press' Series on Environment and Behavior and co-editors of Handbook of environmental psychology, Volumes 1 and 2).
The younger Altman was in the Kellogg Foundation leadership program in Greensboro, North Carolina, when he took some CCL classes as part of his fellowship. A friend suggested he apply for CCL's open vice president of Research and Innovation position.
"I had an existential crisis because I was a tenured full professor," Altman recalls. "I was a section head, which then converted to a department chair right after I left. I had millions of dollars in grants. I loved what I did. I loved my colleagues. Then I just decided, you know what? I'm going to take a risk here."
He figured if it didn't work out, he could return to academia. He brought with him to CCL several research grants and some of those colleagues with whom he still works 19 years later. "I made the right decision," Altman says.
He recalls talking with Stokols recently about how things he learned in the Program of Social Ecology — such as the ecological model, systems theory, and transdisciplinary thinking — have applied to his CCL roles. This has included executive vice president of Research, Innovation, and Product Development; executive vice president and managing director of Europe, Middle East, and Africa (EMEA); and global chief operating officer.
"I work with people from all disciplines, and both in the clients that I work with and the 50 countries that I've been to very few people have a multidisciplinary background, dealing with paradox and polarity and wicked problems," Altman says. "It's all the concepts we learned in social ecology. I received the foundation as a grad student, and then I developed deeper expertise in public health, psychology, business and leadership."
Especially in the health field, it is important to examine whole systems, he adds. "You must look at people and families and communities and understand the social (ecological) determinants of health. There are interdependent reverberating effects throughout systems that affect one's health and quality of life itself at multiple levels of analysis. And, that's what the ecological model is all about."
When it comes to someone having realized that in founding the Program in Social Ecology, he says, "I just applaud UCI for taking a chance. Many decades ago, Arnie Binder and other people established the program. People like Dan, Ross Conner, David Dooley, Ellen Greenberger, Ray Novaco, Carol Whalen, and many faculty from whom I learned carried through the bold vision of Social Ecology. None of those people were ever trained in social ecology. They represented other disciplines, but they became transdisciplinary and were models of several generations of students who wanted an expansive disciplinary experience."
"If I have any regrets, it's that I didn't go even deeper into the ecological model and systems theory when I was a grad student. I felt pressure to finish coursework and do my thesis and dissertation and fulfill other commitments. I wish I'd taken in more Social Ecology because it would have served me well."
Stokols counters it has served Altman plenty.
"He travels all over the world and gives talks on leadership, health promotion and the grand challenges the planet is facing these days," Stokols says. "So, he's been an exciting person to know, not just because I did this work with his dad. He's just been such an independent contributor to so many different fields and has accomplished so much during his career. We've really been proud of him. He's a great credit to UCI and the School of Social Ecology."
Acknowledging that every student considers their years to be a school's heyday, Altman says he truly believes the early days of the Program in Social Ecology "was the heyday because it was just getting off the ground. We knew that we were doing something unusual. The program made a bet on us, and we made a bet on them. And, we were in it together. To this day, I have relationships with fellow grad students."
Serving on an advisory board for the Program in Public Health brings him back to UCI once a year, and he communicates with faculty and students when he can.
"I talked to a current Ph.D. student a couple of weeks ago on Zoom and asked where he was. He said, 'Oh, I'm in grad student housing." I said, 'Verano Place?' He said, 'Yeah,' and I said, 'I lived there!' I was there from 1979 to 1981. It brought back so many memories."
These include moving offices from the computer science and engineering buildings to temporary trailers on "mice-infested land," catching shows by the Butler Street Blues Band (that featured Stokols on keyboards), shopping at one of the earliest Trader Joe's on Irvine Boulevard, eating at the original Mother's, securing coffee beans at Diedrich Coffee (which opened Orange County's first coffeehouse in 1972), and hanging out at the beach. He also remembers being the commencement speaker for the School of Social Ecology graduation. It was a challenge to stay focused on his speech as many dozens of tortillas were flying through the auditorium like frisbees while colorful beach balls were being batted around.
"You know, at the end of the day, while I remember those things, it is the people that I most fondly remember," Altman says. "It's the lifelong connections. It's playing intramural football. Dan was the quarterback of the team and Ray [Novaco, professor of psychological science] was the 'enforcer.' ''
"Our team's name was Paradigm Lost, sort of a play on Paradise Lost," Stokols confirmed. "We had a pretty good team and made it all the way to the final game against the UCI baseball team's intermural football team. We lost to them by seven points, which Novaco and I still reminisce about."
The grad students and the faculty "were all in it together, whether on the field or in the classroom," Altman says. "We knew we were on the cutting edge. We believed that we were doing purpose-driven work. We socialized a lot, but we worked hard, too. We had a deep sense of community."
He recalls the last time he walked around the campus recently.
"Some of it I recognize, but then you get to the [future] medical center and it's unbelievable what's happened. I just see it as a university of distinction, of innovation, of pushing the envelope, of being multidisciplinary. Its embrace of diversity makes me so honored to have graduated from there."
Spoken like a true leader.