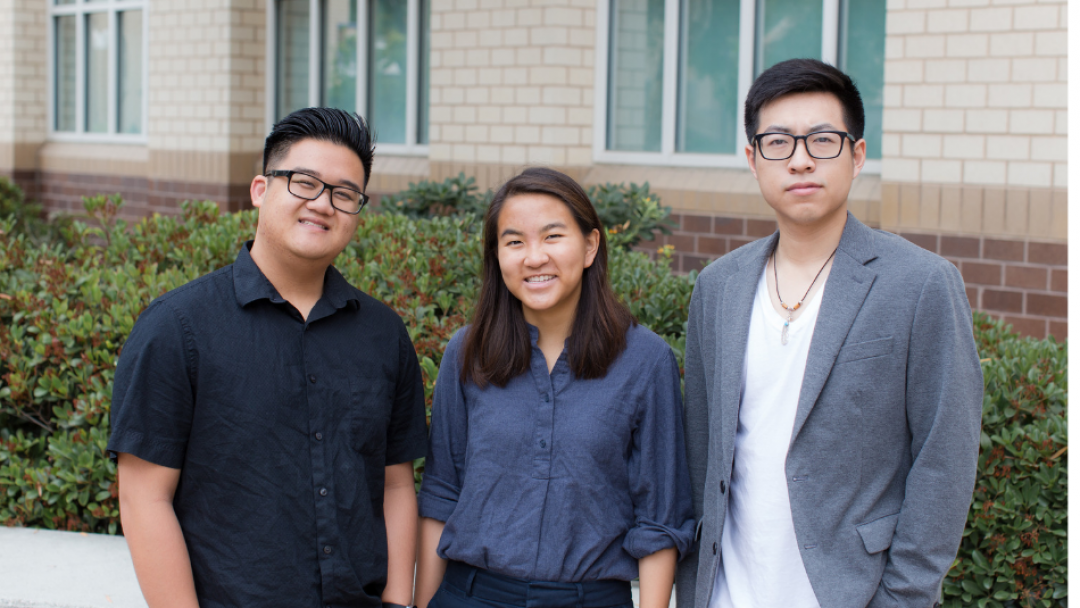 From left: Corey Nguyen, Nancy Nguyen and Ryan Wang. Photo by Patricia DeVoe
---
Three undergraduates head to South Africa, Paraguay and Nepal to document life, volunteer work
For undergraduate DigiFilm student Corey Nguyen, joining Global Service Scholars this summer as they embark on their volunteer work in South Africa is his way of giving back.
"I'm really interested in telling the stories of underrepresented people of color," said Nguyen, who followed Global Service Scholars in a Paraguay school last summer. His film about that experience was showcased at the Newport Beach Film Festival last spring.
"Paraguay was life changing," he said. "Making that film was my way of giving a voice to the kids at that school. I found that they were just like me, like kids everywhere — kids who want a better future. We all want the same thing."
Nguyen is one of three undergraduates pursuing a minor in digital filmmaking, with Nancy Nguyen and Ryan Wang, making the journey this year. They will spend four weeks with the 27 Global Service Scholars, who will be volunteering at an entrepreneurial school in Paraguay, a woman-owned farm in Nepal and at various South African youth serving agencies and health clinics and working on environmental conservation and women's empowerment projects.
The film students' adviser is Bryan Jackson, lecturer of digital filmmaking. He said the opportunity to travel and make films about communities outside the United States is rare for undergraduates. Each film student, like the Global Service Scholars selected for the program, has flight and lodging expenses covered, thanks to generous donors. In addition, the film students' projects are being supported by a technology partnership with Canon USA's Higher Education Group, which provided professional cameras and lenses to capture the stories.
The Global Service Scholars program launched in 2017 by the School of Social Ecology, the Blum Center for Poverty Alleviation and the Living Peace Foundation. It is part of the Blum Center's Compassion Action Project, which "enables us to promote compassion within the university and become a global resource for programs and policies to build a more compassionate world," said Richard Matthew, Blum Center director.
"The Digital Filmmaking program nurtures and empowers diverse filmmakers telling diverse stores," Jackson said. "The partnership with the Blum Center and Social Ecology fosters the kind of socially engaged, inclusive work we want our students to be creating in the digital filmmaking program."
The third cohort of Global Service Scholars includes undergraduates studying diverse disciplines from neurobiology to criminology and environmental science.
Corey Nguyen said he is looking forward to meeting the people in the South African communities he will be visiting.
"I'll be interviewing the people and finding out what they're doing to foster sustainable solutions for their communities," he said, adding that he plans to weave into his film the history of South Africa.
More information about the Global Service Scholars program can be found at globalservicescholars.uci.edu.