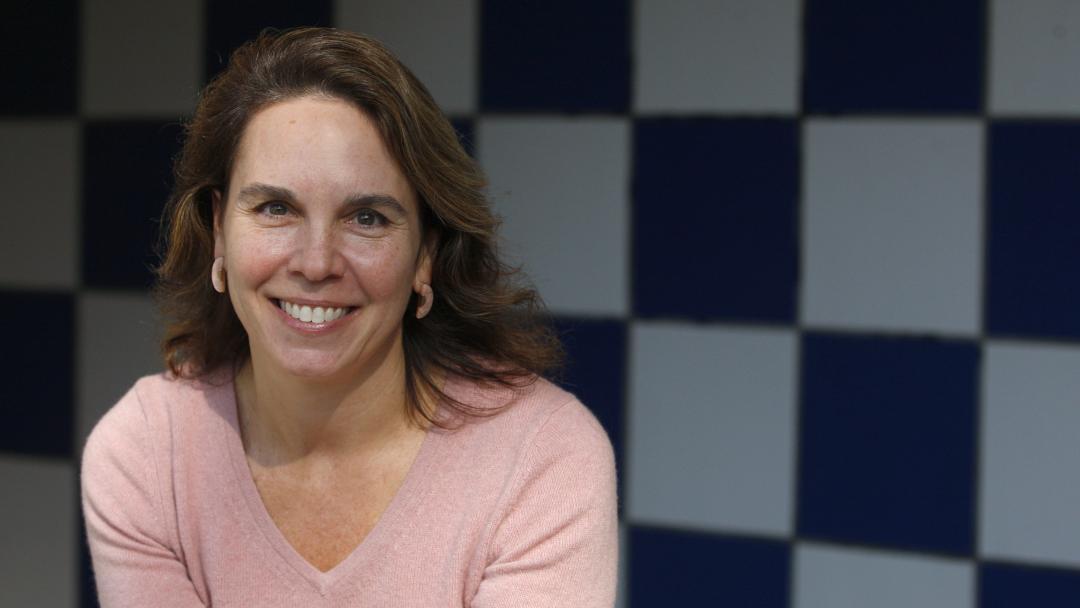 Charis Kubrin. Photo by Karen Tapia
---
Charis Kubrin awarded a California 100 research grant
Charis E. Kubrin, professor of criminology, law and society, in collaboration with Bradley Bartos at the University of Arizona, has been granted a research award from California 100, an ambitious statewide initiative to envision and shape the long-term success of the state.
The California 100 research award, along with technical assistance from the Institute for the Future, will enable Kubrin to evaluate current facts, origins and future trends in criminal justice reform in the state.
"What excites us most about the California 100 research work is that we're doing it at an historic moment in California's history. More than any other state, California is transforming its criminal justice system, having passed reforms intended to reduce its massive prison population," Kubrin said. "These reforms are working. Incarceration rates have plummeted yet, importantly, crime rates across the state remain near historic lows. And, California just passed a series of new criminal justice reforms. As the rest of the nation faces similar pressures to reduce the scale of incarceration, the California experience will be instructive. Most importantly, we are excited to be part of the California 100 Initiative to begin to chart a path forward for California's next century."
The COVID-19 pandemic, she noted, furthered California's trend in decarceration, as the state reduced prison and jail populations to slow the spread of the virus. With an incarceration rate of 310 (per 100,000), California is now well below the national average of 639.
While some types of crime have increased during the pandemic, Kubrin said, overall crime rates in recent years have been near historic lows. In 2019, California's property crime rate reached its lowest level since 1960 while the violent crime rate was in line with rates in the late 1960s.
However, racial inequalities throughout California's criminal justice system remain, including in arrest and incarceration, and surveys reveal Californians perceive bias in the state's criminal justice system. Many are now calling for new reforms to other aspects of the system, including sweeping police reform, in an effort to target racial disparities.
Kubrin and Bartos, assistant professor in the School of Government and Public Policy at the University of Arizona, will produce reports, tackling these questions: When it comes to public safety and criminal justice reform, what has California done right in this transformation, and where has it fallen short? What scenarios do we envision for California's future? What are the strengths and weaknesses of each possible scenario?
In their Facts-Origins-Trends Report, they will review where we are, how we got here, and where we are going with respect to criminal justice reform and public safety in California. The report will be organized around four themes:
the origins of California's corrections crisis;
the diffusion and translation of criminal justice policy reform throughout the state;
the effects of these reforms, and further decarceration efforts due to the COVID-19 pandemic, on public safety; and
the role of other, newly implemented reforms, including policing reform, aimed at diminishing racial disparities in the criminal justice system.
In their Scenarios-and-Future-Policies Report, the researchers will review the scenarios envisioned for California's future, and consider the strengths and weaknesses of each possibility. The report will discuss where California should go and how it should plan to get there with respect to criminal justice reform and public safety. It will be organized around two key scenarios based upon major drivers developed in the Facts-Origins-Trends Book:
Reforms that further decarceration and prison downsizing, and
Reforms that reduce racial and other disparities in criminal justice outcomes.
The research will lead to a set of policy alternatives for the future of California. The policy alternatives will be developed in conjunction with research teams from 12 other issue areas, and will be coordinated by Henry Brady, director of research of the California 100 Initiative and former Dean of the Goldman School of Public Policy at UC Berkeley.
"We are excited to work with our research partners that are international experts in their issue areas," Brady noted. "We will not only develop a comprehensive knowledge base on various policy issues, but we will also offer actionable recommendations for the California 100 Commission and the larger public to consider."
The California 100 Commission is a multi-generational advisory body that will develop recommendations for the state's future and test those recommendations
across a broad set of policy areas by directly engaging Californians. Karthick Ramakrishnan, executive director of the California 100 Initiative, is tasked with assembling and engaging the Commission, and ensuring that the research stream intersects with the initiative's other activities including advanced technology, policy innovation, and stakeholder engagement.
"From climate change, to aging populations and rapid changes in industry, California will face enormous challenges in the years ahead," Ramakrishnan noted.
"We are fortunate to be able to draw on the deep talent of researchers in California to produce evidence and recommendations that will inform robust public engagement and set the state on a strong, long-term trajectory for success."
About the California 100 Research Grants
California 100 is a statewide initiative being incubated at the University of California and Stanford University focused on inspiring a vision and strategy for California's next century that is innovative, sustainable, and equitable. The initiative will harness the talent of a diverse array of leaders through research, policy innovation, advanced technology, and stakeholder engagement. As part of its research stream of work, California 100 is sponsoring 13 research projects focused on the following issue areas:
Advanced technology and basic research
Arts, culture, and entertainment
Education
Economic mobility, inequality and workforce
Energy, environment and natural resources
Federalism and foreign policy
Fiscal reform
Governance, media, and civil society
Health and wellness
Housing and community development
Immigrant integration
Public safety and criminal justice reform
Transportation and urban planning
For more information about California 100, visit California100.org.
---
Contact:
Mimi Ko Cruz
Director of Communications
949-824-1278